Crystal Growth and Structures of New Niobium and Tantalum Oxides: Sr3LiNbO6 and Sr3LiTaO6
Abstract
Single crystals of two new niobium and tantalum oxides, Sr3LiNbO6 and Sr3LiTaO6 were grown out of a Sr(OH)2/LiOH·H2O/KOH flux and characterized by single-crystal X-ray diffraction. The materials crystallize in the trigonal R-3c space group with a = 9.8029(14) Å (9.8111(11) Å), b = 9.8029(14) Å (9.8111(11) Å), c = 11.200(2) Å (11.2056(12) Å), α = β = 90°, γ = 120° for Sr3LiNbO6 (Sr3LiTaO6). The oxides exhibit the K4CdCl6 structure-type, and consist of alternating face-shared BO6 octahedra (B = Nb5+ or Ta5+) and LiO6 trigonal prisms.
Graphical Abstract
The crystal growth and structures of two new quaternary oxides, Sr
3
LiNbO
6
and Sr
3
LiTaO
6
, using a hydroxide flux is reported.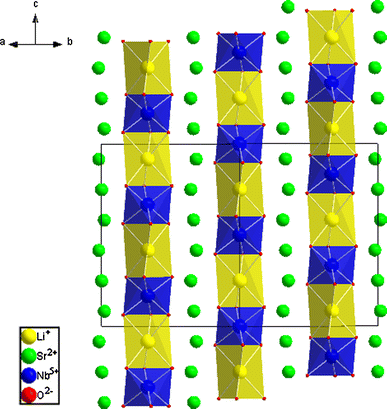 Keywords
Crystal structure 
Crystal growth 
Niobium oxide 
Tantalum oxide 
Hydroxide flux 
Notes
Acknowledgments
We thank the Robert A. Welch Foundation (Grant E-1457), the ACS PRF 47345-AC10, and the NSF (DMR-0652150) for support.
Copyright information
© Springer Science+Business Media, LLC 2011