Synthesis and Crystal Structure of a Pure Inorganic Network Based Tetra-Sodium Capped Sandwich-Type Polyanion
Abstract
The synthesis and single-crystal structure of a Na-salt compound Na10[Co4(OH2)2(AsW9O34)2]·32H2O (1) was reported. Compound 1 crystallizes in triclinic system, space group P−1, with the lattice parameters: a = 11.6040(10) Å, b = 12.9361(13) Å, c = 17.396(2) Å, α = 97.4120(10)°, β = 106.8590(10)°, γ = 111.867(2)° and Z = 1. Compound 1 consists of a pure inorganic network based on tetra-sodium capped sandwich-type anionic clusters [Co4(OH2)2(AsW9O34)2]10− bridged through Na–OH2 subunits. The thermogravimetric and electrochemistry measurements had also been studied.
Graphical Abstract
A pure inorganic network built upon tetra-sodium capped sandwich-type polyanions and Na–O–Na units.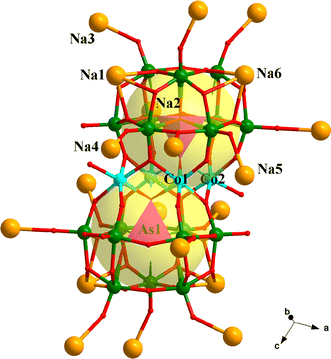 Keywords
Polyoxometalate 
Sandwich-type cluster 
Na–O–Na 
Inorganic network 
Notes
Acknowledgment
This work was financially supported by the Natural Science Foundation of China (20701011), and Doctoral Initial Foundation of Hebei Normal University (L2005B13), and the Education Department Foundation of Hebei Province (Z2006436).
Copyright information
© Springer Science+Business Media, LLC 2011