Dinuclear Ir(III) Complex with an Unusual η1:η3-allylic Bridging Ligand from the Double C–H Activation of 2,5-Dimethylthiophene
Abstract
The unique dinuclear Ir(III) complex (Cp*IrCl)(μ-H)[μ-(η1:η3-C6H6S)](IrCp*) (1) has been synthesized and characterized by NMR spectroscopy (1H and 13C), elemental analysis, and single crystal X-ray diffraction. It is the first structurally determined complex in which an activated thiophene ligand displays an η3-allylic interaction. 1 appears to form from successive C-H bond activations of 2,5-dimethylthiophene, resulting in its bridging the two iridium centers. The η3-allylic interaction occurs with one of the Ir centers and has Ir–Cthio bond lengths ranging from 2.133(5)-2.207(5) Å; the C–C double bond involved in the interaction has a bond length of 1.438(7) Å compared to 1.348(8) Å for the uncoordinated C–C double bond. The 3-carbon of the thiophene ring bridges both iridium centers with bond lengths of 2.036(5) Å and 2.208(5) Å. 1 crystallizes in space group P−1 with cell constants a = 8.6303(6) Å, b = 9.0153(6) Å, c = 18.1089(12) Å, α = 84.728(1)°, β = 87.534(1)°, γ = 64.373(1)°, and Z = 2. The structure was solved by direct methods and refined to R = 0.0363 (F 2 > 2σ(F 2)) and wR = 0.0851 (F 2). The NMR data indicate the solution state structure is consistent with the solid state structure.
Graphical Abstract
The reaction of 2,5-dimethylthiophene with [Cp*IrHCl]
2
leads to the formation of a unique double C–H activation product displaying a unique μ-η
1
:η
3
coordination of the thiophene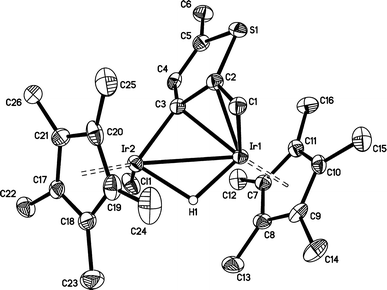 Keywords
C–H activation 
η1:η3-allyl 
Thiophene 
Notes
Acknowledgments
Financial support from the National Science Foundation (CHE-1012405) is gratefully acknowledged. The Center for Enabling New Technologies through Catalysis (CENTC) Elemental Analysis Facility is also acknowledged for use of its analytical facility (CHE-0650456).
Copyright information
© Springer Science+Business Media, LLC 2011