Synthesis, Structural Characterization and Spectroscopic Properties of 1,2-Bis[4-(3,5-dimethyl-1H-pyrazol-1-yl)-2-oxobutyl]benzene
Abstract
The crystal structure of the title compound C22H30N4O2·H2O (L), has been determined using X-ray diffraction at 293 K. The crystal of 1,2-bis[4-(3,5-dimethyl-1H-pyrazol-1-yl)-2-oxobutyl]benzene is in triclinic crystal system with space group P(−1) (Z = 2), lattice parameters a = 8.225(6) Å, b = 10.967(6) Å, c = 12.903(6) Å, V = 1119.1(11) Å3. Analyses of single crystals of L, crystallized from dichloromethane/diethyl ether (1:1), revealed that the molecules are arranged in couples, which adopt a pseudo chair conformation, by means of intermolecular O–H···N hydrogen bonding interactions. Moreover, the extended structure revealed a 1D chain caused by several C–H···N intermolecular interactions.
Index Abstract
The crystal of a
N
,
O
-hybrid pyrazolic ligand has been determined. Analyses of single crystals revealed that the molecules in the crystal pack are arranged in couples, due to intermolecular O–H···N and C–H···N interactions.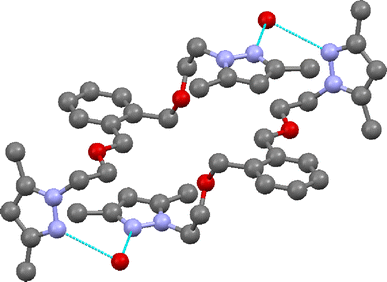 Keywords
Supramolecular chemistry 
X-ray crystal structure 
Hydrogen bonding 
Dimeric compound 
Pyrazole hybrid ligand 
Notes
Acknowledgments
This work has been financially supported by the Spanish Ministry of Culture and Education (Project CTQ2007-63913) and by Generalitat de Catalunya (a grant to M. G.).
Copyright information
© Springer Science+Business Media, LLC 2011