Synthesis and Crystal Structure of MnII(OAc)2[15-MC Mn III (N)shi-5](Im)3(EtOH)3 (shi3− = salicylhydroximate, −OAc = acetate, Im = imidazole, and EtOH = ethanol)
Abstract
The metallacrown complex MnII(OAc)2[15-MC Mn III (N)shi-5](Im)3(EtOH)3 has been synthesized and characterized by single-crystal X-ray diffraction and infrared spectroscopy. The compound crystallizes in the monoclinic space group P21/c with a = 24.3326(15) Å, b = 24.0354(15) Å, c = 27.0531(17) Å, α = 90.00°, β = 100.3883(11)°, γ = 90.00°, V = 15562.5(17) Å3, Z = 4, and Z′ = 2. Four of the five manganese(III) ions of the metallacrown ring adopt a distorted octahedral coordination geometry, and the fifth manganese(III) ion is five coordinate and exhibits a distorted square pyramidal environment. The configuration of the manganese(III) ions about the ring follows a pattern of ΔΛΔPP, with P representing planar. In addition, the imidazole units are bound to three separate ring manganese(III) ions, and the imidazole units are directed to the outside of the molecule. A manganese(II) ion is encapsulated in the central core of the molecule, and the central ion is seven coordinate with a face-capped trigonal prismatic geometry.
Index Abstract
The metallacrown complex Mn
II
(OAc)
2
[15-MC
Mn
III
(N)shi
-5](Im)
3
(EtOH)
3
was synthesized and characterized by FT-IR and single-crystal X-ray diffraction.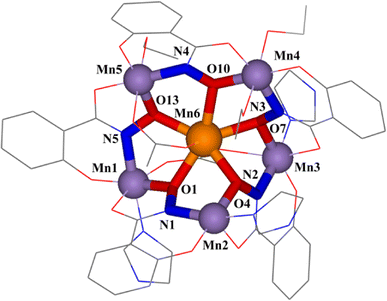 Keywords
Metallacrown 
Manganese 
Coordination complex 
Notes
Acknowledgements
This work was funded by The Shippensburg University Foundation UG 2430-05 and 2367-057 to C.M.Z, and the diffractometer was funded by NSF grant 0087210, by Ohio Board of Regents grant CAP-491, and by YSU. The authors thank Dr. Daniel P. Predecki of Shippensburg University for his useful discussions.
Copyright information
© Springer Science+Business Media, LLC 2010