Synthesis and Structures of Two Functionalized Isobenzofurans: (3aR,7aR,4S,5S)-1,3,3a,4,5,7a-Hexahydro-5-methyl-3-oxoisobenzofuran-4-carboxylic acid and (3aα,4β,7β,7aα)-4-[(Acetyloxy)methyl]-3a,4,7,7a-tetrahydro-7-methyl-1,3-isobenzofurandione
Abstract
The title compounds, C10H12O4 and C12H14O5, were prepared as part of an ongoing study to explore the practical aspects of solventless reaction methods. As confirmed by the crystal structures, treatment of maleic anhydride with (2E,4E)-hexa-2,4-dien-1-ol or its acetate counterpart resulted in cis bicyclo [4.3.0] molecular frameworks. The racemic product derived from the dienol synthon crystallized in chiral space group P212121 via a pasteurian resolution process with molecules organized by carboxyl⋯carboxyl and C–H⋯O contacts. The acetate derivative crystallizes in space group Cc.
Graphical Abstract
The synthesis and crystal structures of the title compounds, C
10
H
12
O
4
and C
12
H
14
O
5
, are reported.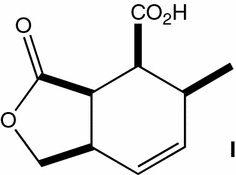 Keywords
Crystal structure 
Hydrogen bonds 
Isobenzofuran 
Bicyclo 
Green chemistry 
Diels–Alder 
Notes
Acknowledgements
The authors acknowledge National Science Foundation (0722547 and DUE-9952602) for support of this crystallographic investigation. High field NMR spectra were provided by NMR Analysis & Consulting of Decatur, IL.
Copyright information
© Springer Science+Business Media, LLC 2009