Synthesis and Structural Chemistry of a Ternary Calix[4]arene Lattice Inclusion System
Abstract
A ternary calix[4]arene lattice inclusion system 3 has been synthesized, characterized and its crystal structure was determined by single crystal X-ray diffraction study. 3 is orthorhombic, space group Pbca with a = 21.236(3) Å, b = 12.2820(16) Å, c = 25.795(3) Å, α = 90°, β = 90°, γ = 90° and Z = 4. Analyses of single crystals of arene 3 crystallized from DMSO revealed the existence of a ternary system of 3 with DMSO and H2O. Compound 3 exists in eclipsed form rather than the staggered form. Different types of host–host, host–guest and guest–guest interactions were observed and analysed.
Graphical Abstract
The structural chemistry of a ternary calix[4]arene lattice inclusion system has been analysed and interesting supramolecular motifs were observed.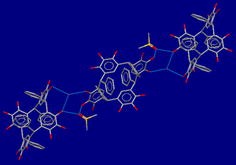 Keywords
Acid-catalyzed 
Host–guest chemistry 
Supramolecular chemistry 
Eclipsed isomer 
Staggered isomer 
X-ray crystal structure 
Notes
Acknowledgments
The author would like to thank Mutah University for the support needed for this research, the Agency for Science, Technology and Research (A*STAR, Singapore) for the financial support, Prof. Koh Lip Lin and Ms Tan Geok Kheng from the National University of Singapore for their technical support and assistance. Special thanks are due to Dr. Zaher Juddeh (Nanyang Technological University, Singapore) for technical support and assistant in running some of the experiments needed to characterise the synthesised compound.
Copyright information
© Springer Science+Business Media, LLC 2009