Absolute Configuration of Two Eudesmane Derivatives from Verbesina turbacensis H.B.K.
Abstract
Two compounds isolated from the aerial parts of Verbesina turbacensis H.B.K, are reported in this work. Both compounds crystallize in the orthorhombic system, space group P212121. Compound (1), 6β-[cinnamoyloxy]-3β,4α-dihydroxyeudesmane, formula C24H34O4, has unit cell parameters a = 9.6234(2), b = 12.3137(3) and c = 18.6277(5) Å, V = 2207.38(9) Å3, Z = 4. On the other hand, 6β-[cinnamoyloxy]-eudesman-15-oic acid (2), formula C24H32O4, has cell parameters a = 8.7035(3), b = 14.2020(4), c = 17.1590(5) Å, V = 2120.97(11) Å3, Z = 4.
Graphical Abstract
Extensive and interesting hydrogen bond patterns are present in the structure of two eudesmane derivatives from
Verbesina Turbasencis
H.B.K.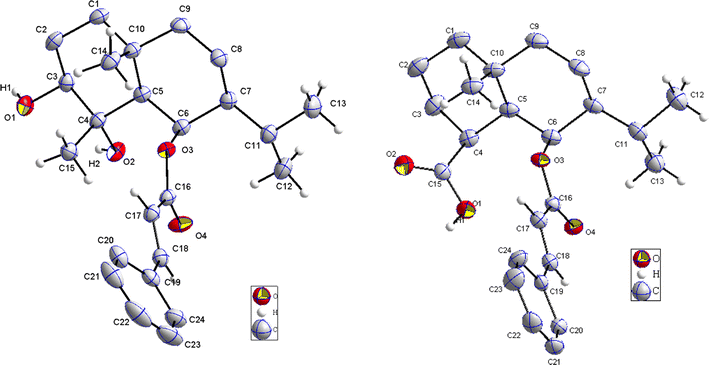 Keywords
Verbesina derivatives 
Eudesmane 
Sesquiterpenes 
Crystal structure 
Notes
Acknowledgments
The authors would like to thank Dr. Maren Pink of Indiana University for data collection. We also thank CDCHT-ULA and the support of FONACIT through grant LAB-97000821 for Laboratorio Nacional de Difracción de Rayos-X (LNDRX).
Copyright information
© Springer Science+Business Media, LLC 2009