Synthesis, Structure and Luminescent Property of a Novel Lanthanide Metal-Organic Coordination Polymer Yb3(BDC)4.5(DMF)2(H2O)3 · (DMF)2
Abstract
A three-dimensional lanthanide metal-organic coordination polymer Yb3(BDC)4.5(DMF)2(H2O)3 · (DMF)2 has been synthesized by the reaction of the lanthanide metal ion (Yb3+) with 1,4-benzenedicarboxylic acid (H2BDC) under mild condition. The compound crystallizes in the triclinic system, space group PI with unit cell parameters a = 10.7428(9) Å, b = 11.2786(9) Å, c = 26.172(2) Å, α = 85.060(2)°, β = 88.1060(10)°, γ = 62.3670(10)°, V = 2798.9 (4) Å3, Z = 2. The crystal structure exhibits one-dimensional channels along the [011] direction. The fluorescent results showed that there were two emission peaks at 375 and 420 nm when the compound was excited by a 235 nm excitation.
Graphical Abstract
The preparation, X-ray structure and luminescent property are presented for a new lanthanide metal-organic coordination polymer Yb
3
(BDC)
4.5
(DMF)
2
(H
2
O)
3
 · (DMF)
2
.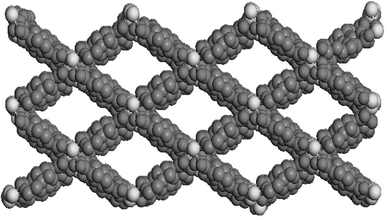 Keywords
Metal-organic coordination polymer 
Lanthanide 
Crystal structure 
Luminescent property 
Notes
Acknowledgments
The authors are grateful to the National Natural Science Foundation of China (No. 20376009) for financial support of this work.
Copyright information
© Springer Science+Business Media, LLC 2009