Crystal Structure of the Radical-Cation Salt (o-Me2TTF)I3 with Close Intermolecular Sulfur Contacts
Abstract
The synthesis and crystal structure of the organic radical-cation salt (o-Me2TTF)I3 is described. The salt crystallizes in the monoclinic space group P2 1 /n with a = 10.927(2) Å, b = 11.904(2) Å, c = 12.660(2) Å, β = 115.174(5)°. The bond length of the central C=C bond in o-Me2TTF is 1.401(1) Å, indicating an approximate oxidation state of +1 for the o-Me2TTF radical cation.
Graphical Abstract
The X-ray crystallographic structure of the radical cation salt (
o
-Me
2
TTF)I
3
has been determined and its structural properties and synthetic preparation are discussed.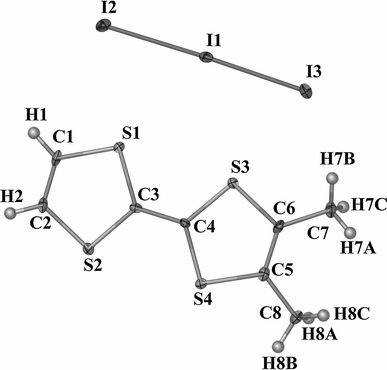 Notes
Acknowledgments
KRD gratefully acknowledges the National Science Foundation, the Department of Energy and the Welch Foundation for support of the Texas A & M team. MF thanks the French Agence Nationale de la Recherche (ANR, contract n° NT05-2 42710 CHIRASYM) for financial support. EWR would like to sincerely thank Mrs. Nancy Erskine for additional editorial assistance. We also acknowledge Thierry Roisnel (Centre de Diffractométrie, Rennes) for the X-ray data collection.
Copyright information
© Springer Science+Business Media, LLC 2009