Crystal and Molecular Structure of Dichloro(ethylenediamine)gold(III) Nitrate: [Au(NH2CH2CH2NH2)Cl2]NO3
Abstract
The gold(III) atom in [Au(NH2CH2CH2NH2)Cl2]NO3 is chelated by the ethylenediamine (en) ligand and the approximately square planar geometry is completed by two chloride atoms. Weak Au···O and Au···Cl contacts are noted above and below the square plane leading to a tetragonally distorted octahedron for the gold(III) center. Extensive charge-assisted hydrogen bonding of the type N–H···O leads to the formation of a 2-D array and layers are consolidated into a 3-D network via C–H···O and C–H···Cl contacts. The compound crystallizes in the orthorhombic space group Pbca with a = 10.3380(11) Å, b = 8.2105(7) Å, c = 19.625(2) Å, and Z = 8.
Index Abstract
Square planar complex cations form additional Au···O and Au···Cl interactions to form a tetragonally distorted octahedron for gold. The ionic components are connected into a 2-D array via charge-assisted N–H···O hydrogen bonding interactions.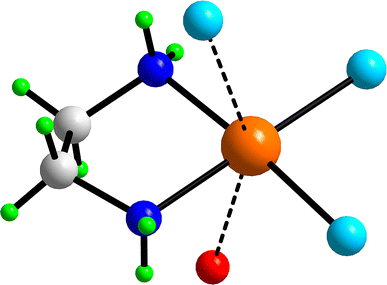 Keywords
Gold 
Ethylenediamine 
Hydrogen bonding 
Charge-assisted hydrogen bonding 
Notes
Acknowledgments
This research was supported by the National Institutes of Health SCORE Program, Grant SO6-08194, and MBRS RISE Program, Grant 07717.
Copyright information
© Springer Science+Business Media, LLC 2008