Synthesis, Crystal Structure and Fluorescent Study of Bis(2-(2-hydroxyphenyl)benzimidazolate)zinc with Ethanol Solvate
Abstract
The zinc(II) complex with 2-(2-hydroxyphenyl)benzimidazole, namely [Zn(2-(2-hydroxyphenyl)benzimidazolate)2]·C2H5OH (1 · C2H5OH) has been synthesized and characterized by X-ray crystallography and photoluminescent analysis. The complex crystallizes in monoclinic space group P21/c with cell parameters a = 10.156(1) Å, b = 25.771(3) Å, c = 9.674(1) Å, α = 90°, β = 103.641(2)°, γ = 90°, Z = 4, V = 2460.4(4) Å3. The central Zn(II) is four-coordinate and has a tetrahedral geometry. The steady-state and time-resolved photoluminescent spectra for the title compound have also been studied. The emission property can be ascribed to ligand-centered charge-transfer transition (LCCT) with π → π* property.
Index Abstract
A new co-crystal of Zn(II) complex of 2-(2-hydroxylphenyl)benzimidazole with ethanol solvate has been prepared, characterized by X-ray crystallography and fluorescent studies
.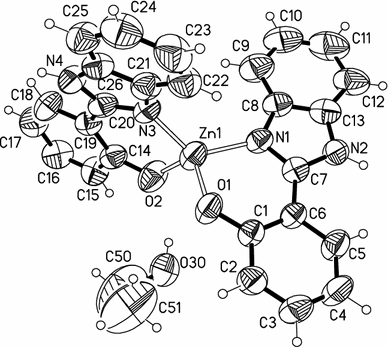 Keywords
Crystal structure 
Zn(II) 
Photoluminescence 
2-(2-Hydroxyphenyl)benzimidazole 
Ligand-centered charge-transfer 
Notes
Acknowledgements
This work was supported by the Natural Science Foundation of Guangdong Province (No. 06301028) and the Natural Science Foundation of Department of Education of Guangdong Province, China.
Copyright information
© Springer Science+Business Media, LLC 2008