Synthesis, Properties, and Crystal Structures of Copper(II) Di-(2-picolyl)amine Complexes Containing Inorganic Salts
Abstract
These complexes have been characterized by X-ray crystallography, spectroscopic, and cyclic voltammetry. In 1, the copper(II) ion has a distorted square-pyramidal geometry with three nitrogen atoms of the dpa ligand and two oxygen atoms of the nitrate anions. The crystal structure of 2 shows that the copper(II) ions are bridged by tp anion to form a dinuclear complex, in which each copper(II) ion exhibits a distorted square-pyramid with three nitrogen atoms of the dpa ligand, water molecule, and the oxygen atom of the bridging tp ligand. Cyclic voltammetric data indicate that 1 undergoes irreversible one-electron oxidation to the CuIII and reversible one-electron reduction to the CuI, while 2 gives one reversible oxidation and two reversible and irreversible reduced processes. The electronic spectra and redox potentials of the complexes are influenced significantly by the anionic ligands.
Graphical Abstract
The reaction of [Cu(dpa)Cl
2
] with K(NO
3
)
2
and Na
2
tp yields mononuclear and dinuclear copper(II) complexes [Cu(dpa)(NO
3
)
2
] (
1
) and [Cu
2
(dpa)
2
(H
2
O)
2
(μ-tp)](tp)·6H
2
O (
2
) (dpa = di-(2-picolyl)amine, tp = terephthalate).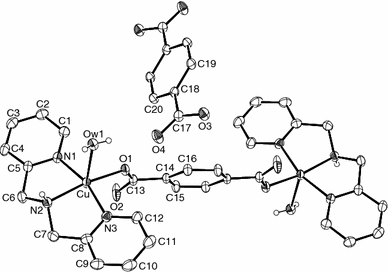 Keywords
Crystal structures 
Di-(2-picolyl)amine 
Mononuclear copper(II) complex 
Dinuclear copper(II) complexes 
Distorted square-pyramidal geometry 
Notes
Acknowledgment
This study was financially supported by Kongju National University in the 2007 Star Project Program.
Copyright information
© Springer Science+Business Media, LLC 2007