Abstract
Sepsis is a life-threatening disease, which can cause the dysfunction of multiple organs, including kidney. Recently, a number of studies found that the long non-coding RNA (lncRNA) is closely associated with the development and progression of sepsis; however, the role of long intergenic non-protein coding RNA 261 (LINC00261) in sepsis-induced acute kidney injury is poorly understood. In this study, we found the expression of LINC00261 was significantly decreased in the serum of patients with sepsis than healthy controls. A similar result was also observed in the mouse model of sepsis induced by lipopolysaccharide (LPS). Further investigations revealed that overexpression of LINC00261 improved the viability, suppressed the apoptosis and reduced the generation of inflammatory cytokines in LPS-treated HK-2 cells. Mechanistically, we confirmed that LINC00261 could function as a sponge to combine with microRNA-654-5p (miR-654-5p) which inhibits nuclear factor-κB (NF-κB) activity by targeting suppressor of cytokine signaling 3 (SOCS3). In conclusion, our results demonstrate that LINC00261 may regulate the progression of sepsis-induced acute kidney injury via the miR-654-5p/SOCS3/NF-κB pathway and therefore provides a new insight into the treatment of this disease.
Access options
Buy single article
Instant access to the full article PDF.
US$ 39.95
Tax calculation will be finalised during checkout.
Subscribe to journal
Immediate online access to all issues from 2019. Subscription will auto renew annually.
US$ 79
Tax calculation will be finalised during checkout.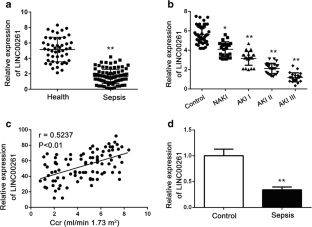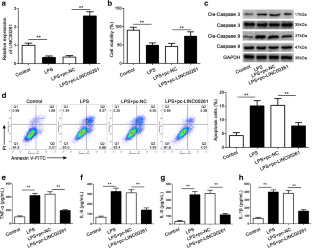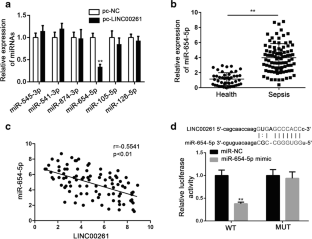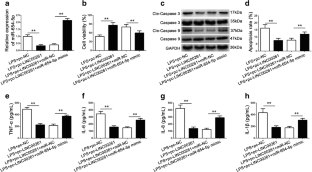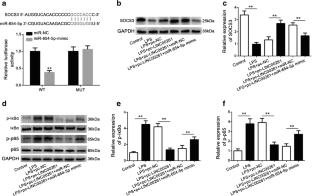 Funding
This research received no specific grant from any funding agency in the public, commercial or not-for-profit sectors.
Ethics declarations
Competing interests
The authors declare that they have no competing interests.
Ethics approval
This study was performed in line with the principles of the Declaration of Helsinki. Approval was granted by the Ethics Committee of Shandong Otolaryngological Hospital Affiliated to Shandong University.
Consent to participate
All patients gave written informed consent before participation in this study.
Consent for publication
All participants have consented to the submission of this study to the journal.
Code availability
Not applicable.
Additional information
Publisher's note
Springer Nature remains neutral with regard to jurisdictional claims in published maps and institutional affiliations.
About this article
Cite this article
Li, X., Li, J., Lu, P. et al. LINC00261 relieves the progression of sepsis-induced acute kidney injury by inhibiting NF-κB activation through targeting the miR-654-5p/SOCS3 axis. J Bioenerg Biomembr (2021). https://doi.org/10.1007/s10863-021-09874-8
Received:

Accepted:

Published:
Keywords
Sepsis

Acute kidney injury

LINC00261

miR-654-5p

NF-κB