Abstract
Fluorine NMR has recently gained high popularity in drug discovery as it allows efficient and sensitive screening of large numbers of ligands. However, the positive hits found in screening must subsequently be ranked according to their affinity in order to prioritize them for follow-up chemistry. Unfortunately, the primary read-out from the screening experiments, namely the increased relaxation rate upon binding, is not proportional to the affinity of the ligand, as it is polluted by effects such as exchange broadening. Here we present the method CSAR (Chemical Shift-anisotropy-based Affinity Ranking) for reliable ranking of fluorinated ligands by NMR, without the need of isotope labeled protein, titrations or setting up a reporter format. Our strategy is to produce relaxation data that is directly proportional to the binding affinity. This is achieved by removing all other contributions to relaxation as follows: (i) exchange effects are efficiently suppressed by using high power spin lock pulses, (ii) dipolar relaxation effects are approximately subtracted by measuring at two different magnetic fields and (iii) differences in chemical shift anisotropy are normalized using calculated values. A similar ranking can be obtained with the simplified approach FastCSAR that relies on a measurement of a single relaxation experiment at high field (preferably > 600 MHz). An affinity ranking obtained in this simple way will enable prioritizing ligands and thus improve the efficiency of fragment-based drug design.
This is a preview of subscription content, log in to check access.
Access options
Buy single article
Instant access to the full article PDF.
US$ 39.95
Price includes VAT for USA
Subscribe to journal
Immediate online access to all issues from 2019. Subscription will auto renew annually.
US$ 199
This is the net price. Taxes to be calculated in checkout.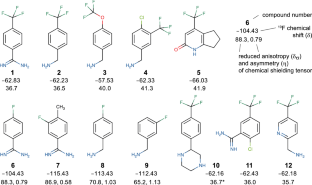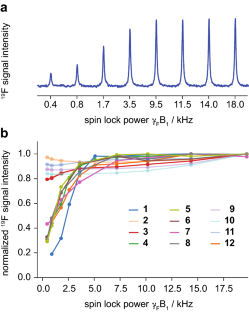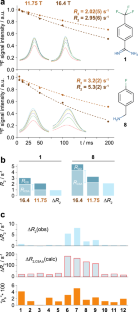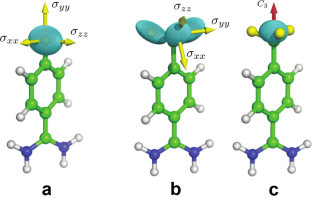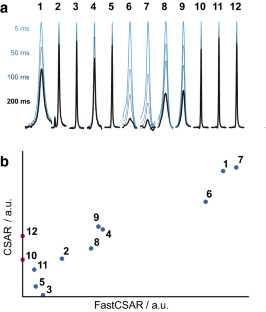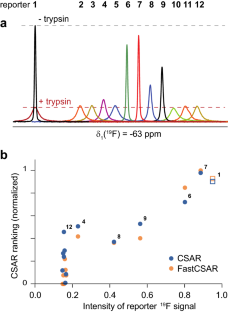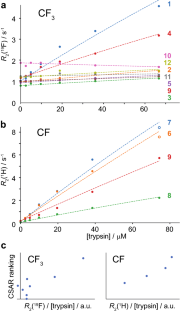 References
Aretz J, Rademacher C (2019) Ranking hits from saturation transfer difference nuclear magnetic resonance–based fragment screening. Front Chem 7:215. https://doi.org/10.3389/fchem.2019.00215

Boeszoermenyi A, Chhabra S, Dubey A et al (2019) Aromatic 19F–13C TROSY: a background-free approach to probe biomolecular structure, function, and dynamics. Nat Methods 16:333–340. https://doi.org/10.1038/s41592-019-0334-x

Casabianca LB, de Dios AC (2008) Ab initio calculations of NMR chemical shifts. J Chem Phys 128:052201. https://doi.org/10.1063/1.2816784

Dalvit C (2007) Ligand- and substrate-based 19F NMR screening: principles and applications to drug discovery. Prog Nucl Magn Reson Spectrosc 51:243–271. https://doi.org/10.1016/j.pnmrs.2007.07.002

Dalvit C (2009) NMR methods in fragment screening: theory and a comparison with other biophysical techniques. Drug Discov Today 14:1051–1057. https://doi.org/10.1016/j.drudis.2009.07.013

Dalvit C, Vulpetti A (2019) Ligand-based fluorine NMR screening: principles and applications in drug discovery projects. J Med Chem 62:2218–2244. https://doi.org/10.1021/acs.jmedchem.8b01210

Dalvit C, Fogliatto G, Stewart A et al (2001) WaterLOGSY as a method for primary NMR screening: practical aspects and range of applicability. J Biomol NMR 21:349–359. https://doi.org/10.1023/A:1013302231549

Dalvit C, Flocco M, Knapp S et al (2002) High-throughput NMR-based screening with competition binding experiments. J Am Chem Soc 124:7702–7709. https://doi.org/10.1021/ja020174b

Dalvit C, Fagerness PE, Hadden DTA et al (2003) Fluorine-NMR experiments for high-throughput screening: theoretical aspects, practical considerations, and range of applicability. J Am Chem Soc 125:7696–7703. https://doi.org/10.1021/ja034646d

Dalvit C, Parent A, Vallée F et al (2019) Fast NMR methods for measuring in the direct and/or competition mode the dissociation constants of chemical fragments interacting with a receptor. ChemMedChem 14:1115–1127. https://doi.org/10.1002/cmdc.201900152

Davis DG, Perlman ME, London RE (1994) Direct measurements of the dissociation-rate constant for inhibitor-enzyme complexes via the T1ρ and T2 (CPMG) methods. J Magn Reson B 104:266–275. https://doi.org/10.1006/jmrb.1994.1084

de Castro GV, Ciulli A (2019) Spy vs. spy: selecting the best reporter for 19 F NMR competition experiments. Chem Commun 55:1482–1485. https://doi.org/10.1039/C8CC09790A

Deverell C, Morgan RE, Strange JH (1970) Studies of chemical exchange by nuclear magnetic relaxation in the rotating frame. Mol Phys 18:553–559. https://doi.org/10.1080/00268977000100611

Ditchfield R (1974) Self-consistent perturbation theory of diamagnetism: I. A gauge-invariant LCAO method for N.M.R. chemical shifts. Mol Phys 27:789–807. https://doi.org/10.1080/00268977400100711

Dunning TH (1989) Gaussian basis sets for use in correlated molecular calculations. I. The atoms boron through neon and hydrogen. J Chem Phys 90:1007–1023. https://doi.org/10.1063/1.456153

Dürr UHN (2005) Solid-state 19F-NMR studies on fluorine-labeled model compounds and biomolecules. Universität Karlsruhe

Dürr UHN, Grage SL, Witter R, Ulrich AS (2008) Solid state 19F NMR parameters of fluorine-labeled amino acids. Part I: aromatic substituents. J Magn Reson 191:7–15. https://doi.org/10.1016/j.jmr.2007.11.017

Erlanson DA, Fesik SW, Hubbard RE et al (2016) Twenty years on: the impact of fragments on drug discovery. Nat Rev Drug Discov 15:605–619. https://doi.org/10.1038/nrd.2016.109

Ernst RR, Bodenhausen G, Wokaun A (1987) Principles of nuclear magnetic resonance in one and two dimensions. Clarendon Press, Oxford

Gerig JT (1989) Fluorine nuclear magnetic resonance of fluorinated ligands. Methods Enzymol 177:3–23. https://doi.org/10.1016/0076-6879(89)77003-8

Gerig JT (2001) Fluorine NMR. Online Textbook. https://www.biophysics.org/Portals/0/BPSAssets/Articles/gerig.pdf. Accessed 1 June 2020

Gerig JT, Stock AD (1975) Studies of the kinetics of the interaction between N-trifluoroacetlyl-d-tryptophan and α-chymotrypsin by pulsed nuclear magnetic resonance. Org Magn Reson 7:249–255. https://doi.org/10.1002/mrc.1270070602

Gossert AD, Jahnke W (2016) NMR in drug discovery: a practical guide to identification and validation of ligands interacting with biological macromolecules. Prog Nucl Magn Reson Spectrosc 97:82–125. https://doi.org/10.1016/j.pnmrs.2016.09.001

Gossert AD, Henry C, Blommers MJJ et al (2009) Time efficient detection of protein–ligand interactions with the polarization optimized PO-WaterLOGSY NMR experiment. J Biomol NMR 43:211–217. https://doi.org/10.1007/s10858-009-9303-5

Haeberlen U (1976) Averaging in ordinary coordinate and spin spaces. High resolution NMR in solids: selective averaging. Elsevier, Amsterdam, pp 37–89

Hajduk PJ, Olejniczak ET, Fesik SW (1997) One-dimensional relaxation- and diffusion-edited NMR methods for screening compounds that bind to macromolecules. J Am Chem Soc 119:12257–12261. https://doi.org/10.1021/ja9715962

Harner MJ, Frank AO, Fesik SW (2013) Fragment-based drug discovery using NMR spectroscopy. J Biomol NMR 56:65–75. https://doi.org/10.1007/s10858-013-9740-z

Harner MJ, Chauder BA, Phan J, Fesik SW (2014) Fragment-based screening of the bromodomain of ATAD2. J Med Chem 57:9687–9692. https://doi.org/10.1021/jm501035j

Helmus JJ, Jaroniec CP (2013) Nmrglue: an open source Python package for the analysis of multidimensional NMR data. J Biomol NMR 55:355–367. https://doi.org/10.1007/s10858-013-9718-x

Hopkins AL, Groom CR, Alex A (2004) Ligand efficiency: a useful metric for lead selection. Drug Discov Today 9:430–431. https://doi.org/10.1016/S1359-6446(04)03069-7

Jahnke W (2007) Perspectives of biomolecular NMR in drug discovery: the blessing and curse of versatility. J Biomol NMR 39:87–90. https://doi.org/10.1007/s10858-007-9183-5

Jahnke W, Floersheim P, Ostermeier C et al (2002) NMR reporter screening for the detection of high-affinity ligands. Angew Chem Int Ed 41:3420–3423. https://doi.org/10.1002/1521-3757(20020916)114:18<3570:AID-ANGE3570>3.0.CO;2-V

Kovacs H, Gossert AD (2014) Improved NMR experiments with 13C-isotropic mixing for assignment of aromatic and aliphatic side chains in labeled proteins. J Biomol NMR 58:101–112. https://doi.org/10.1007/s10858-013-9808-9

Kovacs H, Moskau D, Spraul M (2005) Cryogenically cooled probes—a leap in NMR technology. Prog Nucl Magn Reson Spectrosc 46:131–155. https://doi.org/10.1016/j.pnmrs.2005.03.001

Lu M, Ishima R, Polenova T, Gronenborn AM (2019) 19F NMR relaxation studies of fluorosubstituted tryptophans. J Biomol NMR 73:401–409. https://doi.org/10.1007/s10858-019-00268-y

Marenich AV, Cramer CJ, Truhlar DG (2009) Universal solvation model based on solute electron density and on a continuum model of the solvent defined by the bulk dielectric constant and atomic surface tensions. J Phys Chem B 113:6378–6396. https://doi.org/10.1021/jp810292n

Mayer M, Meyer B (1999) Characterization of ligand binding by saturation transfer difference NMR spectroscopy. Angew Chem Int Ed 38:1784–1788. https://doi.org/10.1002/(SICI)1521-3773(19990614)38:12<1784:AID-ANIE1784>3.0.CO;2-Q

Mehring M, Griffin RG, Waugh JS (1971) 19F shielding tensors from coherently narrowed NMR powder spectra. J Chem Phys 55:746–755. https://doi.org/10.1063/1.1676141

Meyer B, Peters T (2003) NMR spectroscopy techniques for screening and identifying ligand binding to protein receptors. Angew Chem Int Ed 42:864–890. https://doi.org/10.1002/anie.200390233

Meyer B, Weimar T, Peters T (1997) Screening mixtures for biological activity by NMR. Eur J Biochem 246:705–709. https://doi.org/10.1111/j.1432-1033.1997.t01-1-00705.x

Peti W, Norcross J, Eldridge G, O'Neil-Johnson M (2004) Biomolecular NMR using a microcoil NMR probe—new technique for the chemical shift assignment of aromatic side chains in proteins. J Am Chem Soc 126:5873–5878. https://doi.org/10.1021/ja039779d

Rosenau CP, Jelier BJ, Gossert AD, Togni A (2018) Exposing the origins of irreproducibility in fluorine NMR spectroscopy. Angew Chem Int Ed 57:9528–9533. https://doi.org/10.1002/anie.201802620

Sanders LK, Oldfield E (2001) Theoretical investigation of 19F NMR chemical shielding tensors in fluorobenzenes. J Phys Chem A 105:8098–8104. https://doi.org/10.1021/jp011114f

Trevino SG, Zhang N, Elenko MP et al (2011) Evolution of functional nucleic acids in the presence of nonheritable backbone heterogeneity. Proc Natl Acad Sci 108:13492–13497. https://doi.org/10.1073/pnas.1107113108

Williamson MP (2013) Using chemical shift perturbation to characterise ligand binding. Prog Nucl Magn Reson Spectrosc 73:1–16. https://doi.org/10.1016/j.pnmrs.2013.02.001

Wolinski K, Hinton JF, Pulay P (1990) Efficient implementation of the gauge-independent atomic orbital method for NMR chemical shift calculations. J Am Chem Soc 112:8251–8260. https://doi.org/10.1021/ja00179a005

Zhang X, Sänger A, Hemmig R, Jahnke W (2009) Ranking of high-affinity ligands by NMR spectroscopy. Angew Chem Int Ed 48:6691–6694. https://doi.org/10.1002/anie.200902591

Zhao Y, Truhlar DG (2008) The M06 suite of density functionals for main group thermochemistry, thermochemical kinetics, noncovalent interactions, excited states, and transition elements: two new functionals and systematic testing of four M06-class functionals and 12 other functionals. Theor Chem Acc 120:215–241. https://doi.org/10.1007/s00214-007-0310-x
Acknowledgements
The authors would like to thank Claudio Dalvit, Fred Damberger, Andreas Lingel and Wolfgang Jahnke for helpful discussions and valuable input. Paulus Erbel and César Fernández are thanked for helping with measurements. We would also like to thank Andras Boeszoermenyi and Ilya Kuprov for advice and input files for the software Gaussian. Finally, we would like to thank the staff maintaining the high-performance computing cluster Euler at ETH Zürich for their excellent support.
Additional information
Publisher's Note
Springer Nature remains neutral with regard to jurisdictional claims in published maps and institutional affiliations.
Electronic supplementary material
Below is the link to the electronic supplementary material.
About this article
Cite this article
Rüdisser, S.H., Goldberg, N., Ebert, M. et al. Efficient affinity ranking of fluorinated ligands by 19F NMR: CSAR and FastCSAR. J Biomol NMR (2020). https://doi.org/10.1007/s10858-020-00325-x
Received:

Accepted:

Published:
Keywords
Fluorine NMR

Spin lock

Affinity ranking

Chemical shift anisotropy (CSA)

Fragment-based drug design (FBDD)

Density functional theory (DFT) calculations

Drug discovery