Abstract
The rheological properties of three commercially available bone cements, CMW 1, Palacos R and Cemex ISOPLASTIC, were investigated. Testing was undertaken at both 25 and 37 °C using an oscillating parallel plate rheometer. Results showed that the three high viscosity cements exhibited distinct differences in curing rate, with CMW 1 curing in 8.7 min, Palacos R and Cemex ISOPLASTIC in 13 min at 25 °C. Furthermore it was found that these curing rates were strongly temperature dependent, with curing rates being halved at 37 °C. By monitoring the change of viscosity with time over the entire curing process, the results showed that these cements had differing viscosity profiles and hence exhibit very different handling characteristics. However, all the cements reached the same maximum viscosity of 75 × 103 Pa s. Also, the change in elastic/viscous moduli and tan δ with time, show the cements changing from a viscous material to an elastic solid with a clear peak in the viscous modulus during the latter stages of curing. These results give valuable information about the changes in rheological properties for each commercial bone cement, especially during the final curing process.
Access options
Buy single article
Instant access to the full article PDF.
US$ 39.95
Tax calculation will be finalised during checkout.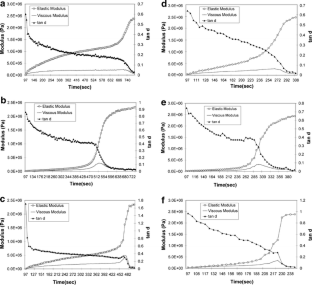 References
1.

S. SAHA and S. PAL, J. Biomed. Mater. Res. 18 (1984) 435

2.

D. H. KOHN, P. DUCHEYNE, in "Materials Science and Technology, a Comprehensive Treatment", edited by R. W. CAHN, P. HAASEN, E. J. KRAMER, Vol. 14 (VCH Publishers Incorporation, New York, USA and Weinheim, Germany, 1992), p. 72

3.

S. S. HAAS, G. M. BRAUER and G. DICKSON, J. Bone Joint Surg. 57A (1975) 380

4.

J. B PARK, Ann. Biomed. Eng. 11 (1983) 297

5.

E. J. HARPER and W. BONFIELD, J. Biomed. Mater. Res. 58 (2001) 605

6.

C. I. VALLO, T. R. CUADRADO and P. M. FRONTINI, Polym. Int. 43 (1997) 260

7.

L. E. JASPER, H. DERAMOND, J. M. MATHIS and S. M. BELKOFF, J. Mater. Sci. Mater. Med. 13 (2002) 1

8.

N. J. DUNNE, J. F. ORR, M. T. MUSHIPE and R. J. EVELEIGH, Biomaterials 24 (2003) 239

9.

G. LEWIS, S. JANNA and M. CARROLL, Biomaterials 24 (2003) 1111

10.

L. N. MOLINO and L. D. T. TOPOLESKI, J. Biomed. Mater. Res. 31 (1996) 131

11.

N. VERDONSCHOT and R. HUISKES, J. Biomed. Mater. Res. 53 (2000) 498

12.

A. J. C. LEE, R. S. M. LING, S. GHEDUZZI, J. SIMON and R. J.RENFRO, J. Mater. Sci. Mater. Med. 13 (2002) 723

13.

C. LIU, S. M. GREEN, N. D. WATKINS, P. J. GREGG and A. W. MCCASKIE, J. Mater. Sci. Mater. Med. 13 (2002) 1021

14.

M. K. D. NICHOLAS, M.Sc. dissertation (University of Manchester, 1994)

15.

N. J. DUNNE and J. F. ORR, J. Mater. Sci. Mater. Med. 13 (2002) 17

16.

W. R. KRAUSE, J. MILLER and P. NG, J. Biomed. Mater. Res. 16 (1982) 219

17.

G. LEWIS and M. CARROLL, J. Biomed. Mater. Res. 63 (2002) 191

18.

D. F. FARRAR and J. ROSE, Biomaterials, 22 (2001) 3005

19.

L. HERNANDEZ, M. FERNANDEZ, F. COLLIA, M. GURRUCHAGA and I. GONI, Biomaterials 27 (2006) 100

20.

R. J. YOUNG and P. A. LOVELL, Introduction to Polymers (Chapman & Hall, London, 1991), p. 310

21.

H. A. BARNES, J. F. HUTTON and K. WALTERS, An Introduction to Rheology (Elsevier, Amsterdam, 1998)

22.

D. W. VAN KREVELEN, Properties of Polymers (Elsevier, Amsterdam, 1997)

23.

J. M. G. COWIE, Polymers: Chemistry & Physics of Modern Materials (Nelson Thornes Ltd., Cheltenham, 2001), p. 274
About this article
Cite this article
Nicholas, M.K.D., Waters, M.G.J., Holford, K.M. et al. Analysis of rheological properties of bone cements. J Mater Sci: Mater Med 18, 1407–1412 (2007). https://doi.org/10.1007/s10856-007-0125-2
Received:

Accepted:

Published:

Issue Date:
Keywords
PMMA

Rheological Property

Bone Cement

Handling Time

Viscous Modulus