Abstract
β-Ga2O3 single-crystal films with Ta doping concentrations of 0–1.4 at.% were prepared on KTaO3(100) substrates by metal–organic chemical vapor deposition. Herein, we investigated the influence of Ta doping concentration on the structural and electrical properties of the films. X-ray diffraction results showed that the crystalline quality of the films slightly deteriorated with the increase of doping concentration, and the epitaxial relationship was identified as β-Ga2O3(100)//KTaO3(100) with β-Ga2O3[001]//KTaO3 < 011 > . The chemical composition and surface morphology of the films were characterized using X-ray photoelectron spectroscopy, and atomic force microscopy, respectively. Hall effect measurement determined that the resistivity and carrier concentration of the films were in the range of 14.8 ~ 5.01 × 103 Ω cm and 3.85 × 1016 ~ 3.97 × 1018 cm−3, respectively, whereas the film with 0.2 at.% Ta doping concentration presented the highest Hall mobility of 4.56 cm2 V−1 s−1.
Access options
Buy single article
Instant access to the full article PDF.
US$ 39.95
Tax calculation will be finalised during checkout.
Subscribe to journal
Immediate online access to all issues from 2019. Subscription will auto renew annually.
US$ 119
Tax calculation will be finalised during checkout.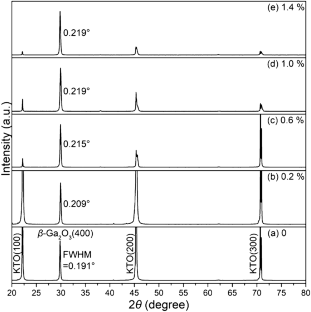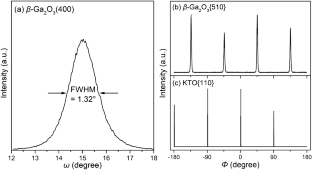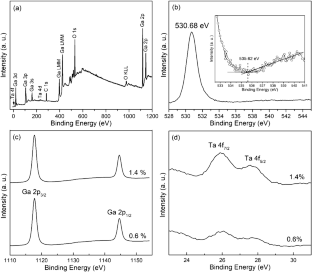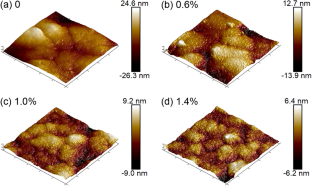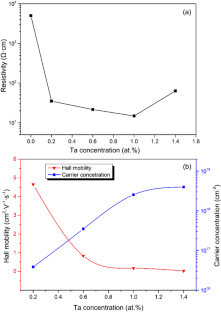 Data availability
All data contained in this study can be obtained by contacting the authors.
Funding
This work was supported by the Key Technology Research and Development Program of Shandong [Grant Number 2018GGX102024]; the National Natural Science Foundation of China [Grant Number 61874067]; and the Natural Science Foundation of Shandong Province [Grant Number ZR2019MF042].
Ethics declarations
Conflict of interest
The authors declare that they have no known competing financial interests or personal relationships that could have appeared to influence the work reported in this paper.
Additional information
Publisher's Note
Springer Nature remains neutral with regard to jurisdictional claims in published maps and institutional affiliations.
Supplementary Information
Below is the link to the electronic supplementary material.
About this article
Cite this article
Wang, D., Xiao, H., Le, Y. et al. Effect of Ta doping on the properties of β-Ga2O3 heteroepitaxial films prepared on KTaO3(100) substrates. J Mater Sci: Mater Electron 32, 2757–2764 (2021). https://doi.org/10.1007/s10854-020-05015-w
Received:

Accepted:

Published:

Issue Date: