Abstract
Poly(3,4-ethylenedioxythiophene):poly(styrenesulfonate) (PEDOT:PSS) is widely used as a hole transport materials in perovskite solar cells, due to a variety of suitable properties. However, the existence of the insulated PSS chain leads to the low electrical conductivity, which should be improved for the further development of inverted perovskite solar cells. In this study, three alcohol solvents were proposed for post-treatment of PEDOT:PSS thin films, which utilized the electrostatic shielding effect of alcohol molecules to promote phase separation of the PEDOT chain and the PSS chain. At the same time, The insulated PSS chain was removed by dissolving in highly hydrophilic alcohols. In the end, we successfully improved the conductivity of PEDOT:PSS thin films. By ethanol solvent treatment, the short-circuit current density of the perovskite solar cell based on glass/ITO/PEDOT:PSS was increased from 15.64 to 17.45 mA/cm2, the power conversion efficiency (PCE) reached 11.36%, which was 25% higher than the traditional structure. For flexible devices, a preliminary PCE of 9.20% was achieved.
This is a preview of subscription content, log in to check access.
Access options
Buy single article
Instant access to the full article PDF.
US$ 39.95
Price includes VAT for USA
Subscribe to journal
Immediate online access to all issues from 2019. Subscription will auto renew annually.
US$ 199
This is the net price. Taxes to be calculated in checkout.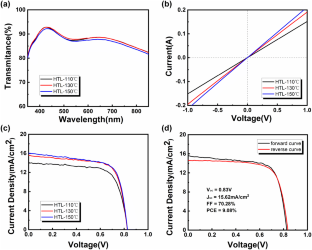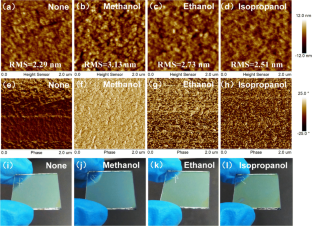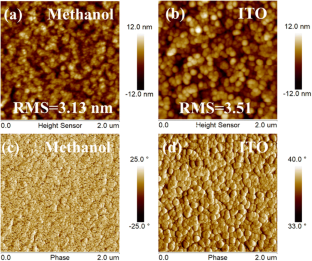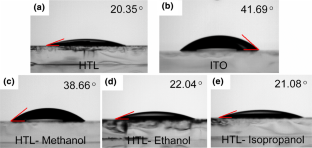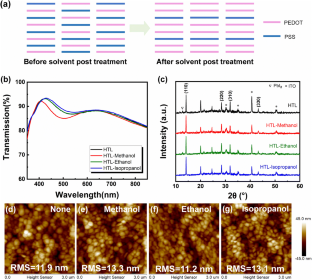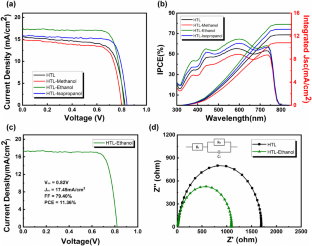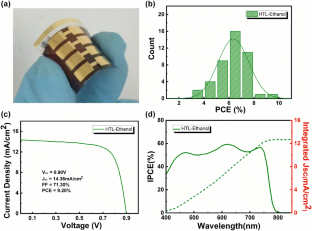 References
1.

M.M. Lee, J. Teuscher, T. Miyasaka, T.N. Murakami, H.J. Snaith, Science 338, 643–647 (2012)

2.

H. Zhou, Q. Chen, G. Li, S. Luo, T.B. Song, H.S. Duan, Z. Hong, J. You, Y. Liu, Y. Yang, Science 345, 542–546 (2014)

3.

Y. Bai, S. Xiao, C. Hu, T. Zhang, X. Meng, Q. Li, Y. Yang, K.S. Wong, H. Chen, S. Yang, Nano Energy 34, 58–68 (2017)

4.

Z. Yu, L. Sun, Adv. Energy Mater. 5, 1500213 (2015)

5.

J.N. Joong, H. Na, J.E. Hyuk, T.Y. Yang, L.Y. Guk, K. Geunjin, S. Hee-Won, I.S. Sang, L. Jaemin, S. Jangwon, Nat. Energy 3, 682–689 (2018)

6.

Q. Jiang, Z. Chu, P. Wang, X. Yang, H. Liu, Y. Wang, Z. Yin, J. Wu, X. Zhang, J. You, Adv. Mater. 29, 1703852 (2017)

7.

T. Liu, C. Ke, H. Qin, Z. Rui, Q. Gong, Adv. Energy Mater. 6, 1600457 (2016)

8.

Q. Lin, A. Armin, P.L. Burn, P. Meredith, Acc. Chem. Res. 49, 545–553 (2016)

9.

K. Jiang, F. Wu, G. Zhang, P.C.Y. Chow, C. Ma, S. Li, K.S. Wong, L. Zhu, H. Yan, J. Mater. Chem. A 7, 897 (2019)

10.

W. Zhang, B. Zhao, Z. He, X. Zhao, H. Wang, S. Yang, H. Wu, C. Yong, Energy Environ. Sci. 6, 1956–1964 (2013)

11.

J. He, P. Gao, M. Liao, X. Yang, Z. Ying, S. Zhou, J. Ye, Y. Cui, Acs Nano 9, 6522–6531 (2015)

12.

Y. Xia, K. Sun, J. Ouyang, Adv. Mater. 24, 2436–2440 (2012)

13.

L. Chen, X. Xie, Z. Liu, E.C. Lee, J. Mater. Chem. A 5, 6974–6980 (2017)

14.

K. Chen, Q. Hu, T. Liu, L. Zhao, D. Luo, J. Wu, Y. Zhang, W. Zhang, F. Liu, T.P. Russell, Adv. Mater. 28, 10718–10724 (2016)

15.

Q. Wang, C.-C. Chueh, M. Eslamian, A.K.-Y. Jen, Acs Appl. Mater. Interfaces 8, 32068–32076 (2016)

16.

X. Huang, K. Wang, C. Yi, T. Meng, X. Gong, Adv. Energy Mater. 6, 1501773 (2016)

17.

K. Lim, S. Ahn, Y. Kim, Y. Qi, T. Lee, Energy Environ. Sci. 9, 932–939 (2016)

18.

H. Di, T.H. Goh, J. Kong, Y. Zheng, A.D. Taylor, Nanoscale 9, 4236–4243 (2017)

19.

H. Liu, X. Li, L. Zhang, Q. Hong, J. Tang, A. Zhang, C. Ma, Org. Electron. 47, 220–227 (2017)

20.

J.P. Thomas, K.T. Leung, J. Mater. Chem. 4, 17537–17542 (2016)

21.

D. Huang, Z. Xu, S. Zhao, Y. Li, L. Zhao, S.Q. Jin, Appl. Surf. Sci. 353, 1253–1259 (2015)

22.

J.P. Thomas, L. Zhao, D. McGillivray, K.T. Leung, J. Mater. Chem. A 2, 2383 (2014)

23.

G. Liu, X. Xie, Z. Liu, G. Cheng, E.-C. Lee, Nanoscale 10, 11043–11051 (2018)

24.

D. Alemu, H. Wei, K. Ho, C. Chu, Energy Environ. Sci. 5, 9662–9671 (2012)

25.

U. Lang, E. Müller, N. Naujoks, J. Dual, Adv. Func. Mater. 19, 1215–1220 (2009)

26.

J. Sun, W.W. Gerberich, L.F. Francis, Prog. Org. Coat. 59, 115–121 (2007)

27.

B. Vaagensmith, K.M. Reza, M.N. Hasan, h elbohy, N. Adhikari, A. Dubey, N. Kantack, E. Gaml, Q. Qiao, Acs Appl. Mater. Interfaces 9, 35861–35870 (2017)

28.

J.Y. Kim, J.H. Jung, D.E. Lee, J. Joo, Synth. Met. 126, 311–316 (2002)
Acknowledgements
This work was supported by the National Natural Science Foundation of China (61974074), the Natural Science Foundation of Tianjin (17JCYBJC21200, 18JCQNJC71800) and the Fundamental Research Funds for the Central Universities, Nankai University (63191101, 63191740, 63191745).
Ethics declarations
Conflict of interest
The authors declare no competing financial interests.
Additional information
Publisher's Note
Springer Nature remains neutral with regard to jurisdictional claims in published maps and institutional affiliations.
Electronic supplementary material
Below is the link to the electronic supplementary material.
About this article
Cite this article
Liu, Y., Cai, H., Chu, Y. et al. Alcohol solvent treatment of PEDOT:PSS hole transport layer for optimized inverted perovskite solar cells. J Mater Sci: Mater Electron (2020). https://doi.org/10.1007/s10854-020-03828-3
Received:

Revised:

Accepted:

Published: