Abstract
Room temperature ferromagnetic measurements were made on BaFe12O19 nanoparticles that had been synthesized via a co-precipitation method at various pH values between 9 and 14 and then calcined at temperatures between 800 and 1000 °C. The synthesized samples were characterized using X-ray diffraction (XRD), transmission electron microscopy, X-ray absorption near edge structure, X-ray photoelectron spectroscopy and vibrating sample magnetometry. The samples, prepared starting from pH 13 and calcined at temperatures between 800 and 1000 °C, exhibited XRD peaks corresponding to a single phase hexagonal BaFe12O19. The crystallite sizes increased from 60 ± 6 to 77 ± 8 nm with increasing calcination temperature. Their nanoparticle morphology showed rod-like shapes with diameters of 81 ± 13 and 94 ± 15 nm and lengths of 207 ± 25 and 254 ± 40 nm for samples calcined at 900 and 1000 °C, respectively. The presence of Ba2+ and Fe3+ in all samples was confirmed. All synthesized samples showed hard ferromagnetic behavior at room temperature, but a single phase BaFe12O19 at pH 13 achieved a maximal saturation magnetization (MS), 67 emu/g, which was higher than samples prepared at other pH values. The highest MS value, 68 emu/g, was on the sample calcined at 1000 °C. MS values are related to size effects and the O2−/Fe3+ ion ratio. The origin of these phenomena is discussed.
This is a preview of subscription content, log in to check access.
Access options
Buy single article
Instant access to the full article PDF.
US$ 39.95
Price includes VAT for USA
Subscribe to journal
Immediate online access to all issues from 2019. Subscription will auto renew annually.
US$ 199
This is the net price. Taxes to be calculated in checkout.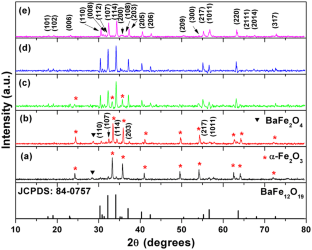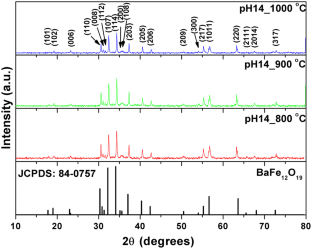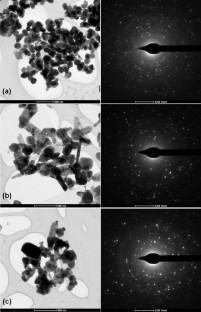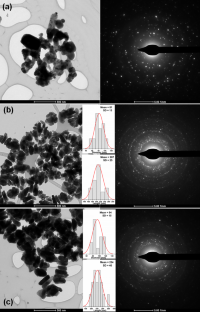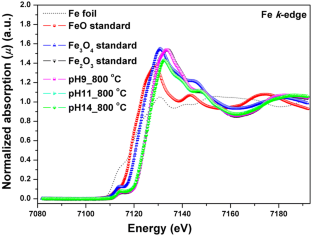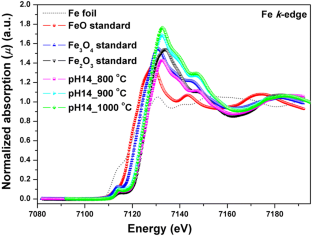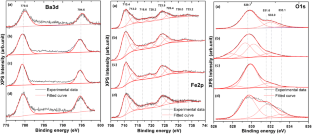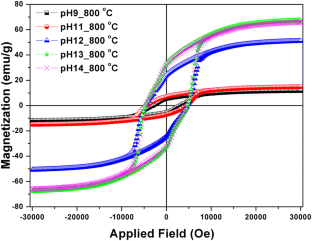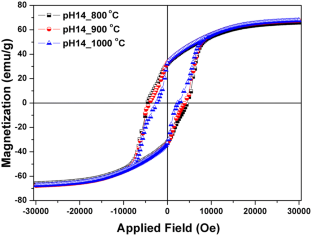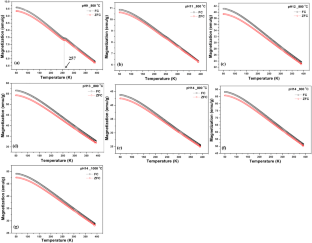 Acknowledgements
This work was supported financially by Udon Thani Rajabhat University Research and its Development Institute (Grant No. 343133 (2560A16202041)) and the Research Network NANOTEC (RNN) program of the National Nanotechnology Center (NANOTEC), NSTDA, Ministry of Higher Education, Science, Research and Innovation (MHESI) and Khon Kaen University, Thailand. The authors would like to thank the SUT-NANOTEC-SLRI Joint Research Facility, Synchrotron Light Research Institute (SLRI), Thailand for use of their XANES and XPS facilities and the Department of Physics, Khon Kaen University, for providing the VSM facilities.
Additional information
Publisher's Note
Springer Nature remains neutral with regard to jurisdictional claims in published maps and institutional affiliations.
About this article
Cite this article
Yensano, R., Phokha, S. Effect of pH on single phase BaFe12O19 nanoparticles and their improved magnetic properties. J Mater Sci: Mater Electron 31, 11764–11773 (2020). https://doi.org/10.1007/s10854-020-03728-6
Received:

Accepted:

Published:

Issue Date: