Abstract
This work presents a utilization of spray deposition technique in the fabrication of thin film perovskite solar cell devices with an assistance of a homemade CNC machine. An 80 nm-thick compact TiO2 was sprayed at a substrate temperature of 400 °C for electron blocking layer. Both one and two-step spray deposition technique are used to compare the quality of the perovskite absorber layer. A large grain size and voids free CH3NH3PbI3 film achieved by using the two-step spray deposition process. When such films are incorporated into a solar cell device with conductive carbon counter electrode, the maximum power conversion efficiencies of up to 9.58% are realized. This approach could pave the way to develop low-cost perovskite solar cell.
This is a preview of subscription content, log in to check access.
Access options
Buy single article
Instant access to the full article PDF.
US$ 39.95
Price includes VAT for USA
Subscribe to journal
Immediate online access to all issues from 2019. Subscription will auto renew annually.
US$ 199
This is the net price. Taxes to be calculated in checkout.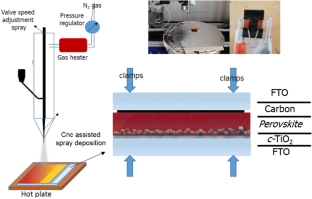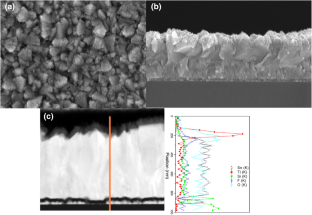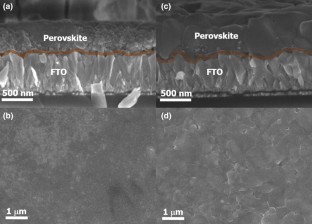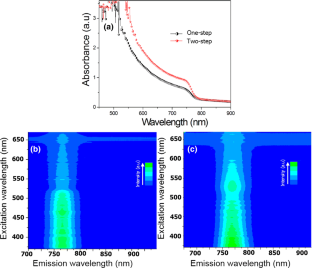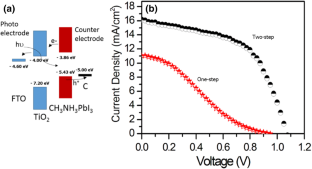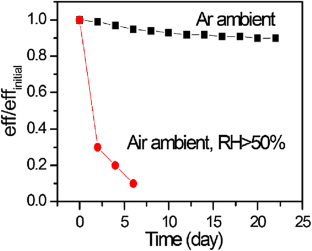 References
1.

Q. Le, K. Hong, H. Jang, S. Kim, Halide Perovskite quantum dots for light-emitting diodes: properties, synthesis, applications, and outlooks. Adv. Electron. Mater. 4, 12 (2018)

2.

Y. Zhang, W. Jie, P. Chen, W. Liu, J. Hao, Ferroelectric and piezoelectric effects on the optical process in advanced materials and devices. Adv. Mater. 30, 34 (2018)

3.

A. Filippetti, C. Caddeo, P. Delugas, A. Mattoni, Appealing perspectives of hybrid lead-iodide perovskites as thermoelectric materials. J. Phys. Chem. C 120(50), 28472–28479 (2016)

4.

N. Wang, W. Liu, Q. Zhang, Perovskite-based nanocrystals: synthesis and applications beyond solar cells. Small Methods 2, 6 (2018)

5.

X. Zhao, J. Andrew Ag, R. Friend, Z. Tan, Opportunities and challenges in perovskite light-emitting devices. ACS Photonics 5(10), 3866–3875 (2018)

6.

S. Maiti, S. Karan, J. Kim, B. Khatua, Nature driven bio-piezoelectric/triboelectric nanogenerator as next-generation green energy harvester for smart and pollution free society. Adv. Energy Mater. 9(9), 1803027 (2019)

7.

A. Kojima, K. Teshima, T. Miyasaka, Organometal halide perovskites as visible-light sensitizers for photovoltaic cells. J. Am. Chem. Soc. 131(17), 6050–6051 (2009)

8.

H. Kim, A. Hagfeldt, N. Park, Morphological and compositional progress in halide perovskite solar cells. Chem. Commun. 55, 1192–1200 (2019)

9.

M. Liu, M. Johnston, H. Snaith, Efficient planar heterojunction perovskite solar cells by vapour deposition. Nature 501, 395–398 (2013)

10.

J. Su, H. Cai, X. Ye, X. Zhou, J. Yang, D. Wang, J. Ni, J. Li, J. Zhang, Efficient perovskite solar cells prepared by hot air blowing to ultrasonic spraying in ambient air. ACS Appl. Mater. Interfaces 11(11), 10689–10696 (2019)

11.

F. Huang, M. Li, P. Siffalovic, G. Cao, J. Tian, Performance and stability of co-evaporated vapor deposited perovskite solar cells. Energy Environ. Sci. 12, 518–549 (2019)

12.

Y. Liang, Y. Yao, X. Zhang, W. Hsu, Y. Gong, J. Shin, E. Wachsman, M. Dagenais, I. Takeuchi, Fabrication of organic-inorganic perovskite thin films for planar solar cells via pulsed laser deposition. AIP Adv. 6, 015001 (2016)

13.

R. Kottokkaran, H. Gaonkar, H. Abbas, M. Noack, V. Dalal, Performance and stability of co-evaporated vapor deposited perovskite solar cells. J. Mater. Sci.: Mater. Electron. 30(6), 5487–5494 (2019)

14.

J. Chen, S. Kim, N. Park, FA0.88Cs0.12PbI3−x(PF6)x Interlayer formed by ion exchange reaction between perovskite and hole transporting layer for improving photovoltaic performance and stability. Adv. Mater. 30(40), 1801948 (2018)

15.

D. Son, J. Lee, Y. Choi, I. Jang, S. Lee, P. Yoo, H. Shin, N. Ahn, M. Choi, D. Kim, N. Park, Self-formed grain boundary healing layer for highly efficient CH3NH3PbI3 perovskite solar cells. Nat. Energy 1, 16081 (2016)

16.

S. Li, C. Chang, Y. Wang, C. Lin, D. Wang, J. Lin, C. Chen, H. Sheu, H. Chia, W. Wu, U. Jeng, C. Liang, R. Sankar, F. Chou, C. Chen, Energy Environ. Sci. 9, 1282–1289 (2016)

17.

A. Dualeh, N. Tétreault, T. Moehl, P. Gao, M. Nazeeruddin, M. Grätzel, T. Moehl, Impedance spectroscopic analysis of lead iodide perovskite-sensitized solid-state solar cells. Adv. Funct. Mater. 24, 3250–3258 (2014)

18.

Q. Wang, Y. Shao, Q. Dong, Z. Xiao, Y. Yuan, J. Huang, Large fill-factor bilayer iodine perovskite solar cells fabricated by a low-temperature solution-process. Energy Environ. Sci. 7, 2359–2365 (2014)

19.

H. Kim, H. Choi, J. Jeong, S. Kim, B. Walker, S. Song, J. Kim, Mixed solvents for the optimization of morphology in solution-processed, inverted-type perovskite/fullerene hybrid solar cells. Nanoscale 6, 6679–6683 (2014)

20.

H. Chen, X. Ding, X. Pan, T. Hayat, A. Alsaedi, Y. Ding, S. Dai, Comprehensive studies of air-brush spray deposition used in fabricating high-efficiency CH3NH3PbI3 perovskite solar cells: combining theories with practices. J. Power Sources 402, 82–90 (2018)

21.

A. Barrows, A. Pearson, K. Chan, A. Dunbar, A. Buckley, D. Lidzey, Efficient planar heterojunction mixed-halide perovskite solar cells deposited via spray-deposition. Energy Environ. Sci. 7, 2944–2950 (2014)

22.

H. Jin, M. Lee, H. Min, H. Sang, Highly efficient CH3NH3PbI3−xClx mixed halide perovskite solar cells prepared by re-dissolution and crystal grain growth via spray coating. J. Mater. Chem. 4, 17636–17642 (2016)

23.

K. Boopathi, R. Mohan, T. Huang, W. Budiawan, M. Lin, C. Lee, K. Ho, C. Chu, Synergistic improvements in stability and performance of lead iodide perovskite solar cells incorporating salt additives. J. Mater. Chem. A 4, 1591–1597 (2016)

24.

J. Yang, Z. Yuan, X. Liu, S. Braun, Y. Li, J. Tang, F. Gao, C. Duan, M. Fahlman, Q. Bao, Oxygen- and water-induced energetics degradation in organometal halide perovskites. ACS Appl. Mater. Interfaces. 10(18), 16225–16230 (2018)
Acknowledgement
This research was funded by Vietnam National Foundation for Science and Technology Development (NAFOSTED) under Grant No. 103.02-2015.49.
Additional information
Publisher's Note
Springer Nature remains neutral with regard to jurisdictional claims in published maps and institutional affiliations.
About this article
Cite this article
Duong, T., Tran, T. & Le, Q. CNC assisted spray deposition of large grain size CH3NH3PbI3 film for perovskite solar cells. J Mater Sci: Mater Electron 30, 11027–11033 (2019). https://doi.org/10.1007/s10854-019-01444-4
Received:

Accepted:

Published:

Issue Date: