Abstract
Reactive oxygen species (ROS) are important in regulating normal cell physiological functions, i.e., cell death, proliferation and differentiation. Redox modulation could have significant implications providing an opportunity for the development of new strategies to improve clinical therapeutic outcomes in the treatment of diabetes, hypertension, atherosclerosis, carcinogenesis, aging and infections. Here, we report a versatile synthetic method to produce three polyethylene glycol (PEG)-based nanocomposite hydrogels containing different graphene derivatives homogeneously distributed: graphene oxide (GO), reduced graphene oxide (rGO) and graphene nanoplatelets (GNP) by free-radical redox polymerization. The graphene–PEG nanocomposite hydrogels (GCH) were very stable at different pH and solvents. Incorporation of small amount (1% wt) of graphene additives led to enhanced mechanical properties, up to 2.5-fold increase in elastic modulus and higher thermal stability (53–62 °C). The swelling behavior strongly depended on the functionalization of the graphene additive and their interaction with PEG. Interestingly, incorporation of graphene additives conferred antioxidant/pro-oxidant activity to the hydrogel, with their radical scavenging activity depending on the nature of the radical and the graphene derivative. PEG-rGO and PEG-GNP showed the highest scavenging activity for 2,2-Diphenyl-1-picrylhydrazyl radical (DPPH•) and hydroxyl radical, respectively. In addition, PEG-rGO demonstrated peroxidase activity in the presence of H2O2. The three GCH proved biocompatible, with no effect on cell viability and proliferation of human bone marrow derived mesenchymal stem cells (hMSC). The results pave the way for the design of bioactive functional nanocomposite hydrogels for ROS-mediated applications.
Graphical abstract

Access options
Buy single article
Instant access to the full article PDF.
US$ 39.95
Tax calculation will be finalised during checkout.
Subscribe to journal
Immediate online access to all issues from 2019. Subscription will auto renew annually.
US$ 119
Tax calculation will be finalised during checkout.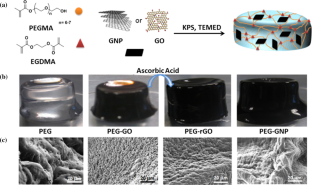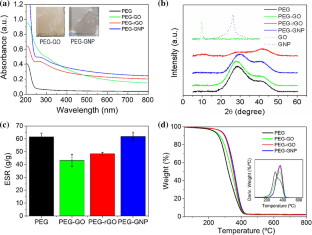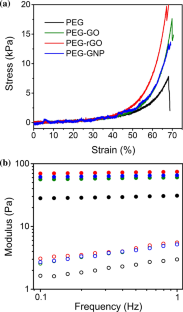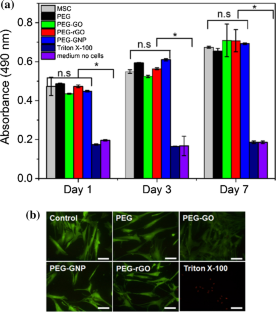 Acknowledgements
Ms. Eider Begiristain is acknowledged for her precious help in the experimental work.
Ethics declarations
Conflict of interest
Laura Sánchez-Abella, Virginia Ruiz, Adrián Pérez-San Vicente, Hans-Jürgen Grande, Iraida Loinaz and Damien Dupin declare that they have no conflict of interest.
Additional information
Publisher's Note
Springer Nature remains neutral with regard to jurisdictional claims in published maps and institutional affiliations.
Handling Editor: Maude Jimenez.
Supplementary Information
Below is the link to the electronic supplementary material.
About this article
Cite this article
Sánchez-Abella, L., Ruiz, V., Pérez-San Vicente, A. et al. Reactive oxygen species (ROS)-responsive biocompatible polyethylene glycol nanocomposite hydrogels with different graphene derivatives. J Mater Sci (2021). https://doi.org/10.1007/s10853-021-05919-w
Received:

Accepted:

Published: