Abstract
The design of hierarchical tubular nanostructure is a big challenge to improve the photoelectrochemical (PEC) performance. Herein, we designed and synthesized hierarchical ZnFe2O4 (ZFO) nanotube arrays grown on FTO substrates through self-sacrifice template routes. The well-defined ZFO nanotube arrays with a pore diameter of 150 ~ 200 nm provided special configuration for PEC water splitting, such as large specific surface area, direct electron transport pathway, and low surface charge recombination rate. As expected, the optimized ZFO nanotube arrays with non-noble metal molybdenum sulfide as co-catalyst exhibited excellent PEC activity (maximum photocurrent density up to 0.9 mA cm−2 at 1.23 V vs. RHE) under AM 1.5G simulated sunlight (100 mW cm−2). And the photocurrent density of the ZFO/MoSx electrode can maintain ca. 72.0% initial value under 1 h continuous light illumination. Via intensity-modulated photocurrent spectroscopy analysis, the enhanced mechanism of PEC water oxidation was discovered, that is, the improved surface charge separation efficiency aroused by the increased charge transfer efficiency for the optimized ZFO/MoSx electrode. Low charge recombination and fast carrier transfer accelerated the water oxidation kinetics at the electrode/electrolyte interface. This work provides a valuable insight to understand the interfacial charge transfer kinetics for the catalyst decorated photoelectrode toward efficient solar water oxidation.
Access options
Buy single article
Instant access to the full article PDF.
US$ 39.95
Tax calculation will be finalised during checkout.
Subscribe to journal
Immediate online access to all issues from 2019. Subscription will auto renew annually.
US$ 119
Tax calculation will be finalised during checkout.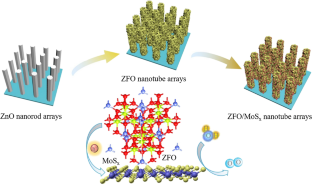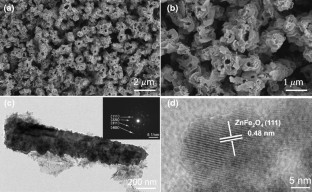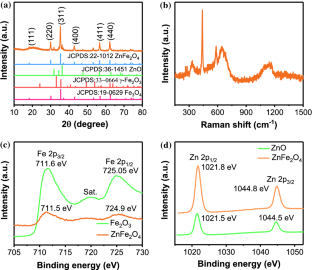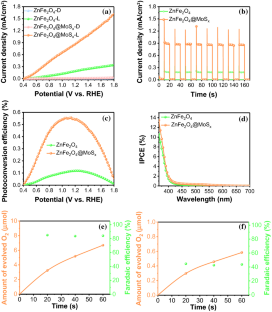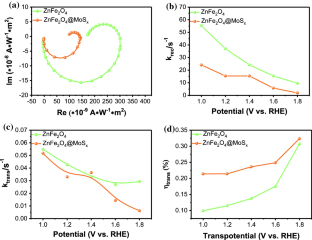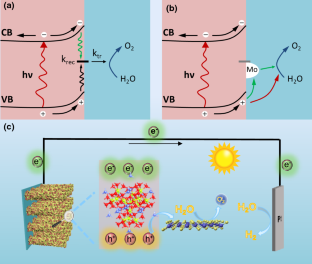 Acknowledgements
This work is supported by the National Natural Science Foundation of China (No. 21771001, 51872002), the Anhui Provincial Natural Science Foundation (No. 1708085ME120), the Program of Anhui Scientific and Technical Leaders Reserve Candidates (2018RH168), the Scholar Program for the Outstanding Innovative Talent of College Discipline (Specialty), doctoral start-up fund and open fund for Discipline Construction, Institute of Physical Science and Information Technology, Anhui University. Funding was also provided by University Natural Science Research Project of Anhui Province (Grant No. KJ2017A007).
Additional information
Publisher's Note
Springer Nature remains neutral with regard to jurisdictional claims in published maps and institutional affiliations.
Handling Editor: Pedro Camargo.
Supplementary Information
Below is the link to the electronic supplementary material.
About this article
Cite this article
Lv, C., Liu, P., Huang, F. et al. Carrier dynamics in hierarchical ZnFe2O4 nanotube arrays and their roles in boosting photoelectrochemical water oxidation. J Mater Sci 56, 9408–9418 (2021). https://doi.org/10.1007/s10853-021-05900-7
Received:

Accepted:

Published:

Issue Date: