Abstract
The kinetics mismatch between battery type anode and capacitor type cathode for most lithium-ion capacitors (LICs) greatly hampers their overall electrochemical performance. Herein, we construct a high-performance LIC using activated carbon as cathode and pseudocapacitive-assisted Co3O4 porous nanorods (Co3O4 PNRs) /N-doped reduced graphene oxide hybrid (RGO-Co3O4 PNR) as anode to address this issue. In this design, (1) the in situ nitrogen doping enhances the strong coupling between Co3O4 and graphene, leading to good structural stability; (2) Co3O4 PNRs provide sufficient ion transport pathways in the axial direction and shorten diffusion distance in the radial direction, resulting to improved ion dynamics; (3) the integrated 3D hybrid structure with improved conductivity and enhanced surface area endows the RGO-Co3O4 PNR with feasible channels for ion/electron transport and extra adsorption sites for energy storage, which can improve kinetics and capacity synchronously. Consequently, the hybrid electrode shows remarkable specific capacity (1118 mAh g−1 at 0.2 A g−1), impressive rate capability (427 mAh g−1 at 5 A g−1) and long lifespan with a capacity retention of 75% even after 200 continuous cycles at 0.5 A g−1. Significantly, the improved pseudocapacitive contribution should be responsible for fast kinetics and long durability of the electrode. Due to the improved cathode and anode compatibility, the assembled LIC delivers high energy density of 144 Wh kg−1 and 72 Wh kg−1 at 300 W kg−1 and 13 kW kg−1 along with impressive life expectancy.
Graphical abstract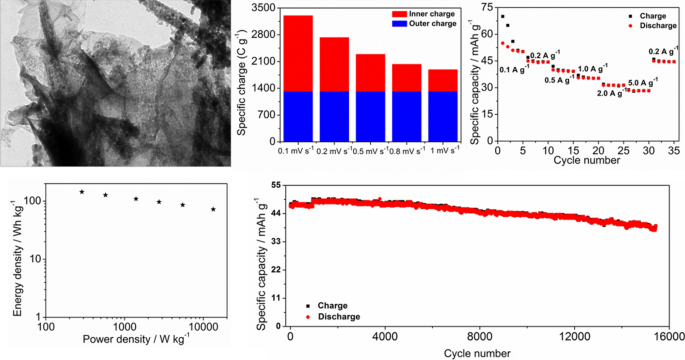 Access options
Buy single article
Instant access to the full article PDF.
US$ 39.95
Tax calculation will be finalised during checkout.
Subscribe to journal
Immediate online access to all issues from 2019. Subscription will auto renew annually.
US$ 119
Tax calculation will be finalised during checkout.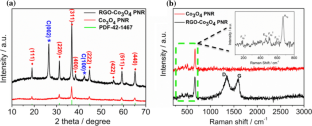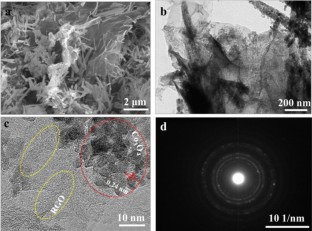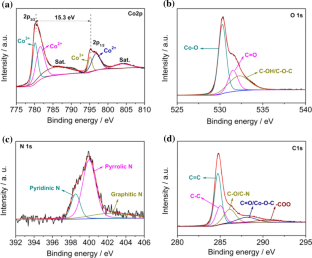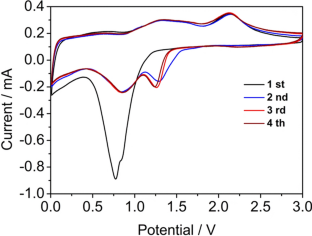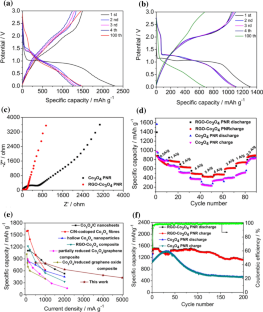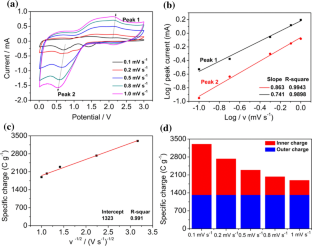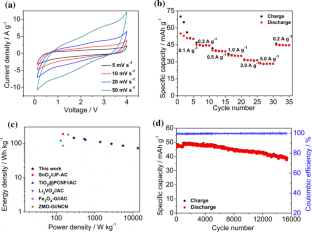 Acknowledgements
This work was supported by the National Natural Science Foundation of China (U1610252, 51602322, 21576277), Natural Science Foundation of Shanxi Province (201801D221371) and the Outstanding PhD. Program of Shanxi Province (SQ2019001).
Ethics declarations
Conflict of interest
The authors declare no competing financial interest.
Additional information
Publisher's Note
Springer Nature remains neutral with regard to jurisdictional claims in published maps and institutional affiliations.
Handling Editor: Joshua Tong.
Supplementary Information
Supplementary material 2 (MP4 633 kb)
About this article
Cite this article
Shi, J., Li, X., Yang, T. et al. Co3O4 porous nanorod/N-doped reduced graphene oxide composite with fast pseudocapacitive lithium storage for high-performance lithium-ion capacitors. J Mater Sci 56, 7520–7532 (2021). https://doi.org/10.1007/s10853-020-05640-0
Received:

Accepted:

Published:

Issue Date: