Abstract
Amphoteric ion exchange membranes (Q-x/S) for vanadium redox flow battery (VRFB) are prepared from brominated poly(phthalazinone ether ketone) with the degree of substitution (DS) in the range of 60–95% and sulfonated poly(phthalazinone ether ketone) through blending and amination reaction, and x refers to the DS. Q-x/S membranes contain quaternary ammonium and sulfonic groups, making it easy to adjust the permeability of different vanadium ions and net water transport. When the DS increases from 60 to 95%, the discrepancy of the permeability for VO2+/VO2+ and V2+/V3+ enhances. The permeability of VO2+, VO2+, V3+ and V2+ for Q-x/S membranes was 98.7–99.9%, 98.6–99.9%, 99.5–99.9% and 99.2–99.9% less than those for Nafion115. Compared to Nafion115, Q-88/S membrane shows 81.3 and 84.8% decrease in static and cycling water transport volume. The energy efficiency (EE) of Q-88/S and Q-95/S membranes reaches 90% at the current density of 40 mA cm−2, higher than that of Nafion115 (86.5%). Compared with Nafion115, Q-x/S membranes exhibit stable efficiencies and higher capacity retention in long-term VRFB operation. Low vanadium permeability and net water transport volume make Q-x/S membranes promising to be used in commercial VRFB.
Graphic abstract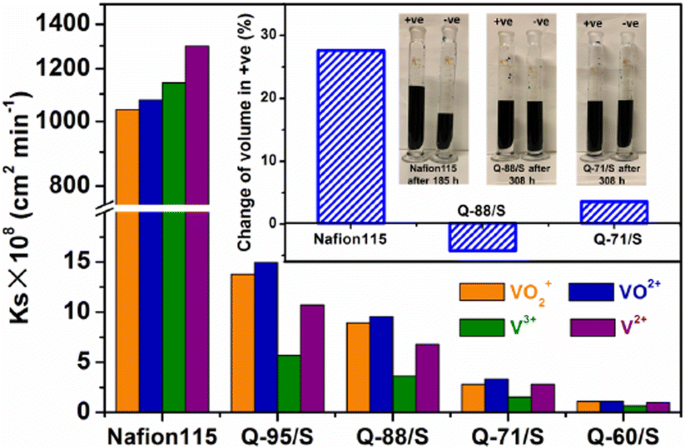 This is a preview of subscription content, log in to check access.
Access options
Buy single article
Instant access to the full article PDF.
US$ 39.95
Price includes VAT for USA
Subscribe to journal
Immediate online access to all issues from 2019. Subscription will auto renew annually.
US$ 199
This is the net price. Taxes to be calculated in checkout.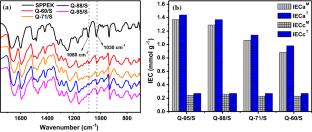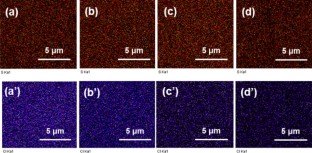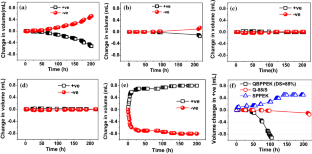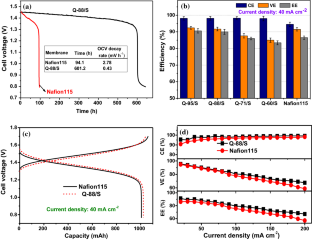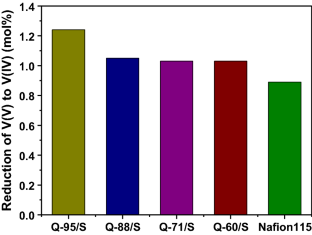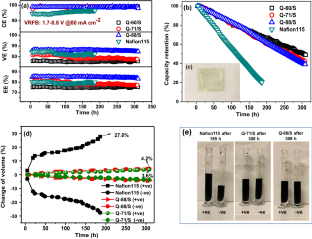 Acknowledgements
This work was supported by National Natural Science Foundation of China (Grant Number 21276037), the project of Dalian municipal science and technology plan (Grant Number 2014J11JH127), LiaoNing Revitalization Talents Program (Grant Number XLYC1802073) and the Fundamental Research Funds for the Central Universities (Grant Number DUT19ZD404).
Additional information
Publisher's Note
Springer Nature remains neutral with regard to jurisdictional claims in published maps and institutional affiliations.
Electronic supplementary material
Below is the link to the electronic supplementary material.
About this article
Cite this article
Chen, Y., Zhang, S., Liu, Q. et al. Investigation of poly(phthalazinone ether ketone) amphoteric ion exchange membranes in vanadium redox flow batteries. J Mater Sci (2020). https://doi.org/10.1007/s10853-020-04968-x
Received:

Accepted:

Published: