Abstract
There is a growing interest in the design and fabrication of small-scale soft actuators and robotics, especially the realization of functionalities mimicking biological systems with biomimetic motions in response to external stimuli. However, the mobility and self-weight are still the critical challenges for further improvement and broader application of soft actuators. It is attractive to develop untethered and ultra-light small-scale robotics by integrating the actuators and drivers while achieving the ability to respond to external stimuli. Inspired by the spiders that rely on electrostatic forces in the environment to stay airborne by their ballooning silk, a positively charged fiber-paper structure-based soft actuator is proposed. Utilizing electrospinning of tetraethyl orthosilicate (TEOS) solution, this ultra-light soft actuator can realize the movement of bending and high-frequency vibration with the stimuli of electrostatic force in the electric field. Programmable motions, i.e., continuous bending with a series of angles, variable frequency vibration, can be realized by regulating the external electric field. The 3D fluffy structure of the silica micro-nanofibers and the paper-based structure endow the soft actuator with ultra-lightweight and excellent flexibility. The untethered, ultra-light soft actuator suggests a feasible approach to develop ultra-light, soft and autonomous robotics and holds promise in reconnaissance and environmental detection.
Graphic abstract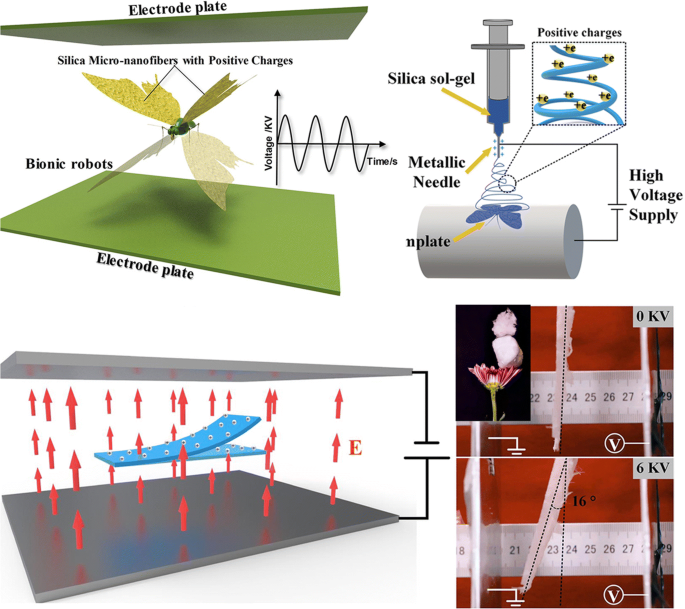 This is a preview of subscription content, log in to check access.
Access options
Buy single article
Instant access to the full article PDF.
US$ 39.95
Price includes VAT for USA
Subscribe to journal
Immediate online access to all issues from 2019. Subscription will auto renew annually.
US$ 199
This is the net price. Taxes to be calculated in checkout.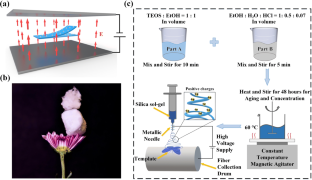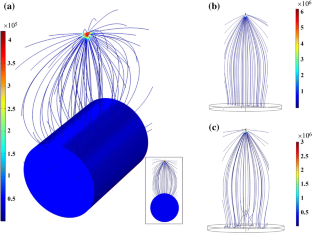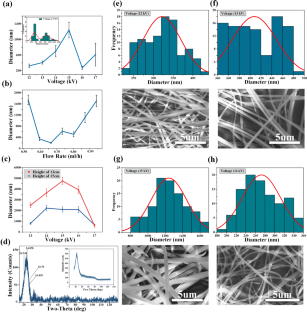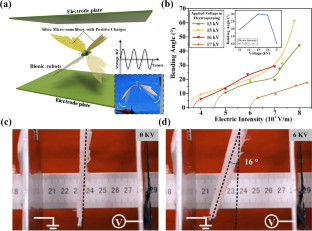 Funding
This work is supported by the National Natural Science Foundation of China (No.51625504, 51675421, 91748209, 51827805, 51705407). This work is partially sponsored by National Key R&D Program of China (2016YFF0100700, 2017YFF0204803), Major science and technology special project (2016ZX04002003, 2016ZX04002004), the Specialized Research Fund for the Doctoral Program of Higher Education (2016M600785, 2016BSHEDZZ126, 2018T111048), and the Natural Science Foundation of Shaanxi Province (2018ZDCXL-GY-08–01, 2017ZDXM-GY-112, 2017JZ014).
Ethics declarations
Conflict of interest
The authors declare that they have no conflict of interest.
Additional information
Publisher's Note
Springer Nature remains neutral with regard to jurisdictional claims in published maps and institutional affiliations.
Electronic supplementary material
Below is the link to the electronic supplementary material.
Supplementary file2 (MP4 11752 kb)
Supplementary file3 (MP4 16431 kb)
Supplementary file4 (MP4 11927 kb)
About this article
Cite this article
Han, J., Jiang, W., Zhang, H. et al. Untethered, ultra-light soft actuator based on positively charged 3D fluffy silica micro-nanofibers by electrospinning. J Mater Sci 55, 12789–12800 (2020). https://doi.org/10.1007/s10853-020-04944-5
Received:

Accepted:

Published:

Issue Date: