Abstract
It has earlier been reported that that the gallium incorporation in wurtzite CuInS2 (CIS) results in structural distortion, non-homogeneous shape, and distribution of particles. However, a detailed study of the effect of Ga substitution on the structure and morphology has not been reported. Here, we report the synthesis of nanocrystalline CuInxGa1−xS2 (x = 1, 0.7, 0.5, 0.3, and 0) wurtzite particles by solution processing in a nitrogen atmosphere. Structural analyses by X-ray diffraction (XRD) and transmission electron microscopy (TEM) showed that the as-synthesized CuInS2 (CIS) and CuGaS2 (CGS) nanoparticle were single-phase wurtzite structures, whereas CuIn0.7Ga0.3S2, CuIn0.5Ga0.5S2, and CuIn0.3Ga0.7S2 had three wurtzite phases having In-rich, In–Ga, and Ga-rich compositions. The shape of the resulting nanoparticles was either elongated, polygonal, or tadpole depending on the phase composition. In-rich particles had elongated rod-like morphology, the In–Ga particles were irregular hexagonal/equiaxed, while the Ga-rich phase formed with a tadpole morphology. The bandgap of the wurtzite-CuInxGa1−xS2 increased with Ga substitution: from 1.49 eV for CIS to 2.0 eV for CGS.
This is a preview of subscription content, log in to check access.
Access options
Buy single article
Instant access to the full article PDF.
US$ 39.95
Price includes VAT for USA
Subscribe to journal
Immediate online access to all issues from 2019. Subscription will auto renew annually.
US$ 199
This is the net price. Taxes to be calculated in checkout.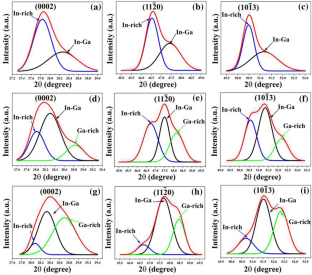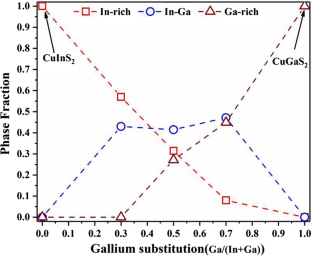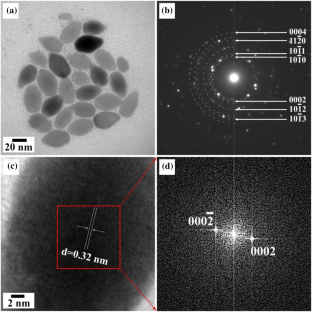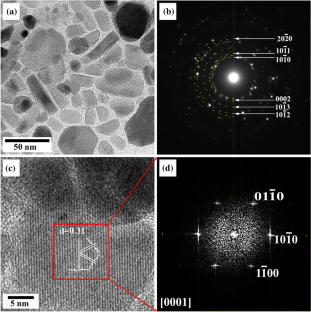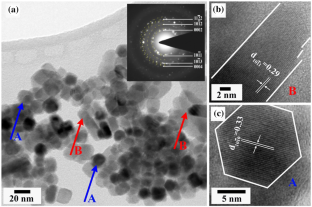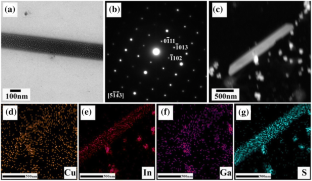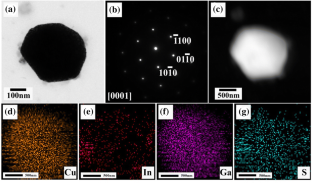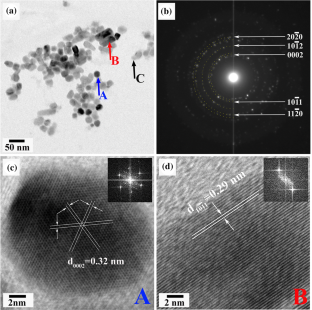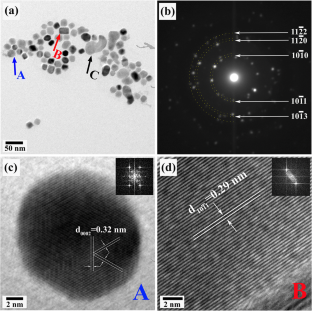 Acknowledgements
The authors would like to thank the DST-SERB, New Delhi, for the financial support through grant sanction no. ECR/2016/000854. Authors would also like to thank DST for the FIST grant to establish the microscopy facility.
Funding
This study was funded by Department of Science and Technology-Science and Engineering Research Board (DST-SERB) (ECR/2016/000854).
Ethics declarations
Conflict of interest
The authors declare that they have no conflict of interest.
Additional information
Publisher's Note
Springer Nature remains neutral with regard to jurisdictional claims in published maps and institutional affiliations.
Electronic supplementary material
Below is the link to the electronic supplementary material.
About this article
Cite this article
Pradeepkumar, M.S., Pal, A.S., Singh, A. et al. Phase separation in wurtzite CuInxGa1−xS2 nanoparticles. J Mater Sci 55, 11841–11855 (2020). https://doi.org/10.1007/s10853-020-04844-8
Received:

Accepted:

Published:

Issue Date: