Integration of NiWO4 and Fe3O4 with graphitic carbon nitride to fabricate novel magnetically recoverable visible-light-driven photocatalysts
Abstract
Novel magnetically recoverable g-C3N4/Fe3O4/NiWO4 (gCN/M/NiWO4) nanocomposites, with superior visible-light photocatalytic performance, were successfully fabricated by a refluxing calcination method. These hybrid photocatalysts were characterized fairly in terms of the structure, composition, morphology, electronic, textural, thermal, and magnetic properties using XRD, EDX, SEM, TEM, HRTEM, FT-IR, UV–vis DRS, PL, N2 adsorption–desorption, TG, and VSM analyses. Also, the degradation intermediates were identified using gas chromatography–mass spectroscopy. These photocatalysts displayed excellent photocatalytic performance under visible light for degradations of RhB, MB, MO, fuchsine, and phenol pollutants, and they can be recycled by magnetic separation without major loss of activity. The highest photocatalytic efficiency was observed when the sample refluxed for 60 min and calcined at 450 °C for 3 h with 30 wt% NiWO4 content. Activity of this photocatalyst is greater than the pristine gCN by a factor of almost 12, 30, 52, 100, and 6 toward degradations of RhB, MB, MO, fuchsine, and phenol, respectively. Finally, the proposed mechanism for the superior performance of gCN/M/NiWO4 hybrid photocatalysts was discussed.
Introduction
As known, utilization of the solar energy, as a powerful renewable energy, is regarded as the most effective strategy to address energy and pollution crises [1, 2]. Semiconductor-based photocatalysis has attracted great attention from researchers for production of green energy and degradation of wide variety of pollutants in our environment [3, 4, 5, 6, 7]. In these processes, carbon dioxide is converted to fuels and value-added compounds such as methane, methanol, formic acid, and formaldehyde [5]. Additionally, hydrogen fuel is produced through photocatalytic splitting of water [6, 7, 8, 9, 10, 11]. Despite more than three decades of efforts devoted toward preparation and application of more efficient visible-light-driven photocatalysts to convert the solar energy to renewable fuels and environmental remediation, there are big challenges in this field. Hence, researchers have focused on fabrication of more efficient and economically effective photocatalysts using different organic/inorganic semiconductors [12, 13]. To achieve these desired properties, the prepared photocatalysts should have high visible-light response, minimal recombination for the photoproduced e−/h+ pairs, good recyclability, and stability. The usual photocatalysts such as TiO2, ZnO, SnO2, and ZnS have drawbacks of large band gap and fast recombination of the charge carriers [14, 15, 16, 17]. More recently, graphitic carbon nitride (g-C3N4, denoted as gCN) has gained more attention from the research community due to its appealing electronic and stability properties [18, 19, 20]. This polymeric semiconductor with narrow band gap (~ 2.70 eV) has displayed wide applications in photocatalytic processes under visible-light illumination [21]. Nonetheless, poor absorption of visible light, low quantum efficiency caused by rapid recombination of the e−/h+ pairs, and nonmagnetic properties limit its large-scale application. To address these problems, several strategies have been developed such as doping of metals and/or nonmetals, fabrication of porous gCN, integration with other narrow band gap/wide band gap semiconductors, and decoration of magnetic nanoparticles over gCN sheets [22, 23, 24, 25, 26, 27, 28, 29].
In recent years, metal tungstates (MWO4, M is usually Cu2+, Co2+, Ni2+, and Mn2+) have gained much attention in different disciplines such as photocatalytic processes, optical fibers, pigments, supercapacitors, and gas sensors due to their fascinating optical and magnetic properties [30, 31, 32, 33, 34, 35]. Among these metal tungstates, NiWO4 is small-band gap semiconductor (Eg = 2.2 eV) with low price and environmentally green benign [31]. Hence, this semiconductor can help to solve poor visible-light absorption and rapid recombination of e−/h+ pairs through proper band alignments. Finally, to overcome recoverability of gCN after the photocatalytic process, decoration of Fe3O4, as a usual magnetic material, is attractive option. Nanoparticles of Fe3O4 have attracted much more attention from research communities to apply in different disciplines, owing to its appealing properties including availability of facile synthesis methods, biocompatibility, high saturation magnetization, and high stability [36, 37, 38, 39, 40, 41].
In this study, novel hybrid g-C3N4/Fe3O4/NiWO4 (gCN/M/NiWO4) photocatalysts were synthesized by integration of Fe3O4 and NiWO4 with gCN using refluxing calcination method. Activity of the hybrid photocatalysts was explored by degradations of rhodamine B (RhB), methylene blue (MB), methyl orange (MO), fuchsine, and phenol under visible-light illumination. Different characterization techniques of XRD, EDX, SEM, TEM, HRTEM, FT-IR, UV–vis DRS, PL, N2 adsorption–desorption, TG, and VSM were applied to disclose phase structure, elemental composition, morphology, optical, textural, thermal, and magnetic properties in detail. We investigated the intermediates formed during photodegradation of RhB by gas chromatography–mass spectroscopy (GC–MS). After investigation about the effect of various operational factors on the photocatalytic activity, a possible degradation mechanism for the excellent photocatalytic performance of the gCN/M/NiWO4 nanocomposites was proposed.
Experimental
Materials
All chemicals with analytical grade were used as received from Loba Chemie and Merck companies.
Instruments
The XRD patterns were recorded by a Philips Xpert X-ray diffractometer with Cu Kα radiation (λ = 0.15406 nm). Morphology of the samples was studied by LEO 1430VP SEM. Purity of the products was obtained by EDX on the same SEM instrument. The TEM investigations were performed by a Philips CM30 instrument with an acceleration voltage of 150 kV. High-resolution TEM (HRTEM) image was used to further analyze the morphology of the products on a JEOL-JEM-2100F transmission electron microscope with an accelerating voltage of 200 kV. The UV–vis DRS were recorded by a Scinco 4100 apparatus. The FT-IR spectra were obtained by a Perkin Elmer Spectrum RX I apparatus. The PL spectra of the samples were studied using a Perkin Elmer (LS 55) fluorescence spectrophotometer. The UV–vis spectra were plotted by a Cecile 9000 spectrophotometer. The GC–MS analysis was carried out by Agilent 7890B Series GC and Agilent 5977A Series MSD with column HP-5MS size 30 m × 0.25 mm. Magnetic properties of the samples were obtained using a VSM instrument (Meghnatis Kavir Kashan Co., Iran). The ultrasound radiation was performed using a Bandelin ultrasound processor HD 3100 (12 mm diameter Ti horn, 75 W, 20 kHz).
Preparation section
Pure gCN was synthesized by thermal polycondensation of melamine up to 520 °C in a muffle furnace [
18
,
19
,
20
,
21
]. The g-C
3
N
4
/Fe
3
O
4
(2:1), denoted as gCN/M nanocomposite, in which 2:1 is weight ratio of g-C
3
N
4
to Fe
3
O
4
, was prepared by in situ co-precipitation of Fe
2+
and Fe
3+
ions adsorbed over the dispersed gCN [
42
]. These ions have strong interactions with the nitrogen atoms in the cavity of the gCN host provided by nitrogen atoms. In detail, the cations of early transition metals (i.e., Fe) are almost symmetrically embedded in the gCN cavity. Size of these cations is responsible for this affinity, as confirmed in the literature [
43
]. The gCN/M/NiWO
4
(30%) nanocomposite was fabricated by refluxing calcination method. In a typical procedure, 0.35 g of gCN/M nanocomposite was dispersed in water (150 mL) by ultrasonic irradiation for 5 min. After that, 0.142 g of nickel nitrate was added to the suspension and the stirring continued for 60 min. Then, sodium tungstate (0.161 g in 20 mL of water) was dropwise added to the suspension and refluxed for 60 min. The resultant light brown suspension was then centrifuged to get the precipitate out and washed with water and ethanol. Finally, the dried sample at 60 °C was calcined at 450 °C for 3 h in air (Scheme 
1
).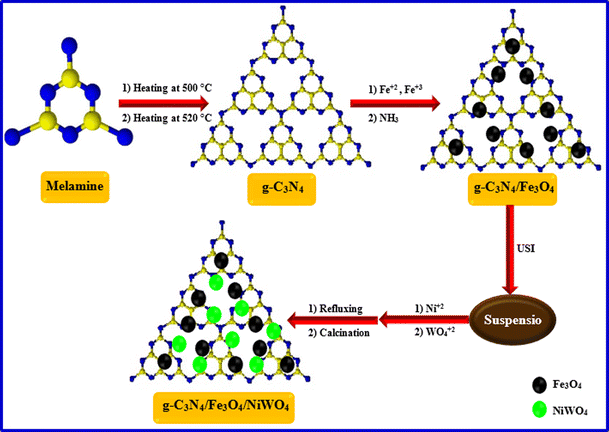 Photocatalysis section
Photocatalytic activity of the fabricated samples was explored at controlled temperature of 25 °C under visible-light illumination provided by an LED lamp with 50 W. Concentrations of RhB, MB, and MO were 1 × 10−5 M, concentration of fuchsine was 0.77 × 10−5 M, and concentration of phenol was 5 × 10−5 M. Other conditions were described in detail in our previous work [42].
Results and discussion
To gain information about optical properties of the synthesized photocatalysts, UV–vis DRS spectra of the gCN, gCN/M, and gCN/M/NiWO4 nanocomposites were investigated. As displayed in Fig. 4b, the gCN powder has strong absorption in UV region and poor absorption in visible region. Obviously, the gCN/M nanocomposite shows more intensive absorption in visible region in comparison with the gCN. Interestingly, absorption intensity of the gCN/M/NiWO4 nanocomposites remarkably increased in visible region and the absorption enhances smoothly with increasing NiWO4 content, implying that with introduction of NiWO4 in the gCN/M nanocomposite, photocatalytic performance could be favored under visible-light illumination.
Figure 5b shows magnetization curves for the Fe3O4 and gCN/M/NiWO4 (30%) samples, which are measured at room temperature by sweeping the applied magnetic field from − 8 to 8 kOe. It is noteworthy that the hysteresis loops are S-like, indicating that there is not remaining magnetization after removing external magnetic field. Hence, these samples display superparamagnetic behavior. The saturation magnetization is 55.5 emu g−1 for the Fe3O4 nanoparticles and 6 emu g−1 for the gCN/M/NiWO4 (30%) nanocomposite. Compared with the pure Fe3O4 nanoparticles, this decrease of the saturation magnetization is associated with the existence of nonmagnetic gCN and NiWO4 in the structure of the hybrid photocatalyst. Magnetic separability of the gCN/M/NiWO4 (30%) nanocomposite was tested in an aqueous suspension of the nanocomposite by placing a magnet next to the bottle. The brown suspension was rapidly attracted toward the magnet only within 15 s (in inset of Fig. 5b), demonstrating that the ternary photocatalyst has an excellent magnetic recoverability.
As known, PL analysis is an efficient tool commonly employed to observe separation of e−/h+ pairs during photocatalytic reactions. For this purpose, Fig. 9b displays the PL spectra of the gCN/M/NiWO4 nanocomposites along with those for the gCN and gCN/M samples, which are excited by 350 nm and the emission spectra are displayed around 440 nm. As shown, the PL intensity in the gCN/M/NiWO4 (30%) nanocomposite is lower than that of the gCN, gCN/M, and other gCN/M/NiWO4 nanocomposites. Therefore, it is concluded that recombination of the charge carriers in the gCN/M/NiWO4 (30%) nanocomposites is remarkably decreased. It means that in the presence of gCN/M/NiWO4 (30%) nanocomposite, the charge carriers can produce much more reactive species, leading to superior photocatalytic performance. As a consequence, the superior activity of the ternary nanocomposite is attributed to the enhanced visible-light harvesting capacity and effective separation of the e−/h+ pairs owing to the proper band alignment between constituents of the nanocomposite.
Conclusions
For summary, ternary gCN/M/NiWO4 nanocomposites with superior photocatalytic activity were prepared. The gCN/M/NiWO4 nanocomposite with 30% of NiWO4 showed the highest photocatalytic activity under visible-light illumination. The ternary photocatalyst showed the improved photocatalytic performance of 12, 30, 52, 100, and 6 times relative to the gCN and 11.8, 19, 21, 45, and 3.6 times relative to the gCN/M photocatalyst in degradations of RhB, MB, MO, fuchsine, and phenol, respectively. The magnetization data exhibited that the gCN/M/NiWO4 (30%) nanocomposite has saturation magnetization of 6.0 emu g−1, which is enough for magnetic recoverability of the photocatalyst from the treated system. Additionally, it was displayed that superoxide anion radicals are the main species in degradation of RhB by the gCN/M/NiWO4 (30%) photocatalyst. The results confirmed that heterojunction formation between gCN, Fe3O4, and NiWO4 increased the interfacial charge transfer and inhibited recombination of the e−/h+ pairs, leading to increase of the produced reactive species to participate in the degradation reactions. In addition, the gCN/M/NiWO4 (30%) photocatalyst had also remarkable stability. This study demonstrated that the enhanced visible-light absorption, largely reduced recombination of the e−/h+ pairs, increased surface area, ability to degrade different pollutants, and excellent stability ensure that the novel gCN/M/NiWO4 photocatalysts are promising photocatalysts for environmental remediation.
Notes
Acknowledgements
The financial support of this work by University of Mohaghegh Ardabili-Iran is acknowledged.
Copyright information
© Springer Science+Business Media, LLC, part of Springer Nature 2018