Abstract
Several studies have evaluated the impacts of intensified human activities on biodiversity, but far less effort has been directed toward evaluating the maintenance of ecosystem functions in human-modified landscapes. We investigated the impacts of habitat shifts from forest to pasture on assemblages of seed-removing ants in the southwestern Brazilian Amazon. We specifically addressed the following hypotheses regarding assemblages of seed-removing ants: (i) pasture ant assemblages have fewer species than do forest ant assemblages and are composed of a markedly different set of species; (ii) pasture ant assemblages remove less seeds than do forest ant assemblages; and (iii) forest and pasture ant assemblages contain different sets of key species for seed removal. We collected ants that were baited with artificial seeds in 10 forest areas and 10 adjacent pastures and found that shifting from forest to pasture reduced the number of species of seed-removing ants and altered species composition. We also found that, although seed removal percentage of was higher in pasture, these species were low quality seed dispersers, which was supported by our identification of key species for seed removal. We conclude that when considering the removal of seeds by ants as a proxy to assess the role of biodiversity in ecosystems, it is necessary to consider the importance of each species for removal according to habitat type affinity.                                                                                                                                                                                  
Implications for insect conservation
Our findings highlight the importance of forest habitat for the effective conservation of ant diversity and their ecological functions in human-modified ladscapes.
Access options
Buy single article
Instant access to the full article PDF.
US$ 39.95
Tax calculation will be finalised during checkout.
Subscribe to journal
Immediate online access to all issues from 2019. Subscription will auto renew annually.
US$ 79
Tax calculation will be finalised during checkout.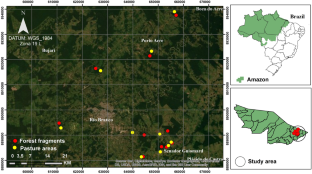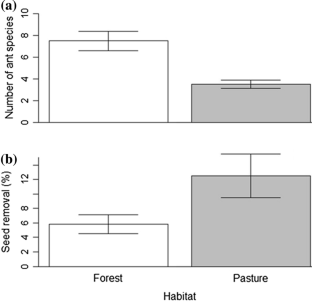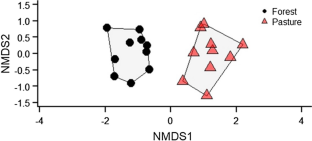 Data availability
All data request will be made available by the authors.
References
Achury R, Suarez AV (2018) Richness and composition of ground-dwelling ants in tropical rainforest and surrounding landscapes in the Colombian Inter-Andean Valley. Neotrop Entomol 47:731–741. https://doi.org/10.1007/s13744-017-0565-4

Acre (2010) Zoneamento Ecológico Econômico do Estado do Acre, Fase II - Escala 1:250.000. Documento Síntese. SEMA, Rio Branco

Alvares CA, Stape JL, Sentelhas PC et al (2013) Köppen's climate classification map for Brazil. Meteorol Zeitschrift 22:711–728. https://doi.org/10.1127/0941-2948/2013/0507

Andersen AN (2019) Responses of ant communities to disturbance: five principles for understanding the disturbance dynamics of a globally dominant faunal group. J Anim Ecol 88:350–362. https://doi.org/10.1111/1365-2656.12907

Anderson MJ (2001) A new method for non-parametric multivariate analysis of variance. Austral Ecol 26:32–46. https://doi.org/10.1111/j.1442-9993.2001.01070.pp.x

Anderson JM, Kari EE, Brian HM (2006) Multivariate dispersion as a measure of beta diversity. Ecol Lett 9:683–693. https://doi.org/10.1111/j.1461-0248.2006.00926.x

Arnan X, Molowny-Horas R, Rodrigo A, Retana J (2012) Uncoupling the effects of seed predation and seed dispersal by granivorous ants on plant population dynamics. PLoS ONE 7:e42869. https://doi.org/10.1371/journal.pone.0042869

Baccaro FB, Feitosa RM, Fernandez F et al (2015) Guia para os gêneros de formigas do Brasil. Editora INPA, Manaus

Bieber AGD, Silva PSD, Sendoya SF, Oliveira PS (2014) Assessing the impact of deforestation of the atlantic rainforest on ant-fruit interactions: a field experiment using synthetic fruits. PLoS ONE 9:e90369. https://doi.org/10.1371/journal.pone.0090369

Boesing AL, Nichols E, Metzger JP (2018) Biodiversity extinction thresholds are modulated by matrix type. Ecography (Cop) 41:1520–1533. https://doi.org/10.1111/ecog.03365

Catterall CP (2018) Fauna as passengers and drivers in vegetation restoration: a synthesis of processes and evidence. Ecol Manag Restor 19:54–62. https://doi.org/10.1111/emr.12306

Christianini AV, Oliveira PS (2010) Birds and ants provide complementary seed dispersal in a neotropical savanna. J Ecol 98:573–582. https://doi.org/10.1111/j.1365-2745.2010.01653.x

Crawley MJ (2013) The R book, 2nd edn. A John Wiley & Sons Ltd, Chichester

da OliveiraS de OB, Schmidt FA (2019) Ant assemblages of Brazil nut trees Bertholletia excelsa in forest and pasture habitats in the Southwestern Brazilian Amazon. Biodivers Conserv 28:329–344. https://doi.org/10.1007/s10531-018-1657-0

de Solar RRC, Barlow J, Andersen AN et al (2016) Biodiversity consequences of land-use change and forest disturbance in the Amazon: A multi-scale assessment using ant communities. Biol Conserv 197:98–107. https://doi.org/10.1016/j.biocon.2016.03.005

Del Toro I, Ribbons RR, Pelini SL (2012) The little things that run the world revisited: a review of ant-mediated ecosystem services and disservices (Hymenoptera: Formicidae). Myrmecol News 17:133–146

Ewers RM, Boyle MJW, Gleave RA et al (2015) Logging cuts the functional importance of invertebrates in tropical rainforest. Nat Commun 6:6836. https://doi.org/10.1038/ncomms7836

Gotelli NJ, Ellison AM, Dunn RR, Sanders NJ (2011) Counting ants (Hymenoptera: Formicidae): biodiversity sampling and statistical ana-lysis for myrmecologists. Myrmecol News 15:13–19

Griffiths HM, Ashton LA, Walker AE et al (2018) Ants are the major agents of resource removal from tropical rainforests. J Anim Ecol 87:293–300. https://doi.org/10.1111/1365-2656.12728

Hölldobler B, Wilson EO (2009) The superorganism: the beauty, elegance, and strangeness of insect societies. Norton, New York, W.W

Jorge MLSP, Galetti M, Ribeiro MC, Ferraz KMPMB (2013) Mammal defaunation as surrogate of trophic cascades in a biodiversity hotspot. Biol Conserv 163:49–57. https://doi.org/10.1016/j.biocon.2013.04.018

Lach L, Parr CL, Abbott KL (2010) Ant Ecology. Oxford University Press, New York

Laurance WF, Camargo JLC, Fearnside PM et al (2018) An Amazonian rainforest and its fragments as a laboratory of global change. Biol Rev 93:223–247. https://doi.org/10.1111/brv.12343

Leal LC, Andersen AN, Leal IR (2014a) Anthropogenic disturbance reduces seed-dispersal services for myrmecochorous plants in the Brazilian Caatinga. Oecologia 174:173–181. https://doi.org/10.1007/s00442-013-2740-6

Leal LC, Neto MCL, de Oliveira AFM et al (2014b) Myrmecochores can target high-quality disperser ants: variation in elaiosome traits and ant preferences for myrmecochorous Euphorbiaceae in Brazilian Caatinga. Oecologia 174:493–500. https://doi.org/10.1007/s00442-013-2789-2

Leal IR, Leal LC, Andersen AN (2015) The benefits of myrmecochory: a matter of stature. Biotropica 47:281–285. https://doi.org/10.1111/btp.12213

Loreau M, Mouquet N, Gonzalez A (2003) Biodiversity as spatial insurance in heterogeneous landscapes. PNAS 100:12765–12770

Miranda PN, Oliveira MA, Baccaro FB et al (2012) Check list of ground-dwelling ants (Hymenoptera: Formicidae) of the eastern Acre, Amazon. Brazil Check List 8:722. https://doi.org/10.15560/8.4.722

Miranda PN, Morato EF, Oliveira MA, Delabie JHC (2013) A riqueza e composição de formigas como indicadores dos efeitos do manejo florestal de baixo impacto em floresta tropical no estado do Acre. Rev Árvore 37:163–173. https://doi.org/10.1590/S0100-67622013000100017

Miranda PN, Baccaro FB, Morato EF et al (2017) Limited effects of low-intensity forest management on ant assemblages in southwestern Amazonian forests. Biodivers Conserv 26:2435–2451. https://doi.org/10.1007/s10531-017-1368-y

Moreau CS, Bell CD (2013) Testing the museum versus cradle tropical biological diversity hypothesis: phylogeny, diversification, and ancestral biogeographic range evolution of the ants. Evolution (N Y) 67:2240–2257. https://doi.org/10.1111/evo.12105

Naeem S, Loreau M, Inchausti P (2002) Biodiversity and ecosystem functioning: the emergence of a synthetic ecological framework. Biodiversity and ecosystem functioning: synthesis and perspectives. Oxford University Press, New York, pp 3–11

Naeem S, Bunker DE, Hector A et al (2009) Biodiversity, ecosystem functioning, and human wellbeing. Oxford University Press, New York

Nakamura A, Catterall CP, House APN et al (2007) The use of ants and other soil and litter arthropods as bio-indicators of the impacts of rainforest clearing and subsequent land use. J Insect Conserv 11:177–186. https://doi.org/10.1007/s10841-006-9034-9

Newbold T, Hudson LN, Hill SLL et al (2015) Global effects of land use on local terrestrial biodiversity. Nature 520:45–50. https://doi.org/10.1038/nature14324

Oksanen, J., Blanchet, F. G., Friendly, M., Kindt, R., Legendre, P., McGlinn, D., Minchin, P. R., O'Hara R. B., Simpson, G. L., Solymos P., Stevens M. H. H., Szoecs, E., Wagner, H., 2019. vegan: Community Ecology Package. R package version 2.5–6. https://CRAN.R-project.org/package=vegan

Oliveira MA, Delia Lucia TMC, Marinho CGS et al (2009) Ant diversity in an area of the Amazon Forest in Acre, Brazil. Sociobiology 54:243–267

Oliver TH, Heard MS, Isaac NJB et al (2015a) Biodiversity and resilience of ecosystem functions. Trends Ecol Evol 30:673–684. https://doi.org/10.1016/j.tree.2015.08.009

Oliver TH, Isaac NJB, August TA et al (2015b) Declining resilience of ecosystem functions under biodiversity loss. Nat Commun 6:1–8. https://doi.org/10.1038/ncomms10122

Paolucci LN, Sobrinho TG, Schoereder JH (2016) Area size mediates the role of arthropods on ecosystem functioning. Austral Ecol 41:681–689. https://doi.org/10.1111/aec.12357

Paolucci LN, Schoereder JH, Brando PM, Andersen AN (2017) Fire-induced forest transition to derived savannas: cascading effects on ant communities. Biol Conserv 214:295–302. https://doi.org/10.1016/j.biocon.2017.08.020

Paolucci LN, Pereira RL, Rattis L et al (2018) Lowland tapirs facilitate seed dispersal in degraded Amazonian forests. Biotropica 51:245–252. https://doi.org/10.1111/btp.12627

Queiroz ACM, Rabello AM, Braga DL et al (2017) Cerrado vegetation types determine how land use impacts ant biodiversity. Biodivers Conserv. https://doi.org/10.1007/s10531-017-1379-8

R Core Team (2019). R: A language and environment for statistical computing. R Foundation for Statistical Computing, Vienna, Austria. https://www.R-project.org

Rabello AM, Bernardi LFO, Ribas CR (2014) Testing an artificial aril as a new ant-attractant. Rev Biociências 20:77–81

Rabello AM, Parr CL, Queiroz ACM et al (2017) Habitat attribute similarities reduce impacts of land-use conversion on seed removal. Biotropica 50:39–49. https://doi.org/10.1111/btp.12506

Raimundo RLG, Guimarães PR, Almeida-Neto M, Pizo MA (2004) The influence of fruit morphology and habitat structure on ant-seed interactions: a study with artificial fruits. Sociobiology 44:261–270. www.csuchico.edu/biol/Sociobiology/sociobiologyindex.html

Santana FD, Baccaro FB, Costa FRC (2016) Busy nights: high seed dispersal by crickets in a Neotropical forest. Am Nat 188:126–133. https://doi.org/10.1086/688676

Santos RS, Delabie JHC (2018) Epigaeic ants in a forest remnant in the state of Acre, Brazil and new records for the state. Brazilian J Agric 93:24–32

Tscharntke T, Tylianakis JM, Rand TA et al (2012) Landscape moderation of biodiversity patterns and processes - eight hypotheses. Biol Rev 87:661–685. https://doi.org/10.1111/j.1469-185X.2011.00216.x

Vasconcelos HL, Maravalhas JB, Feitosa RM et al (2018) Neotropical savanna ants show a reversed latitudinal gradient of species richness, with climatic drivers reflecting the forest origin of the fauna. J Biogeogr. https://doi.org/10.1111/jbi.13113

Wunderle JM (1997) The role of animal seed dispersal in accelerating native forest regeneration on degraded tropical lands. For Ecol Manage 99:223–235. https://doi.org/10.1016/S0378-1127(97)00208-9
Acknowledgements
We thank Higher Education Personnel Improvement Coordination—Brazil (CAPES)—Financial Code 001 for its financial support. We also thank the Federal University of Acre for their logistical support and transportation to sampling areas. We are very grateful to the Feitosa Lab group, specifically to R. Feitosa, A. Ferreira, T. Silva and W. Franco, for their kind help in ant identification to the species level. We thank M. Costa for her kind help in mapping the sampling areas. We appreciate the invaluable help from everyone who kindly assisted us in field work. We are grateful to P. Miranda for her help in selecting sampling areas. We thank all landowners who allowed us to collect samples on their farms. We are also grateful to P. Newton and R. Benzeev for their kind review of the English writing of the manuscript. We are also very grateful to H. Mews, A. Rabello, A. Queiroz and L. Paulocci for reviewing earlier versions of the manuscript.
Ethics declarations
Conflict of interest
The authors declare that they have no known competing financial interests or personal relationships that could have appeared to influence the work reported in this paper.
Consent to participate
All persons who meet the criteria for authorship are listed as authors, and all authors certify that they have participated sufficiently in the work to assume public responsibility for the content, including participation in the concept, design, analysis, writing or proofreading of the manuscript.
Consent for publication
All authors approve the publication of the manuscript.
Additional information
Publisher's Note
Springer Nature remains neutral with regard to jurisdictional claims in published maps and institutional affiliations.
Supplementary Information
Below is the link to the electronic supplementary material.
About this article
Cite this article
Fontenele, L.K., Schmidt, F.A. Forest-pasture shifting alters the assemblages of seed-removing ants in southwestern Brazilian Amazon. J Insect Conserv (2021). https://doi.org/10.1007/s10841-021-00295-x
Received:

Accepted:

Published:
Keywords
Biodiversity

Ecological function

Formicidae

Land use change

Fragmentation