Abstract
Purpose
Implantable cardiac defibrillator (ICD) is the only definitive therapy for prevention of sudden cardiac death in hypertrophic cardiomyopathy (HCM). Conventional transvenous ICDs can provide cardiac pacing unlike new subcutaneous ICD, but the usefulness of cardiac pacing in HCM patients is not well defined. We sought to assess the usefulness of ICD pacing in HCM.
Methods
We retrospectively analyzed 93 HCM patients who had undergone ICD implantation at our center. Usefulness of pacing was defined as follows: 1) need of pacing due to bradycardia or AV conduction disturbances, 2) improvement of LV outflow tract obstruction by sequential AV pacing, 3) need for CRT pacing, or 4) successful antitachycardia pacing without a subsequent shock. Independent predictors of useful pacing were investigated by multivariable analysis.
Results
During a mean follow-up of 91.3 ± 5.5 months, 43 patients (46.2%) reached the composite endpoint. Independent predictors of pacing usefulness were older age (HR 1.36; 95%CI: 1.088–1.709; p=0.007) and NYHA functional class ≥ II (HR 2.15; 95%CI: 1.083–4.301; p=0.029). Twenty-eight (30.1%) patients had appropriate ICD interventions, triggered by a monomorphic ventricular tachycardia (MVT) in 22 of them (78.5%). In 17 individuals with MVT (77%), antitachycardia pacing successfully treated MVT.
Conclusions
In our HCM series of patients with ICD, 46% of individuals benefitted from cardiac pacing. MVT were documented in nearly 80% of the patients with ventricular arrhythmias and antitachycardia pacing successfully treated them in 77% of cases.
Access options
Buy single article
Instant access to the full article PDF.
US$ 39.95
Tax calculation will be finalised during checkout.
Subscribe to journal
Immediate online access to all issues from 2019. Subscription will auto renew annually.
US$ 79
Tax calculation will be finalised during checkout.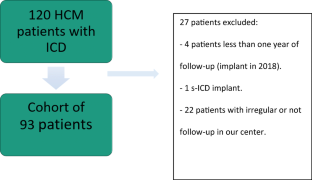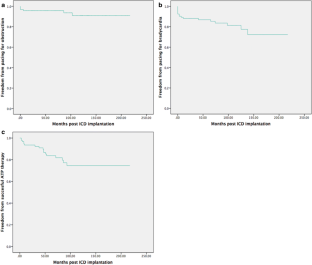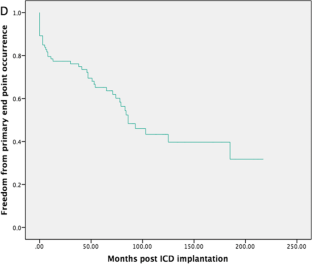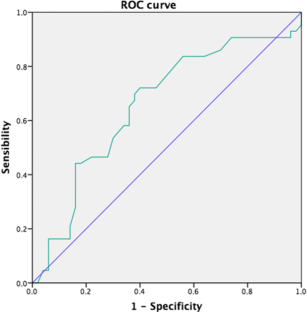 References
1.

Maron BJ. Sudden death in young athletes. N Engl J Med. 2003;349:1064–75.

2.

Maron BJ, Shen WK, Link MS, Epstein AE, Almquist AK, Daubert JP, et al. Efficacy of implantable cardioverter-defibrillators for the prevention of sudden death in patients with hypertrophic cardiomyopathy. N Engl J Med. 2000;342:365–73.

3.

Maron BJ, Spirito P, Shen WK, Hass TS, Formisano F, Link MS, et al. Implantable cardioverter-defibrillators and prevention of sudden cardiac death in hypertrophic cardiomyopathy. JAMA. 2007;298:405–12.

4.

Spirito P, Seidman CE, McKenna WJ, Maron BJ. The management of hypertrophic cardiomyopathy. N Engl J Med. 1997;336:775–85.

5.

Kim JH, Malhotra R, Chiampas G, d'Hemecourt P, Troyanos C, Cianca J, et al. Cardiac arrest during long-distance running races. N Engl J Med. 2012;366:130–40.

6.

Schinkel AF, Vriesendorp PA, Sijbrands EJ, Jordaens LJ, ten Cate FJ, Michels M. Outcome and complications after implantable cardioverter defibrillator therapy in hypertrophic cardiomyopathy: systematic review and meta- analysis. Circ Heart Fail. 2012;5:552–9.

7.

Wang N, Xie A, Tjahjono R, Tian DH, Phan S, Yan TD, et al. Implantable cardioverter defibrillator therapy in hypertrophic cardiomyopathy: an updated systematic review and meta-analysis of outcomes and complications. Ann Cardiothorac Surg. 2017;6:298–306.

8.

Weinstock J, Bader YH, Maron MS, Rowin EJ, Link MS. Subcutaneous implantable cardioverter defibrillator in patients with hypertrophic cardiomyopathy: an initial experience. J Am Heart Assoc. 2016;5.

9.

Lambiase PD, Gold MR, Hood M, Boersma L, Theuns DAMJ, Burke MC, et al. Evaluation of subcutaneous ICD early performance in hypertrophic cardiomyopathy from the pooled EFFORTLESS and IDE cohorts. Heart Rhythm. 2016;13:1066–74.

10.

Cha YM, Gersh BJ, Maron BJ, Boriani G, Spirito P, Hodge DO, et al. Electrophysiologic manifestations of ventricular tachyarrhythmias provoking appropriate defibrillator interventions in high-risk patients with hypertrophic cardiomyopathy. J Cardiovasc Electrophysiol. 2007;18:483–7.

11.

O'Mahony C, Lambiase PD, Rahman SM, Cardona M, Calcagnino M, Quarta G, et al. The relation of ventricular arrhythmia electrophysiological characteristics to cardiac phenotype and circadian patterns in hypertrophic cardiomyopathy. Europace. 2012;14:724–33.

12.

Elliott PM, Anastasakis A, Borger MA, Borggrefe M, Cecchi F, Charron P, et al. 2014 ESC guidelines on diagnosis and management of hypertrophic cardiomyopathy: the Task Force for the Diagnosis and Management of Hypertrophic Cardiomyopathy of the European Society of Cardiology (ESC). Eur Heart J. 2014;35:2733–79.

13.

Brignole M, Auricchio A, Baron-Esquivias G, Bordachar P, Boriani G, Breithardt OA, et al. 2013 ESC Guidelines on cardiac pacing and cardiac resynchronization therapy. The Task Force on cardiac pacing and resynchronization therapy of the European Society of Cardiology (ESC). Developed in collaboration with the European Heart Rhythm Association (EHRA). Europace. 2013 Aug;15(8):1070–118.

14.

Barriales-Villa R, Centurión-Inda R, Fernández-Fernández X, Ortiz MF, Pérez-Alvarez L, Rodríguez García I, et al. Severe cardiac conduction disturbances and pacemaker implantation in patients with hypertrophic cardiomyopathy. Rev Esp Cardiol. 2010;63:985–8.

15.

Nishimura RA, Trusty JM, Hayes DL, Ilstrup DM, Larson DR, Hayes SN, et al. Dual-chamber pacing for hypertrophic cardiomyopathy: a randomized, double-blind, crossover trial. J Am Coll Cardiol. 1997;29:435–41.

16.

Kappenberger L, Linde C, Daubert C, McKenna W, Meisel E, Sadoul N, et al. Pacing in hypertrophic obstructive cardiomyopathy. A randomized crossover study. PIC Study Group. Eur Heart J. 1997;18:1249–56.

17.

Maron BJ, Nishimura RA, McKenna WJ, Rakowski H, Josephson ME, Kieval RS. Assessment of permanent dual chamber pacing as a treatment for drug-refractory symptomatic patients with obstructive hypertrophic cardiomyopathy. A randomized, double-blind, crossover study (M-PATHY). Circulation. 1999;99:2927–33.

18.

Wathen MS, DeGroot PJ, Sweeney MO, Stark AJ, Otterness MF, Adkisson WO, et al. PainFREERx II Investigators. Prospective randomized multicenter trial of empirical antitachycardia pacing versus shocks for spontaneous rapid ventricular tachycardia in patients with implantable cardioverter-defibrillators: Pacing Fast Ventricular Tachycardia Reduces Shock Therapies(PainFREERxII) trial results. Circulation. 2004;110:2591–625.

19.

Dallaglio PD, di Marco A, Moreno Weidmann Z, Perez L, Alzueta J, García-Alberola A, et al. Antitachycardia pacing for shock prevention in patients with hypertrophic cardiomyopathy and ventricular tachycardia. Heart Rhythm. 2020;17:1084–91.

20.

Wilkoff BL, Williamson BD, Stern RS, Moore SL, Lu F, Lee SW, et al. Strategic programming of detection and therapy parameters in implantable cardioverter-defibrillators reduces shocks in primary prevention patients: results from the PREPARE (Primary Prevention Parameters Evaluation) study. J Am Coll Cardiol. 2008;52:541–50.

21.

Moss AJ, Schuger C, Beck CA, Brown MW, Cannom DS, Daubert JP, et al. Reduction in inappropriate therapy and mortality through ICD programming. N Engl J Med. 2012;367:275–83.

22.

Gasparini M, Proclemer A, Klersy C, Kloppe A, Lunati M, Ferrer JB, et al. Effect of long-detection interval vs standard-detection interval for implantable cardioverter defibrillators on antitachycardia pacing and shock delivery: the ADVANCE III randomized clinical trial. JAMA. 2013;309:1903–11.
Ethics declarations
Conflict of interest
J.T.R. is a member of the Medtronic European Advisory Board. Has received training course fees from Medtronic, Abbott, and Boston. All other authors did not have a conflict of interest to declare.
Additional information
Publisher's Note
Springer Nature remains neutral with regard to jurisdictional claims in published maps and institutional affiliations.
About this article
Cite this article
Jiménez-Sánchez, D., Castro-Urda, V., Toquero-Ramos, J. et al. Benefits of cardiac pacing in ICD recipients with hypertrophic cardiomyopathy. J Interv Card Electrophysiol (2021). https://doi.org/10.1007/s10840-021-00961-9
Received:

Accepted:

Published:
Keywords
Implantable cardioverter defibrillator

Hypertrophic cardiomyopathy

Antitachycardia pacing

Subcutaneous defibrillator

Cardiac pacing

Monomorphic ventricular tachycardia