Abstract
Purpose
Aortic cusps might be the source of supraventricular or ventricular arrhythmias. For many years, aortic cusp ablation has been widely used to treat premature ventricular contractions (PVCs) and ventricular tachycardia (VT). However, the data on the outcomes of this procedure in children are limited. The study aimed to convey or describe our own aortic cusp ablation experiences in children and, thus, contribute to the literature.
Methods
The focus was pediatric cases of ventricular arrhythmia in which the origin of the PVCs was ablated above the Valsalva. The sample comprised patients who underwent aortic cusp ablation between 2013 and 2018. The demographic characteristics, noninvasive test results, procedure details, and follow-up results for the patients were noted.
Results
The 3D EnSite Precision cardiac mapping system and limited fluoroscopy were used. A total of 26 procedures were performed on 22 patients. The mean age was 14.4 ± 3.0 (9–19) years, and the mean weight was 57.3 ± 17.5 (27–99) kg. The mean follow-up period after the first presentation was 38.6 ± 22.9 (3–72) months. There were significant differences in the values of the transition index, V2S/V3R, IIR/IIIR, aVRS/aVLS ratio, and QRS polarity in I at various locations. The most common ablation site was the left coronary cusp (LCC). Radio frequency (RF) ablation, cryoablation, and irrigated RF ablation were found to be effective energy sources in 15, 4, and 3 patients, respectively. Patients who underwent ablation at the LCC–right coronary cusp (RCC) commissure were more likely to present with only VT and to experience worsening symptoms. Twelve patients had previously undergone ablation of the right ventricular outflow tract (RVOT). Ablation in the RVOT had been previously performed in all the patients who eventually underwent ablation at the RCC and the LCC–RCC commissure.
Conclusion
Aortic cusp ablation can be safely performed in children. The careful evaluation of previous noninvasive tests provides important data for determining the location. There might be significant differences in the signs and requirements on the basis of the locations during mapping and ablation.
This is a preview of subscription content, log in to check access.
Access options
Buy single article
Instant access to the full article PDF.
US$ 39.95
Price includes VAT for USA
Subscribe to journal
Immediate online access to all issues from 2019. Subscription will auto renew annually.
US$ 99
This is the net price. Taxes to be calculated in checkout.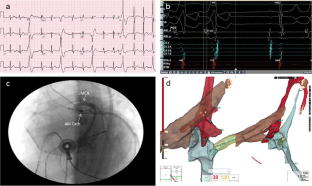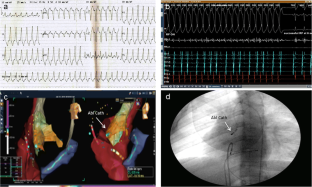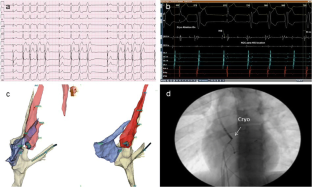 References
1.

Ouyang F, Mathew S, Wu S, Kamioka M, Metzner A, Xue Y, et al. Ventricular arrhythmias arising from the left ventricular outflow tract below the aortic sinus cusps: mapping and catheter ablation via transseptal approach and electrocardiographic characteristics. Circ Arrhythm Electrophysiol. 2014;7(3):445–55.

2.

Marai I, Boulos M, Lessick J, Abadi S, Blich M, Suleiman M. Outflow tract ventricular arrhythmia originating from the aortic cusps: our approach for challenging ablation. J Interv Card Electrophysiol. 2016;45(1):57–62.

3.

Yamada T. Which ventricle should be mapped first in catheter ablation of ventricular arrhythmias originating from the ventricular outflow tract? J Cardiovasc Electrophysiol. 2018;29:600–2. https://doi.org/10.1111/jce.13461.

4.

Gard JJ, Asirvatham SJ. Outflow tract ventricular tachycardia. Tex Heart Inst J. 2012;39(4):526–8.

5.

Movsowitz C, Schwartzman D, Callans DJ, Preminger M, Zado E, Gottlieb CD, et al. Idiopathic right ventricular outflow tract tachycardia: narrowing the anatomic location for successful ablation. Am Heart J. 1996;131(5):930–6.

6.

Yamada T, Yoshida N, Doppalapudi H, Litovsky SH, McElderry HT, Kay GN. Efficacy of an anatomical approach in radiofrequency catheter ablation of idiopathic ventricular arrhythmias originating from the left ventricular outflow tract. Circ Arrhythm Electrophysiol. 2017;10:e004959. https://doi.org/10.1161/CIRCEP.116.004959.

7.

Nguyen MB, Ceresnak SR, Janson CM, Fishberger SB, Love BA, Blaufox AD, et al. A multicenter review of ablation in the aortic cusps in young people. Pacing Clin Electrophysiol. 2017;40(7):798–802.

8.

Wackel PL, McCrary AW, Idriss SF, Asirvatham SJ, Cannon BC, Wackel PL, et al. Radiofrequency ablation in the sinus of Valsalva for ventricular arrhythmia in pediatric patients. Pediatr Cardiol. 2016;37(8):1534–8.

9.

Ouyang F, Fotuhi P, Ho SY, Hebe J, Volkmer M, Goya M, et al. Repetitive monomorphic ventricular tachycardia originating from the aortic sinus cusp: electrocardiographic characterization for guiding catheter ablation. J Am Coll Cardiol. 2002;39(3):500–8.

10.

Yamada T, Kumar V, Yoshida N, Doppalapudi H. Eccentric activation patterns in the left ventricular outflow tract during idiopathic ventricular arrhythmias originating from the left ventricular summit a pitfall for predicting the sites of ventricular arrhythmia origins. Circ Arrhythm Electrophysiol. 2019;12:e007419. https://doi.org/10.1161/CIRCEP.119.007419.

11.

Liang JJ, Shirai Y, Lin A, Dixit S. Idiopathic outflow tract ventricular arrhythmia ablation: pearls and pitfalls. Arrhythm Electrophysiol Rev. 2019;8(2):116–21.

12.

Im SI, Park KM, Park SJ, Kim JS, On YK. New electrocardiographic criteria for predicting successful ablation of premature ventricular contractions from the right coronary cusp. Int J Cardiol. 2016;224:199–205.

13.

Ito S, Tada H, Naito S, Kurosaki K, Ueda M, Hoshizaki H, et al. Development and validation of an ECG algorithm for identifying the optimal ablation site for idiopathic ventricular outflow tract tachycardia. J Cardiovasc Electrophysiol. 2003;14(12):1280–6.

14.

Yokoyama Y, Hachiya H, Watanabe T, Yokota A, Komori T, Kabutoya T, et al. A case of successful radiofrequency catheter ablation of ventricular tachycardia from the noncoronary cusp. J Electrocardiol. 2019;52:66–9.

15.

Ge B, Ji KT, Ye HG, Li J, Li YC, Yin RP, et al. Electrocardiogram features of premature ventricular contractions/ventricular tachycardia originating from the left ventricular outflow tract and the treatment outcome of radiofrequency catheter ablation. BMC Cardiovasc Disord. 2012. https://doi.org/10.1186/1471-2261-12-112.

16.

Tada H. Catheter of tachyarrhythmias ablation from the aortic sinuses of Valsalva. When and how? Circ J. 2012;76:791–800.

17.

Hiramutsu S, Tada H, Sakamoto Y, Koseno K, Soto C, Irıe T. Quantitative analysis and characteristics of the electrocardiograms recorded within the non coronary aortic sinüs of Valsalva. Circ J. 2009;73:838–45.

18.

d'Avila A, Thiagolingam A, Holmyang G, Haughtaling C, Ruskin JN, Reddy VY. What is the most appropriate energy source for aortic cusp ablation? A comparison of standart RF, cooled tip RF and cryothermal ablation. J Interv Card Electrophysiol. 2006;16(1):31–8.
Ethics declarations
Ethical approval
The study was approved by the institutional ethics review board.
Conflict of interest
The authors declare that they have no conflict of interest.
Additional information
Publisher's note
Springer Nature remains neutral with regard to jurisdictional claims in published maps and institutional affiliations.
About this article
Cite this article
Ergul, Y., Ozgur, S., Şahin, G.T. et al. Aortic cusp ablation for premature ventricular contractions and ventricular tachycardia in children: a 5-year single-center experience. J Interv Card Electrophysiol (2020). https://doi.org/10.1007/s10840-020-00803-0
Received:

Accepted:

Published:
Keywords
Aortic cusp

Ablation

Children