Abstract
Purpose
Clinically observed discrepancies between electrocardiogram findings and subjective report of symptoms related to atrial fibrillation (AF) often remain unexplained. One could hypothesize that after a technically successful ablation, preoperative panic behavior might affect the report of AF-related symptoms. However, research on comorbid panic behavior in patients with AF is limited.
Methods
In this observational prospective cohort study, we investigated psychological characteristics, in particular the prevalence of panic features, among 112 patients with AF and its possible influence on experienced outcome of subsequent ablation treatment.
Results
Twelve percent of the AF patients (n = 12) were pre-operatively characterized by panic features. This group experienced higher levels of distress and more limitations in daily life compared to AF patients without panic features, but was not characterized by higher levels of neuroticism. However, AF-ablation resulted in a similar reduction of experienced limitations in daily functioning and levels of distress in both groups.
Conclusion
Patients with panic features experience more distress and more limitations in daily life from AF, but these complaints are reduced by AF ablation in a similar rate as in patients without panic features. Additional psychological therapy is suggested as a method to further reduce subjective AF disease burden in these patients.
This is a preview of subscription content, log in to check access.
Access options
Buy single article
Instant access to the full article PDF.
US$ 39.95
Price includes VAT for USA
Subscribe to journal
Immediate online access to all issues from 2019. Subscription will auto renew annually.
US$ 99
This is the net price. Taxes to be calculated in checkout.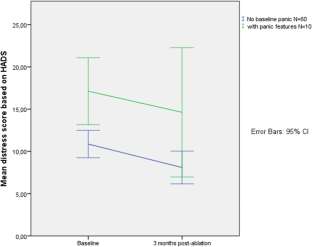 References
1.

Patel D, McConkey ND, Sohany R, McNeil A, Jedrzejczyk A, Armaganijan L. A systematic review of depression and anxiety in patients with atrial fibrillation: the mind-heart link. Cardiovasc Psychiatry Neurol. 2013;2013(1):159850. https://doi.org/10.1155/2013/159850.

2.

Mohanty S, Di Biase L, Bai R, Santangeli P, Pump A, Horton R, et al. A quality of life and patient-centered outcomes following atrial fibrillation ablation: short- and long-term perspectives to improve care. Exp Rev Cardiovasc Ther. 2012;10:889–900.

3.

Walfridsson H, Walfridsson U, Nielsen JC, Johannessen A, Raatikainen P, Janzon M, et al. Radiofrequency ablation as initial therapy in paroxysmal atrial fibrillation: results on health-related quality of life and symptom burden. The MANTRA-PAF trial. Europace. 2015;17:215–21.

4.

Thompson TS, Barksdale DJ, Sears SF, Mounsey JP, Pursell I, Gehi AK. The effect of anxiety and depression on symptoms attributed to atrial fibrillation. Pace. 2014;37:439–46.

5.

Abrignani MG, Renda N, Abrignani V, Raffa A, Novo S, Lo Baido R. Panic disorder, anxiety and cardiovascular diseases. Clin Neuropsychiatry. 2014;11:130–44.

6.

Lioni L, Vlachos K, Letsas K, Efremidis M, Karlis D, Asvestas D, et al. Differences in quality of life, anxiety and depression in patients with paroxysmal atrial fibrillation and common forms of atrioventricular reentry supraventricular tachycardias. Indian Pacing Electrophysiol J. 2004;14:250–7.

7.

Frommeyer G, Eckhardt L, Breithardt G. Panic attacks and supraventricular tachycardias: the chicken or the egg? Neth Heart J. 2013;21:74–7.

8.

Sears SF, Serber ER, Alvarez LG, Schwartzman DS, Hoyt RH, Ujhelyi MR. Understanding atrial symptom reports: objective versus subjective predictors. Pace. 2005;18:801–7.

9.

Cheng YF, Leu HB, Su CC, Huang CC, Chiang CH, Huang PH, et al. Association between panic disorder and risk of atrial fibrillation: a nationwide study. Psychosom Med. 2013;75:30–5.

10.

Yu S, Zhao Q, Wu P, Qin M, Huang H, Cui H. Effect of anxiety and depression on the recurrence of parxysmal atrial fibrillation after circumferential pulmonary vein ablation. J Cardiovasc Electrophysiol. 2012;23:17–23.

11.

Efremidis M, Letsas KP, Lioni L, Giannopoulos G, Korantzopoulos P, Vlachos K, et al. Association of quality of life, anxiety and depression with left atrial ablation outcomes. Pace. 2014;37:703–11.

12.

Walfridsson U, Arestedt K, Stromberg A. Development and validation of a new arrhytmia-specific questionnaire in tachycardia and arrhytmia (ASTA) with focus on symptom burdon. Health Qual Life Outcomes. 2012;10:1–10.

13.

Denissen JJA, Geenen R, Van Aken MAG, Gosling SD, Potter J. Development and validation of a Dutch translation of the big five inventory (BFI). J Pers Assess. 2008;90(2):152–7.

14.

Eifert GH, Thompson RN, Zvolensky MJ, Edwards K, Haddad J, Frazer NL, et al. The cardiac anxiety questionnaire: development and preliminary validity. Behaviour Res Ther. 2000;38:1039–53.

15.

Chambless DL, Caputo GC, Bright P, Gallagher R. Assessment of fear of fear in agoraphobics : the body sensations questionnaire and the agoraphobic cognitions questionnaire. J Consult Clin Psychol. 1984;52(6):1090–7.

16.

Zigmond AS, Snaith RP. The hospital anxiety and depression scale. Acta Psychiatr Scand. 1983;67:361–70.

17.

Kuyumcu MS, Ozeke O, Cay S, Ozcan F, Bayraktar MF, Kara M, et al. The short-term impact of the catheter ablation on noninvasive autonomic nervous system parameters in patients with paroxysmal atrial fibrillation. Pacing Clin Elctrophysiol. 2017;40:1193–9.

18.

Van den Berg MP, Ranchor AV, Van Sonderen F, van Gelder IC, Van Veldhuisen D. Paroxysmal atrial fibrillation, quality of life and neuroticism. Neth J Med. 2005;63:170–4.

19.

Garimella RS, Chung EH, Mounsey JP, Schwartz JD, Pursell I, Gehi AK. Accuracy of patient perception of their prevailing rhythm: a comparative analysis of monitor data and questionnaire responses in patients with atrial fibrillation. Hearth Rhythm. 2015;12:658–65.

20.

Camm AJ, Kirchhof P, Lip GYH, Schotten U, Savelieva I, Ernst S, et al. Guidelines for the management of atrial fibrillation. The task force for the management of atrial fibrillaton of the European Society of Cardiology. Eur Heart J. 2010;31:2369–429.

21.

Nationaal Kompas Volksgezondheid. Angststoornissen. http://www.nationaalkompas.nl. 12 August 2016, Date last Accessed.

22.

Olazabal Eizaguirre N, Chavez R, Gonzalez-Torres MA, Gaviria M. Trastorno de panico y fibrilacion auricular. Semergen. 2013;39:370–5.
Ethics declarations
Conflict of interest
The authors declare that they have no conflicts of interest.
About this article
Cite this article
Knobel, J.C.P.J., Van der Werf, S.P., Van den Berg, F.F. et al. Panic features strongly predict the subjective but not the objective benefit of pulmonary vein isolation. J Interv Card Electrophysiol 56, 191–197 (2019). https://doi.org/10.1007/s10840-018-0496-y
Received:

Accepted:

Published:

Issue Date:
Keywords
Panic

Atrial fibrillation

Ablation

Outcome