Abstract
Purpose
Recent publications suggested that the risk for pre-eclampsia (PE) is higher with frozen-thawed embryo transfers (FETs) compared to fresh transfers (IVF-ETs). These studies were based on old data that reflects outdated practices. In this paper, we wanted to assess the incidence of PE in current assisted reproductive technology (ART) practice.
Methods
In this cohort study, we present the incidence of PE in all births in the province of Ontario, Canada, for the years 2013–2017 for FET, IVF-ET, and natural conceptions (NC). We also compare our findings to previous studies in a meta-analysis that includes over 4 million births.
Results
The results of our study show that contemporary practice of ART results in comparable risk for PE between FET and IVF-ET; however, the risk is higher than NC.
Conclusion
Current ART practice is associated with a lower risk for PE in frozen embryo transfer; this RR can be further attenuated by using ovulatory endometrial preparation for FETs.
Access options
Buy single article
Instant access to the full article PDF.
US$ 39.95
Tax calculation will be finalised during checkout.
Subscribe to journal
Immediate online access to all issues from 2019. Subscription will auto renew annually.
US$ 119
Tax calculation will be finalised during checkout.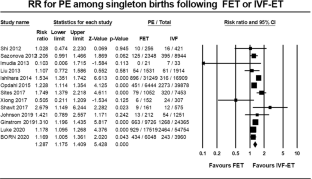 References
1.

Roque M, Valle M, Guimaraes F, Sampaio M, Geber S. Cost-effectiveness of the freeze-all policy. JBRA Assist Reprod. 2015;19(3):125-30. 10.5935/1518-0557.20150028.

2.

Roque M, Haahr T, Geber S, Esteves SC, Humaidan P. Fresh versus elective frozen embryo transfer in IVF/ICSI cycles: a systematic review and meta-analysis of reproductive outcomes. Hum Reprod Update. 2019;25(1):2–14. https://doi.org/10.1093/humupd/dmy033.

3.

Maheshwari A, Pandey S, Amalraj Raja E, Shetty A, Hamilton M, Bhattacharya S. Is frozen embryo transfer better for mothers and babies? Can cumulative meta-analysis provide a definitive answer? Hum Reprod Update. 2018;24(1):35–58. https://doi.org/10.1093/humupd/dmx031.

4.

Sabban H, Zakhari A, Patenaude V, Tulandi T, Abenhaim HA. Obstetrical and perinatal morbidity and mortality among in-vitro fertilization pregnancies: a population-based study. Arch Gynecol Obstet. 2017;296(1):107–13. https://doi.org/10.1007/s00404-017-4379-8.

5.

O'Gorman N, Wright D, Poon LC, Rolnik DL, Syngelaki A, Wright A, et al. Accuracy of competing-risks model in screening for pre-eclampsia by maternal factors and biomarkers at 11-13 weeks' gestation. Ultrasound Obstet Gynecol. 2017;49(6):751–5. https://doi.org/10.1002/uog.17399.

6.

Boulet SL, Mehta A, Kissin DM, Warner L, Kawwass JF, Jamieson DJ. Trends in use of and reproductive outcomes associated with intracytoplasmic sperm injection. JAMA. 2015;313(3):255–63. https://doi.org/10.1001/jama.2014.17985.

7.

Glujovsky D, Farquhar C. Cleavage-stage or blastocyst transfer: what are the benefits and harms? Fertil Steril. 2016;106(2):244–50. https://doi.org/10.1016/j.fertnstert.2016.06.029.

8.

Levi-Setti PE, Patrizio P, Scaravelli G. Evolution of human oocyte cryopreservation: slow freezing versus vitrification. Curr Opin Endocrinol Diabetes Obes. 2016;23(6):445–50. https://doi.org/10.1097/MED.0000000000000289.

9.

Dunn S, Bottomley J, Ali A, Walker M. 2008 Niday Perinatal Database quality audit: report of a quality assurance project. Chronic Dis Inj Can. 2011;32(1):32–42.

10.

Shamseer L, Moher D, Clarke M, Ghersi D, Liberati A, Petticrew M, et al. Preferred reporting items for systematic review and meta-analysis protocols (PRISMA-P) 2015: elaboration and explanation. BMJ. 2015;350:g7647. https://doi.org/10.1136/bmj.g7647.

11.

Huedo-Medina TB, Sanchez-Meca J, Marin-Martinez F, Botella J. Assessing heterogeneity in meta-analysis: Q statistic or I2 index? Psychol Methods. 2006;11(2):193–206. https://doi.org/10.1037/1082-989X.11.2.193.

12.

Higgins JPTTJ, Chandler J. Cumpston M, Li T. Welch VA Cochrane Handbook for Systematic Reviews of Interventions. Sixth ed. Cochrane: Page MJ; 2019.

13.

Shi W, Xue X, Zhang S, Zhao W, Liu S, Zhou H, et al. Perinatal and neonatal outcomes of 494 babies delivered from 972 vitrified embryo transfers. Fertil Steril. 2012;97(6):1338–42. https://doi.org/10.1016/j.fertnstert.2012.02.051.

14.

Liu SY, Teng B, Fu J, Li X, Zheng Y, Sun XX. Obstetric and neonatal outcomes after transfer of vitrified early cleavage embryos. Hum Reprod. 2013;28(8):2093–100. https://doi.org/10.1093/humrep/det104.

15.

Imudia AN, Awonuga AO, Kaimal AJ, Wright DL, Styer AK, Toth TL. Elective cryopreservation of all embryos with subsequent cryothaw embryo transfer in patients at risk for ovarian hyperstimulation syndrome reduces the risk of adverse obstetric outcomes: a preliminary study. Fertil Steril. 2013;99(1):168–73. https://doi.org/10.1016/j.fertnstert.2012.08.060.

16.

Ishihara O, Araki R, Kuwahara A, Itakura A, Saito H, Adamson GD. Impact of frozen-thawed single-blastocyst transfer on maternal and neonatal outcome: an analysis of 277,042 single-embryo transfer cycles from 2008 to 2010 in Japan. Fertil Steril. 2014;101(1):128–33. https://doi.org/10.1016/j.fertnstert.2013.09.025.

17.

Sazonova A, Kallen K, Thurin-Kjellberg A, Wennerholm UB, Bergh C. Obstetric outcome in singletons after in vitro fertilization with cryopreserved/thawed embryos. Hum Reprod. 2012;27(5):1343–50. https://doi.org/10.1093/humrep/des036.

18.

Opdahl S, Henningsen AA, Tiitinen A, Bergh C, Pinborg A, Romundstad PR, et al. Risk of hypertensive disorders in pregnancies following assisted reproductive technology: a cohort study from the CoNARTaS group. Hum Reprod. 2015;30(7):1724–31. https://doi.org/10.1093/humrep/dev090.

19.

Ginstrom Ernstad E, Wennerholm UB, Khatibi A, Petzold M, Bergh C. Neonatal and maternal outcome after frozen embryo transfer: increased risks in programmed cycles. Am J Obstet Gynecol. 2019;221(2):126 e1- e18. 10.1016/j.ajog.2019.03.010.

20.

Xiong F, Hu L, Zhang Y, Xiao X. Correlation of hypertensive disorders in pregnancy with procedures of in vitro fertilization and pregnancy outcomes. Exp Ther Med. 2017;14(6):5405–10. https://doi.org/10.3892/etm.2017.5204.

21.

Shavit T, Oron G, Weon-Young S, Holzer H, Tulandi T. Vitrified-warmed single-embryo transfers may be associated with increased maternal complications compared with fresh single-embryo transfers. Reprod Biomed Online. 2017;35(1):94–102. https://doi.org/10.1016/j.rbmo.2017.03.016.

22.

Sites CK, Wilson D, Barsky M, Bernson D, Bernstein IM, Boulet S, et al. Embryo cryopreservation and preeclampsia risk. Fertil Steril. 2017;108(5):784–90. https://doi.org/10.1016/j.fertnstert.2017.08.035.

23.

Johnson KM, Hacker MR, Resetkova N, O'Brien B, Modest AM. Risk of ischemic placental disease in fresh and frozen embryo transfer cycles. Fertil Steril. 2019;111(4):714–21. https://doi.org/10.1016/j.fertnstert.2018.11.043.

24.

Luke B, Brown MB, Eisenberg ML, Callan C, Botting BJ, Pacey A et al. In vitro fertilization and risk for hypertensive disorders of pregnancy: associations with treatment parameters. Am J Obstet Gynecol. 2020;222(4):350 e1- e13. 10.1016/j.ajog.2019.10.003.

25.

Moore RA, Gavaghan DJ, Edwards JE, Wiffen P, McQuay HJ. Pooling data for number needed to treat: no problems for apples. BMC Med Res Methodol. 2002;2:2. https://doi.org/10.1186/1471-2288-2-2.

26.

von Versen-Hoynck F, Schaub AM, Chi YY, Chiu KH, Liu J, Lingis M, et al. Increased preeclampsia risk and reduced aortic compliance with in vitro fertilization cycles in the absence of a corpus luteum. Hypertension. 2019;73(3):640–9. https://doi.org/10.1161/HYPERTENSIONAHA.118.12043.

27.

Wang Z, Liu H, Song H, Li X, Jiang J, Sheng Y et al. Increased risk of pre-eclampsia after frozen-thawed embryo transfer in programming cycles. Front Med (Lausanne). 2020;7:104. 10.3389/fmed.2020.00104.

28.

Liu KE, Hartman M, Hartman A, Luo ZC, Mahutte N. The impact of a thin endometrial lining on fresh and frozen-thaw IVF outcomes: an analysis of over 40 000 embryo transfers. Hum Reprod. 2018;33(10):1883–8. https://doi.org/10.1093/humrep/dey281.

29.

Dayan N, Lanes A, Walker MC, Spitzer KA, Laskin CA. Effect of chronic hypertension on assisted pregnancy outcomes: a population-based study in Ontario. Canada. Fertil Steril. 2016;105(4):1003–9. https://doi.org/10.1016/j.fertnstert.2015.11.039.

30.

Rolnik DL, Wright D, Poon LC, O'Gorman N, Syngelaki A, de Paco MC, et al. Aspirin versus placebo in pregnancies at high risk for preterm preeclampsia. N Engl J Med. 2017;377(7):613–22. https://doi.org/10.1056/NEJMoa1704559.
Acknowledgments
We wish to acknowledge the Better Outcomes Registry and Network (BORN) Ontario as the source of the data and CARTR Plus for providing Extract ART and birth data (Years provided: 2013 to 2017). The data was provided in 2020.
Funding
The study was funded internally.
Ethics declarations
Disclaimer
All inferences, opinions, and conclusions drawn in this publication are those of the authors, and do not necessarily reflect the options or policies of BORN Ontario.
Conflict of interest
The authors declare that they have no conflict of interest.
Additional information
Publisher's note
Springer Nature remains neutral with regard to jurisdictional claims in published maps and institutional affiliations.
About this article
Cite this article
Kenigsberg, S., Bentov, Y. Does contemporary ART lead to pre-eclampsia? A cohort study and meta-analysis. J Assist Reprod Genet (2021). https://doi.org/10.1007/s10815-021-02061-z
Received:

Accepted:

Published:
Keywords
Pre-eclampsia

Hypertensive disorders of pregnancy

Frozen embryo transfer

Fresh embryo transfer

Natural conception

Assisted reproductive technology