Abstract
Purpose
Cell therapy is a promising strategy for the treatment of Asherman's syndrome (AS), but the origin of these cells and injection route influence the therapeutic effect and complications of cell therapy. Herein, we compared the effects of systemic or local intrauterine injection of bone marrow or adipose-derived mesenchymal stem cells (BMSCs/AMSCs) on the endometrium in a rat model of AS.
Methods
After induction of AS in adult Wistar rats, the CM-Dil-positive BMSCs or AMSCs were injected either locally or intravenously. After 3 weeks, endometrial thickness, collagen deposition, cell migration, and VEGF expression were evaluated using histochemistry/immunofluorescence studies.
Results
In all stem cell-treated groups, an ameliorative effect on the damaged endometrium was noted. Collagen deposition diminished in both groups (IV and local injection) compared to the AS model. In rats injected locally with MSC, fibrosis decreased compared to the other groups. Moreover, endometrial thickness increased in the groups that received local injection of BMSCs and AMSCs more than the IV-transplanted AMSCs group. Immunofluorescent staining demonstrated that although the systemic transplantation of BMSCs was more effective than the other groups on VEGF expression, it led to the lowest number of CM-Dil+ stem cells in the damaged endometrium.
Conclusion
Stem cell transplantation may reconstruct the damaged endometrium, but it is recommended to select the most effective stem cells and injection route. Because the removal of the fibrosis and the replacement of the epithelia cells is an effective therapeutic strategy for AS, in this study, we conclude that the local injection of AMSCs is more appropriate than BMSCs to treat AS.
This is a preview of subscription content, log in to check access.
Access options
Buy single article
Instant access to the full article PDF.
US$ 39.95
Price includes VAT for USA
Subscribe to journal
Immediate online access to all issues from 2019. Subscription will auto renew annually.
US$ 199
This is the net price. Taxes to be calculated in checkout.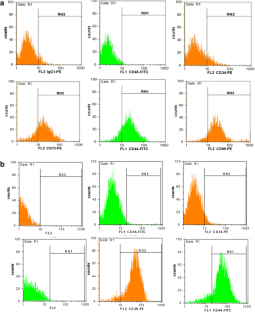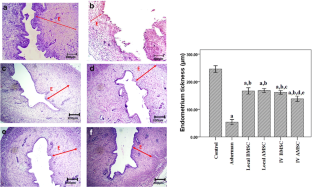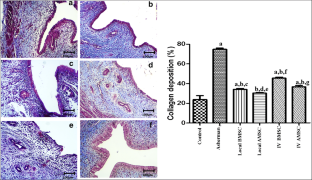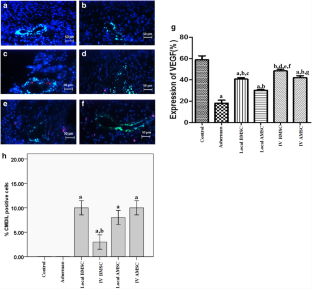 References
1.

Asherman JG. Amenorrhoea traumatica (atretica). BJOG Int J Obstet Gynaecol. 1948;55(1):23–30.

2.

Westendorp IC, Ankum WM, Mol BW, Vonk J. Prevalence of Asherman's syndrome after secondary removal of placental remnants or a repeat curettage for incomplete abortion. Human Reprod. 1998;13(12):3347–50.

3.

Conforti A, Alviggi C, Mollo A, De Placido G, Magos A. The management of Asherman syndrome: a review of literature. Reprod Biol Endocrinol. 2013;11(1):118.

4.

Yu D, Li T-C, Xia E, Huang X, Liu Y, Peng X. Factors affecting reproductive outcome of hysteroscopic adhesiolysis for Asherman's syndrome. Fertil Steril. 2008;89(3):715–22.

5.

Gargett CE, Schwab KE, Deane JA. Endometrial stem/progenitor cells: the first 10 years. Hum Reprod Update. 2016;22(2):137–63.

6.

Queckborner S, Davies LC, von Grothusen C, Santamaria X, Simon C, Gemzell-Danielsson K. Cellular therapies for the endometrium: an update. Acta Obstet Gynecol Scand. 2019;98(5):672–7.

7.

Ersoy GS, Zolbin MM, Cosar E, Moridi I, Mamillapalli R, Taylor HS. CXCL12 promotes stem cell recruitment and uterine repair after injury in Asherman's syndrome. Mol Ther Methods Clin Dev. 2017;4:169–77.

8.

Santamaria X, Cabanillas S, Cervello I, Arbona C, Raga F, Ferro J, et al. Autologous cell therapy with CD133+ bone marrow-derived stem cells for refractory Asherman's syndrome and endometrial atrophy: a pilot cohort study. Hum Reprod. 2016;31(5):1087–96.

9.

Saribas GS, Ozogul C, Tiryaki M, Pinarli FA, Kilic SH. Effects of uterus derived mesenchymal stem cells and their exosomes on Asherman's syndrome. Acta Histochem. 2020;122(1):151465.

10.

Gao L, Huang Z, Lin H, Tian Y, Li P, Lin S. Bone marrow mesenchymal stem cells (BMSCs) restore functional endometrium in the rat model for severe Asherman syndrome. Reprod Sci. 2019;26(3):436–44.

11.

Kilic S, Yuksel B, Pinarli F, Albayrak A, Boztok B, Delibasi T. Effect of stem cell application on Asherman syndrome, an experimental rat model. J Assist Reprod Genet. 2014;31(8):975–82.

12.

Zhao G, Cao Y, Zhu X, Tang X, Ding L, Sun H, Li J, Li X, Dai C, Ru T, Zhu H, Lu J, Lin C, Wang J, Yan G, Wang H, Wang L, Dai Y, Wang B, Li R, Dai J, Zhou Y, Hu Y. Transplantation of collagen scaffold with autologous bone marrow mononuclear cells promotes functional endometrium reconstruction via downregulating ΔNp63 expression in Asherman's syndrome. Sci China Life Sci. 2017;60(4):404–16.

13.

Noel D, Caton D, Roche S, Bony C, Lehmann S, Casteilla L, et al. Cell specific differences between human adipose-derived and mesenchymal-stromal cells despite similar differentiation potentials. Exp Cell Res. 2008;314(7):1575–84. https://doi.org/10.1016/jyexcr200712022 Epub 2008 Jan 12.

14.

Zhu X, Shi W, Tai W, Liu F. The comparition of biological characteristics and multilineage differentiation of bone marrow and adipose derived mesenchymal stem cells. Cell Tissue Res. 2012;350(2):277–87. https://doi.org/10.1007/s00441-012-1453-1 Epub 2012 Jun 5.

15.

Liu Y, Tal R, Pluchino N, Mamillapalli R, Taylor HS. Systemic administration of bone marrow-derived cells leads to better uterine engraftment than use of uterine-derived cells or local injection. J Cell Mol Med. 2018;22(1):67–76.

16.

Alawadhi F, Du H, Cakmak H, Taylor HS. Bone marrow-derived stem cell (BMDSC) transplantation improves fertility in a murine model of Asherman's syndrome. PLoS One. 2014;9(5):e96662. https://doi.org/10.1371/journalpone0096662 eCollection 2014.

17.

Shao X, Ai G, Wang L, Qin J, Li Y, Jiang H, et al. Adipose-derived stem cells transplantation improves endometrial injury repair. Zygote. 2019;27(6):367–74. https://doi.org/10.1017/S096719941900042X Epub 2019 Aug 27.

18.

Hadi AM, Mouchaers KTB, Schalij I, Grunberg K, Meijer GA, Vonk-Noordegraaf A, et al. Rapid quantification of myocardial fibrosis: a new macro-based automated analysis. Cell Oncol. 2010;34(4):343–54.

19.

Monsef F, Artimani T, Alizadeh Z, Mahdi R, Solgi G, Yavangi M, et al. Effects of adipose- derived stromal vascular fraction on Asherman syndrome model. Acta Histochem. 2020;122(5):151556.

20.

Koohestani F, Braundmeier AG, Mahdian A, Seo J, Bi J, Nowak RA. Extracellular matrix collagen alters cell proliferation and cell cycle progression of human uterine leiomyoma smooth muscle cells. PLoS One. 2013;8(9):e75844. https://doi.org/10.1371/journalpone0075844 eCollection 2013.

21.

Gargett CE, Masuda H. Adult stem cells in the endometrium. Mol Hum Reprod. 2010;16(11):818–34. https://doi.org/10.1093/molehr/gaq061 Epub 2010 Jul 13.

22.

Hu J, Yuan R. The expression levels of stem cell markers importin13, c-kit, CD146, and telomerase are decreased in endometrial polyps. Med Sci Monit. 2011;17(8):BR221–7. https://doi.org/10.12659/msm881901.

23.

Domnina A, Novikova P, Obidina J, Fridlyanskaya I, Alekseenko L, Kozhukharova I, et al. Human mesenchymal stem cells in spheroids improve fertility in model animals with damaged endometrium. Stem Cell Res Ther. 2018;9(1):50. https://doi.org/10.1186/s13287-018-0801-9.

24.

Du H, Naqvi H, Taylor HS. Ischemia/reperfusion injury promotes and granulocyte-colony stimulating factor inhibits migration of bone marrow-derived stem cells to endometrium. Stem Cells Dev. 2012;21(18):3324–31.

25.

Malhotra N, Bahadur A, Kalaivani M, Mittal S. Changes in endometrial receptivity in women with Asherman's syndrome undergoing hysteroscopic adhesiolysis. Arch Gynecol Obstet. 2012;286(2):525–30. https://doi.org/10.1007/s00404-012-2336-0 Epub 2012 Apr 26.

26.

Unger JB, Meeks GR. Hysterectomy after endometrial ablation. Am J Obstet Gynecol. 1996;175(6):1432–6; discussion 1436–7. https://doi.org/10.1016/s0002-9378(96)70086-8.

27.

Su J, Li ZQ, Cui S, Ji LH, Chai KX, Geng H, et al. The expressions of VEGF and VEGFR signaling pathway in the bone marrow mononuclear cells with chronic mountain sickness. Zhonghua Yi Xue Za Zhi. 2018;98(14):1088–92. https://doi.org/10.3760/cmajissn0376-2491201814008.

28.

Li J, Zhang YP, Kirsner RS. Angiogenesis in wound repair: angiogenic growth factors and the extracellular matrix. Microsc Res Tech. 2003;60(1):107–14.
Acknowledgments
This study was supported by the Hamadan University of Medical Sciences (9804042566).
Ethics declarations
Conflict of interest
The authors declare that they have no conflicts of interest.
Additional information
Publisher's note
Springer Nature remains neutral with regard to jurisdictional claims in published maps and institutional affiliations.
About this article
Cite this article
Monsef, F., Artimani, T., Alizadeh, Z. et al. Comparison of the regenerative effects of bone marrow/adipose-derived stem cells in the Asherman model following local or systemic administration. J Assist Reprod Genet (2020). https://doi.org/10.1007/s10815-020-01856-w
Received:

Accepted:

Published:
Keywords
Asherman's syndrome

Bone marrow-derived mesenchymal stem cell

Adipose-derived mesenchymal stem cell

Endometrium