Abstract
Purpose
To assess if the ovarian response of FMR1 premutated women undergoing preimplantation genetic testing (PGT) for Fragile X syndrome is lower compared with fully mutated patients, due to their frequent premature ovarian failure.
Methods
In a retrospective cohort study from January 2009 to March 2019, we compared PGT outcomes in 18 FMR1 premutated women and 12 fully mutated women and aimed to identify predictive factors of stimulation outcomes.
Results
Eighty-six IVF/PGT-M cycles for FMR1 PGT were analyzed. Premutation and full mutation patients were comparable in terms of age, body mass index (BMI), basal FSH, antral follicular count, and cycle length. However, premutation carriers had significantly lower AMH (1.9 versus 4.0 ng/mL, p = 0.0167). Premutated patients required higher doses of FSH (2740 versus 1944 IU, p = 0.0069) but had similar numbers of metaphase II oocytes (7.1 versus 6.6, p = 0.871) and embryos (5.6 versus 4.9, p = 0. 554). Pregnancy rates (37.1% versus 13.3%, p = 0.1076) were not statistically different in both groups.
Conclusion
In spite of lower ovarian reserve and thanks to an increased total dose of FSH, FMR1 premutated selected patients seem to have similar ovarian response as fully mutated patients. Neither the number of CGG repeats in FMR1 gene nor FMR1 mutation status was good predictors of the number of retrieved oocytes.
This is a preview of subscription content, log in to check access.
Access options
Buy single article
Instant access to the full article PDF.
US$ 39.95
Price includes VAT for USA
Subscribe to journal
Immediate online access to all issues from 2019. Subscription will auto renew annually.
US$ 199
This is the net price. Taxes to be calculated in checkout.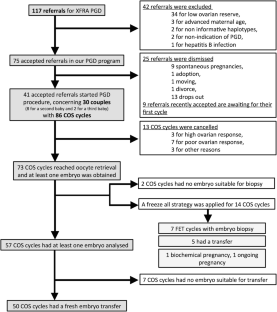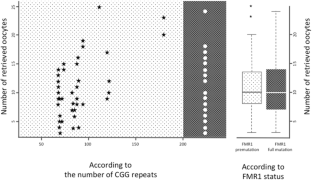 References
1.

Turner G, Webb T, Wake S, Robinson H. Prevalence of fragile X syndrome. Am J Med Genet. 1996;64:196–7.

2.

Lubs HA. A marker X chromosome. Am J Hum Genet. 1969;21:231–44.

3.

Verkerk AJ, Pieretti M, Sutcliffe JS, Fu YH, Kuhl DP, Pizzuti A, et al. Identification of a gene (FMR-1) containing a CGG repeat coincident with a breakpoint cluster region exhibiting length variation in fragile X syndrome. Cell. 1991;65:905–14.

4.

Yu S, Pritchard M, Kremer E, Lynch M, Nancarrow J, Baker E, et al. Fragile X genotype characterized by an unstable region of DNA. Science. 1991;252:1179–81.

5.

Oberlé I, Rousseau F, Heitz D, Kretz C, Devys D, Hanauer A, et al. Instability of a 550-base pair DNA segment and abnormal methylation in fragile X syndrome. Science. 1991;252:1097–102.

6.

Fu YH, Kuhl DP, Pizzuti A, Pieretti M, Sutcliffe JS, Richards S, et al. Variation of the CGG repeat at the fragile X site results in genetic instability: resolution of the Sherman paradox. Cell. 1991;67:1047–58.

7.

Nolin SL, Lewis FA, Ye LL, Houck GE, Glicksman AE, Limprasert P, et al. Familial transmission of the FMR1 CGG repeat. Am J Hum Genet. 1996;59:1252–61.

8.

Sermon K, Seneca S, Vanderfaeillie A, Lissens W, Joris H, Vandervorst M, et al. Preimplantation diagnosis for fragile X syndrome based on the detection of the non-expanded paternal and maternal CGG. Prenat Diagn. 1999;19:1223–30.

9.

Burlet P, Frydman N, Gigarel N, Kerbrat V, Tachdjian G, Feyereisen E, et al. Multiple displacement amplification improves PGD for fragile X syndrome. Mol Hum Reprod. 2006;12:647–52.

10.

Apessos A, Abou-Sleiman PM, Harper JC, Delhanty JD. Preimplantation genetic diagnosis of the fragile X syndrome by use of linked polymorphic markers. Prenat Diagn. 2001;21:504–11.

11.

Malcov M, Naiman T, Yosef DB, Carmon A, Mey-Raz N, Amit A, et al. Preimplantation genetic diagnosis for fragile X syndrome using multiplex nested PCR. Reprod BioMed Online. 2007;14:515–21.

12.

Lee HS, Kim MJ, Lim CK, Cho JW, Song IO, Kang IS. Multiple displacement amplification for preimplantation genetic diagnosis of fragile X syndrome. Genet Mol Res. 2011;10:2851–9.

13.

Kieffer E, Nicod JC, Gardes N, Kastner C, Becker N, Celebi C, et al. Improving preimplantation genetic diagnosis for Fragile X syndrome: two new powerful single-round multiplex indirect and direct tests. Eur J Hum Genet. 2016;24:221–7.

14.

Chen M, Zhao M, Lee CG, Chong SS. Identification of microsatellite markers <1 Mb from the FMR1 CGG repeat and development of a single-tube tetradecaplex PCR panel of highly polymorphic markers for preimplantation genetic diagnosis of fragile X syndrome. Genet Med. 2016;18:869–75.

15.

Wittenberger MD, Hagerman RJ, Sherman SL, McConkie-Rosell A, Welt CK, Rebar RW, et al. The FMR1 premutation and reproduction. Fertil Steril. 2007;87:456–65.

16.

Sherman SL. Premature ovarian failure in the fragile X syndrome. Am J Med Genet. 2000;97:189–94.

17.

Ennis S, Ward D, Murray A. Nonlinear association between CGG repeat number and age of menopause in FMR1 premutation carriers. Eur J Hum Genet. 2006;14:253–5.

18.

Sullivan AK, Marcus M, Epstein MP, Allen EG, Anido AE, Paquin JJ, et al. Association of FMR1 repeat size with ovarian dysfunction. Hum Reprod. 2005;20:402–12.

19.

Allen EG, Sullivan AK, Marcus M, Small C, Dominguez C, Epstein MP, et al. Examination of reproductive aging milestones among women who carry the FMR1 premutation. Hum Reprod. 2007;22:2142–52.

20.

Platteau P, Sermon K, Seneca S, Van Steirteghem A, Devroey P, Liebaers I. Preimplantation genetic diagnosis for fragile Xa syndrome: difficult but not impossible. Hum Reprod. 2002;17:2807–12.

21.

Avraham S, Almog B, Reches A, Zakar L, Malcov M, Sokolov A, et al. The ovarian response in fragile X patients and premutation carriers undergoing IVF-PGD: reappraisal. Hum Reprod. 2017;32:1508–11.

22.

Tsafrir A, Altarescu G, Margalioth E, Brooks B, Renbaum P, Levy-Lahad E, et al. PGD for fragile X syndrome: ovarian function is the main determinant of success. Hum Reprod. 2010;25:2629–36.

23.

Bibi G, Malcov M, Yuval Y, Reches A, Ben-Yosef D, Almog B, et al. The effect of CGG repeat number on ovarian response among fragile X premutation carriers undergoing preimplantation genetic diagnosis. Fertil Steril. 2010;94:869–74.

24.

Elizur SE, Lebovitz O, Derech-Haim S, Dratviman-Storobinsky O, Feldman B, Dor J, et al. Elevated levels of FMR1 mRNA in granulosa cells are associated with low ovarian reserve in FMR1 premutation carriers. PLoS One. 2014;9:e105121.

25.

Girardet A, Hamamah S, Anahory T, Déchaud H, Sarda P, Hédon B, et al. First preimplantation genetic diagnosis of hereditary retinoblastoma using informative microsatellite markers. Mol Hum Reprod. 2003;9:111–6.

26.

Girardet A, Ishmukhametova A, Willems M, Coubes C, Hamamah S, Anahory T, et al. Preimplantation genetic diagnosis for cystic fibrosis: the Montpellier center's 10-year experience. Clin Genet. 2015;87:124–32.

27.

Girardet A, Fernandez C, Claustres M. Efficient strategies for preimplantation genetic diagnosis of spinal muscular atrophy. Fertil Steril. 2008;90:443.e7–12.

28.

Zhao M, Chen M, Tan ASC, Cheah FSH, Mathew J, Wong PC, et al. Single-tube tetradecaplex panel of highly polymorphic microsatellite markers < 1 Mb from F8 for simplified preimplantation genetic diagnosis of hemophilia A. J Thromb Haemost. 2017;15:1473–83.

29.

Allingham-Hawkins DJ, Babul-Hirji R, Chitayat D, Holden JJ, Yang KT, Lee C, et al. Fragile X premutation is a significant risk factor for premature ovarian failure: the International Collaborative POF in Fragile X study--preliminary data. Am J Med Genet. 1999;83:322–5.

30.

Murray A, Webb J, MacSwiney F, Shipley EL, Morton NE, Conway GS. Serum concentrations of follicle stimulating hormone may predict premature ovarian failure in FRAXA premutation women. Hum Reprod. 1999;14:1217–8.

31.

Welt CK, Smith PC, Taylor AE. Evidence of early ovarian aging in fragile X premutation carriers. J Clin Endocrinol Metab. 2004;89:4569–74.

32.

Rohr J, Allen EG, Charen K, Giles J, He W, Dominguez C, et al. Anti-Mullerian hormone indicates early ovarian decline in fragile X mental retardation (FMR1) premutation carriers: a preliminary study. Hum Reprod. 2008;23:1220–5.

33.

Spath MA, Feuth TB, Allen EG, Smits AP, Yntema HG, van Kessel AG, et al. Intra-individual stability over time of standardized anti-Mullerian hormone in FMR1 premutation carriers. Hum Reprod. 2011;26:2185–91.

34.

Murray A, Ennis S, MacSwiney F, Webb J, Morton NE. Reproductive and menstrual history of females with fragile X expansions. Eur J Hum Genet. 2000;8:247–52.

35.

Deng X, Berletch JB, Nguyen DK, Disteche CM. X chromosome regulation: diverse patterns in development, tissues and disease. Nat Rev Genet. 2014;15:367–78.

36.

Spath MA, Feuth TB, Smits AP, Yntema HG, Braat DD, Thomas CM, et al. Predictors and risk model development for menopausal age in fragile X premutation carriers. Genet Med. 2011;13:643–50.

37.

Lekovich J, Man L, Xu K, Canon C, Lilienthal D, Stewart JD, et al. CGG repeat length and AGG interruptions as indicators of fragile X-associated diminished ovarian reserve. Genet Med. 2018;20:957–64.

38.

Allen EG, He W, Yadav-Shah M, Sherman SL. A study of the distributional characteristics of FMR1 transcript levels in 238 individuals. Hum Genet. 2004;114:439–47.

39.

Buijsen RA, Visser JA, Kramer P, Severijnen EA, Gearing M, Charlet-Berguerand N, et al. Presence of inclusions positive for polyglycine containing protein, FMRpolyG, indicates that repeat-associated non-AUG translation plays a role in fragile X-associated primary ovarian insufficiency. Hum Reprod. 2016;31:158–68.

40.

Nayot D, Chung JT, Son WY, Ao A, Hughes M, Dahan MH. Live birth following serial vitrification of embryos and PGD for fragile X syndrome in a patient with the premutation and decreased ovarian reserve. J Assist Reprod Genet. 2013;30:1439–44.

41.

Schwartz CE, Dean J, Howard-Peebles PN, Bugge M, Mikkelsen M, Tommerup N, et al. Obstetrical and gynecological complications in fragile X carriers: a multicenter study. Am J Med Genet. 1994;51:400–2.

42.

Loesch DZ, Hay DA. Clinical features and reproductive patterns in fragile X female heterozygotes. J Med Genet. 1988;25:407–14.

43.

Kallinen J, Korhonen K, Kortelainen S, Heinonen S, Ryynänen M. Pregnancy outcome in carriers of fragile X. BJOG. 2000;107:969–72.

44.

Lu C, Lin L, Tan H, Wu H, Sherman SL, Gao F, et al. Fragile X premutation RNA is sufficient to cause primary ovarian insufficiency in mice. Hum Mol Genet. 2012;21:5039–47.

45.

Polyzos NP, Tournaye H, Guzman L, Camus M, Nelson SM. Predictors of ovarian response in women treated with corifollitropin alfa for in vitro fertilization/intracytoplasmic sperm injection. Fertil Steril. 2013;100:430–7.

46.

Oehninger S, Nelson SM, Verweij P, Stegmann BJ. Predictive factors for ovarian response in a corifollitropin alfa/GnRH antagonist protocol for controlled ovarian stimulation in IVF/ICSI cycles. Reprod Biol Endocrinol. 2015;13:117.

47.

Galey-Fontaine J, Cédrin-Durnerin I, Chaïbi R, Massin N, Hugues JN. Age and ovarian reserve are distinct predictive factors of cycle outcome in low responders. Reprod BioMed Online. 2005;10:94–9.

48.

Vandervorst M, Liebaers I, Sermon K, Staessen C, De Vos A, Van de Velde H, et al. Successful preimplantation genetic diagnosis is related to the number of available cumulus-oocyte complexes. Hum Reprod. 1998;13:3169–76.

49.

Ben-Nagi J, Jones B, Naja R, Amer A, Sunkara S, SenGupta S, et al. Live birth rate is associated with oocyte yield and number of biopsied and suitable blastocysts to transfer in preimplantation genetic testing (PGT) cycles for monogenic disorders and chromosomal structural rearrangements. Eur J Obstet Gynecol Reprod Biol X. 2019;4:100055.
Acknowledgments
The authors thank Nelly Guigue for her contribution to the data management of the study. We are grateful to the University Hospital of Montpellier for supporting the PGT activity.
Ethics declarations
Patients were informed of the investigations and gave their consent before participation in the study, which was approved by the internal ethical board of the Montpellier University Hospital.
Additional information
Publisher's note
Springer Nature remains neutral with regard to jurisdictional claims in published maps and institutional affiliations.
About this article
Cite this article
Ranisavljevic, N., Hess, M., Castelli, C. et al. Are ovarian response and pregnancy rates similar in selected FMR1 premutated and mutated patients undergoing preimplantation genetic testing?. J Assist Reprod Genet (2020). https://doi.org/10.1007/s10815-020-01809-3
Received:

Accepted:

Published:
Keywords
Fragile X syndrome

Ovarian reserve

Ovarian stimulation

IVF

Preimplantation genetic testing