Abstract
Microalgae are a promising new source of biomass; however, large-scale economical harvesting of microalgal biomass is a major technological and economic challenge, limiting the commercial production of microalgal biomass for high-value compounds. In this study, the cationic polymer chitosan was used for the harvesting of the marine diatom Chaetoceros muelleri. Natural flocculation, and pH and chitosan-induced flocculation were studied in detail. The effects of flocculant dosage, culture pH, initial biomass concentration, and sedimentation time were investigated on biomass recovery. The results showed that flocculation efficiency can reach > 99% with an optimum dosage of chitosan (80 mg L−1) at pH 9.6 and settling time of 40 minutes for biomass concentration from 0.2 to 1.2 g L−1. The reusability of the recycled water, preservation of biomass after harvesting, and cost of the harvesting process were evaluated. The results showed that the chitosan-induced flocculation offers an efficient, cost-effective, rapid, and sustainable harvesting method for C. muelleri biomass for food and feed applications in aquaculture.
Access options
Buy single article
Instant access to the full article PDF.
US$ 39.95
Tax calculation will be finalised during checkout.
Subscribe to journal
Immediate online access to all issues from 2019. Subscription will auto renew annually.
US$ 79
Tax calculation will be finalised during checkout.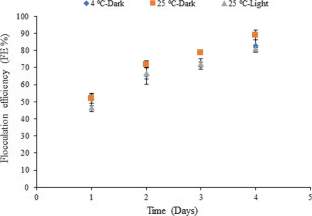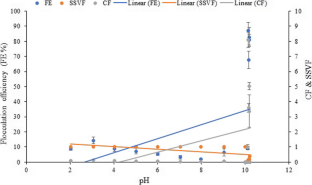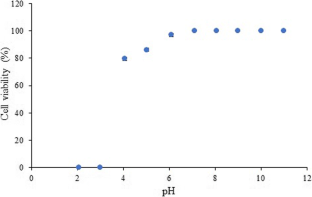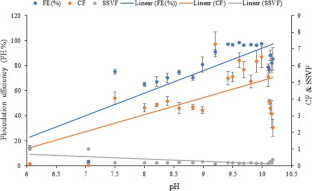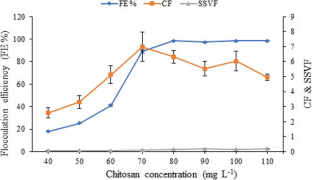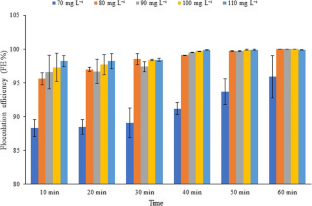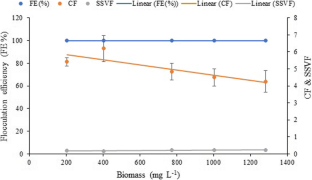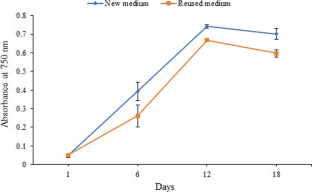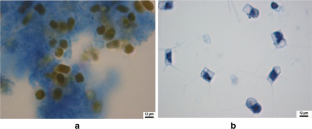 References
Ahmad AL, Yasin NHM, Derek CJC, Lim JK (2011) Optimization of microalgae coagulation process using chitosan. Chem Eng 173:879–882

Alam MA, Wan C, Guo SL, Zhao XQ, Huang ZY, Yang YL, Chang JS, Bai FW (2014) Characterization of the flocculating agent from the spontaneously flocculating microalga Chlorella vulgaris JSC-7. J Biosci Bioeng 118:29–33

Augustine A, Kumaran J, Puthumana J, Sabu S, Singh ISB, Joseph V (2017) Multifactorial interactions and optimization in biomass harvesting of marine picoalga Picochlorum maculatum MACC3 with different flocculants. Aquaculture 474:18–25

Augustine A, Tanwar A, Tremblay R, Kumar S (2019) Flocculation processes optimization for reuse of culture medium without pH neutralization. Algal Res 39:101437

Besson A, Guiraud P (2013) High-pH-induced flocculation–flotation of the hypersaline microalga Dunaliella salina. Bioresour Technol 147:464–470

Blockx J, Verfaillie A, Thielemans W, Muylaert K (2018) Unravelling the mechanism of chitosan-driven flocculation of microalgae in seawater as a function of pH. ACS Sustain Chem Eng 6:11273–11279

Branyikova I, Filipenska M, Urbanova K, Ruzicka MC, Pivokonsky M, Branyik T (2018) Physicochemical approach to alkaline flocculation of Chlorella vulgaris induced by calcium phosphate precipitates. Colloids Surf B 166:54–60

Brennan L, Owende P (2010) Biofuels from microalgae - a review of technologies for production, processing, and extractions of biofuels and co-products. Renew Sust Energ Rev 14:557–577

Chatsungnoen T, Chisti Y (2016) Harvesting microalgae by flocculation–sedimentation. Algal Res 13:271–283

Chen L, Wang C, Wang W, Wei J (2013) Optimal conditions of different flocculation methods for harvesting Scenedesmus sp. cultivated in an open-pond system. Bioresour Technol 133:9–15

Chen G, Zhao L, Qi Y, Cui YL (2014) Chitosan and its derivatives applied in harvesting microalgae for biodiesel production: an outlook. J Nanomater 2014:217537

Christenson L, Sims R (2011) Production and harvesting of microalgae for wastewater treatment, biofuels, and bioproducts. Biotechnol Adv 29:686–702

Corrêa DO, Duarte MER, Noseda MD (2019) Biomass production and harvesting of Desmodesmus subspicatus cultivated in flat plate photobioreactor using chitosan as flocculant agent. J Appl Phycol 31:857–866

D'Souza FML, Knuckey RM, Hohmann S, Pendrey RC (2002) Flocculated microalgae concentrates as diets for larvae of the tiger prawn Penaeus monodon Fabricius. Aquac Nutr 8:113–120

Dai L, Tan L, Jin X, Wu H, Wu H, Li T, Xiang W (2020) Evaluating the potential of carbohydrate-rich microalga Rhodosorus sp. SCSIO-45730 as a feedstock for biofuel and β-glucans using strategies of phosphate optimization and low-cost harvest. J Appl Phycol 32:3051–3061

Danquah MK, Gladman B, Moheimani N, Forde GM (2009) Microalgal growth characteristics and subsequent influence on dewatering efficiency. Chem Eng J 151:73–78

Das P, Thaher MI, Hakim A, Al-Jabri HM, Alghasal GS (2016) Microalgae harvesting by pH adjusted coagulation-flocculation, recycling of the coagulant and the growth media. Bioresour Technol 216:824–829

Elias JL, Voltolina D, Enriquez LO, Simental G (2005) Indoor and outdoor mass production of the diatom Chaetoceros muelleri in a Mexican commercial hatchery. Aquac Eng 33:181–191

Farid MS, Shariati A, Badakhshan A, Anvaripour B (2013) Using nano-chitosan for harvesting microalga Nannochloropsis sp. Bioresour Technol 131:555–559

Fernandez CG, Ballesteros M (2013) Microalgae autoflocculation: an alternative to high-energy consuming harvesting methods. J Appl Phycol 25:991–999

Foley JA, Ramankutty N, Brauman KA, Cassidy ES, Gerber JS, Johnston M, Mueller ND, Connell CO, Ray DK, West PC, Balzer C, Bennett EM, Carpenter SR, Hill J, Monfreda C, Polasky S, Rockstrom J, Sheehan J, Siebert S, Tilman D, Zaks DPM (2011) Solutions for a cultivated planet. Nature 478:337–342

Fon Sing S, Isdepsky A, Borowitzka MA, Lewis DM (2014) Pilot-scale continuous recycling of growth medium for the mass culture of a halotolerant Tetraselmis sp. in raceway ponds under increasing salinity: a novel protocol for commercial microalgal biomass production. Bioresour Technol 161:47–54

Georgianna DR, Mayfield SP (2012) Exploiting diversity and synthetic biology for the production of algal biofuels. Nature 488:329–335

Gerde JA, Yao L, Lio J, Wen Z, Wang T (2014) Microalgae flocculation: impact of flocculant type, algae species and cell concentration. Algal Res 3:30–35

Granados MR, Acien FG, Gomez C, Sevilla JMF, Molina GE (2012) Evaluation of flocculants for the recovery of freshwater microalgae. Bioresour Technol 118:102–110

Guo SL, Zhao XQ, Wan C, Huang ZY, Yang YL, Alam MA, Ho SH, Bai FW, Chang JS (2013) Characterization of flocculating agent from the self-flocculating microalga Scenedesmus obliquus AS-6-1 for efficient biomass harvest. Bioresour Technol 145:285–289

Gutierrez R, Passos F, Ferrer I, Uggetti E, García J (2015) Harvesting microalgae from wastewater treatment systems with natural flocculants: effect on biomass settling and biogas production. Algal Res 9:204–211

Harith ZT, Yusoff FM, Mohamed MS, Shariff M, Din M, Ariff AB (2009) Effect of different flocculants on the flocculation performance of flocculation performance of microalgae, Chaetoceros calcitrans, cells. Afr J Biotechnol 8:5971–5978

Haver LV, Nayar S (2017) Polyelectrolyte flocculants in harvesting microalgal biomass for food and feed applications. Algal Res 24:167–180

Heasman M, Diemar J, Oconnor W, Sushames T, Foulkes L (2000) Development of extended shelf-life microalgae concentrate diets harvested by centrifugation for bivalve molluscs - a summary. Aquac Res 31:637–659

Henderson R, Parsons SA, Jefferson B (2008) The impact of algal properties and pre-oxidation on solid–liquid separation of algae. Water Res 42:1827–1845

Kaseamchochoung C, Lertsutthiwong P, Phalakornkule C (2006) Influence of chitosan characteristics and environmental conditions on flocculation of anaerobic sludge. Water Environ Res 78:2210–2216

Kirnev PCS, de Carvalho JC, Miyaoka JT, Cartas LC, Vandenberghe LPS, Soccol CR (2018) Harvesting Neochloris oleoabundans using commercial organic flocculants. J Appl Phycol 30:2317–2324

Knuckey RM, Brown MR, Robert R, Frampton DMF (2006) Production of microalgal concentrates by flocculation and their assessment as aquaculture feeds. Aquac Eng 35:300–313

Kothari R, Pathak VV, Pandey A, Ahmad S, Srivastava C, Tyagi VV (2017) A novel method to harvest Chlorella sp. via low cost bioflocculant: influence of temperature with kinetic and thermodynamic functions. Bioresour Technol 225:84–89

Kumar TS, Poornima M, Alavandi SV (2017) Immunostimulants in aquaculture. In: Vijayan KK, Makesh M, Otta SK, Patil PK, Poornima M, Alavandi SV (eds) Prophylaxis in aquaculture. CIBA- ICAR, Chennai, pp 175–185

Kumaran J, Jose B, Joseph V, Singh ISB (2017) Optimization of growth requirements of marine diatom Chaetoceros muelleri using Response Surface Methodology. Aquac Res 48:1513–1524

Kwon H, Lu M, Lee EY, Lee J (2014) Harvesting of microalgae using flocculation combined with dissolved air flotation. Biotechnol Bioprocess Eng 19:143–149

Lama S, Muylaert K, Karki TB, Foubert I, Henderson RK, Vandamme D (2016) Flocculation properties of several microalgae and a cyanobacterium species during ferric chloride, chitosan and alkaline flocculation. Bioresour Technol 220:464–470

Larkum AWD, Ross IL, Kruse O, Hankamer B (2012) Selection, breeding and engineering of microalgae for bioenergy and biofuel production. Trends Biotechnol 30:198–205

Lee AK, Lewis DM, Ashman PJ (2009) Microbial flocculation, a potentially low-cost harvesting technique for marine microalgae for the production of biodiesel. J Appl Phycol 21:559–567

Liu J, Zhu Y, Tao Y, Zhang Y, Li A, Li T (2013) Freshwater microalgae harvested via flocculation induced by pH decrease. Biotechnol Biofuels 6:1–11

Morweiser M, Kruse O, Hankamer B, Posten C (2010) Developments and perspectives of photobioreactors for biofuel production. Appl Microbiol Biotechnol 87:1291–1301

Pahl SL, Lee AK, Kalaitzidis T, Ashman PJ, Sathe S, Lewis DM (2013) Harvesting, thickening and dewatering microalgae biomass. In: Borowitzka M, Moheimani N (eds) Algae for Biofuels and Energy. Springer, Dordrecht, pp 165–185

Perez L, Salgueiro JL, Maceiras R, Cancela A, Sanchez A (2017) An effective method for harvesting of marine microalgae: pH induced flocculation. Biomass Bioenergy 97:20–26

Pradana YS, Kusumastuti Y, Rahma FN, Effendy N (2017) Chitosan flocculation-sedimentation for harvesting selected microalgae species grown in monoculture and mixed cultures. Chem Eng Trans 56:1549–1554

Rashid N, Rehman SU, Hana JI (2013) Rapid harvesting of freshwater microalgae using chitosan. Process Biochem 48:1107–1110

Renault F, Sancey B, Badot PM, Crini G (2009) Chitosan for coagulation/flocculation processes-An eco-friendly approach. Eur Polym J 45:1337–1348

Rochana W, Niroshan W, Tiruchenduran S, Sulaiman MA, Mahesh D (2019) Effects of chitosan on growth, immune responses and survival of juvenile tiger shrimp (Penaeus monodon Fabricius, 1798). Int J Fish Aquat Stud 7:129–133

Salim S, Vermue MH, Wijffels RH (2012) Ratio between autoflocculating and target microalgae affects the energy-efficient harvesting by bio-flocculation. Bioresour Technol 118:49–55

Salim S, Kosterink NR, Wacka NDT, Vermue MH, Wijffels RH (2014) Mechanism behind autoflocculation of unicellular green microalgae Ettlia texensis. J Biotechnol 174:34–38

Sanabria AJG, Davis RT, Nikolov ZL (2012) Harvesting Nannochloris oculata by inorganic electrolyte flocculation: effect of initial cell density, ionic strength, coagulant dosage, and media pH. Bioresour Technol 118:418–424

Sirin S, Trobajo R, Ibanez C, Salvado J (2012) Harvesting the microalgae Phaeodactylum tricornutum with polyaluminum chloride, aluminium sulphate, chitosan and alkalinity-induced flocculation. J Appl Phycol 24:1067–1080

Strand SP, Varum KM, Kjetill O (2003) Interactions between chitosan and bacterial suspensions: adsorption and flocculation. Colloids Surf B 27:71–81

Szyjka SJ, Mandal S, Schoepp NG, Tyler BM, Yohn CB, Poon YS, Villareal S, Burkart MD, Shurin JB, Mayfield SP (2017) Evaluation of phenotype stability and ecological risk of a genetically engineered alga in open pond production. Algal Res 24:378–386

Ummalyma SB, Mathew AK, Pandey A, Sukumaran RK (2016) Harvesting of microalgal biomass: efficient method for flocculation through pH modulation. Bioresour Technol 213:216–221

Ummalyma SB, Gnansounou E, Sukumaran RK, Sindhu R, Pandey A, Sahoo D (2017) Bioflocculation: an alternative strategy for harvesting of microalgae - an overview. Bioresour Technol 242:227–235

Vandamme V, Foubert I, Fraeye I, Muylaert K (2012a) Influence of organic matter generated by Chlorella vulgaris on five different modes of flocculation. Bioresour Technol 124:508–511

Vandamme D, Foubert I, Fraeye I, Meesschaert B, Muylaert K (2012b) Flocculation of Chlorella vulgaris induced by high pH: role of magnesium and calcium and practical implications. Bioresour Technol 105:114–119

Vandamme D, Foubert I, Muylaert K (2013) Flocculation as a low-cost method for harvesting microalgae for bulk biomass production. Trends Biotechnol 31:232–239

Vandamme D, Pohl PI, Beuckels A, Foubert I, Brady PV, Hewson JC, Muylaert K (2015) Alkaline flocculation of Phaeodactylum tricornutum induced by brucite and calcite. Bioresour Technol 196:656–66l

Vega JMP, Saavedra MPS (2009) The biochemical composition of Chaetoceros muelleri (Lemmermann Grown) with an agricultural fertilizer. J World Aquacult Soc 40:556–560

Wan C, Alam MA, Zhao XQ, Zhang XY, Guo SL, Ho SH, Chang JS, Bai FW (2015) Current progress and future prospect of microalgal biomass harvest using various flocculation technologies. Bioresour Technol 184:251–257

Wang LK, Hung YT, Shammas NK (2005) Physicochemical treatment processes. Handbook of environmental engineering. In: Lawrence KW, Yung TH, Nazih KS (eds) Handbook of environmental engineering. Humana Press, New Jersey, pp 103–138

Wang XW, Liang JR, Luo CS, Chen CP, Gao YH (2014) Biomass, total lipid production, and fatty acid composition of the marine diatom Chaetoceros muelleri in response to different CO2 levels. Bioresour Technol 161:124–130

Wu Z, Zhu Y, Huang W, Zhang C, Li T, Zhang Y, Li A (2012) Evaluation of flocculation induced by pH increase for harvesting microalgae and reuse of flocculated medium. Bioresour Technol 110:496–502

Wu S, Xie X, Huan L, Zheng Z, Zhao P, Kuang J, Liu X, Wang G (2016) Selection of optimal flocculant for effective harvesting of the fucoxanthin-rich marine microalga Isochrysis galbana. J Appl Phycol 28:1579–1588

Wyatt NB, Gloe LM, Brady PV, Hewson JC, Grillet AM, Hankins MG, Pohl PI (2012) Critical conditions for ferric chloride induced flocculation of freshwater algae. Biotechnol Bioeng 109:493–501

Xu Y, Purton S, Baganz F (2013) Chitosan flocculation to aid the harvesting of the microalga Chlorella sorokiniana. Bioresour Technol 129:296–301

Yang F, Xiang W, Fan J, Wu H, Li T, Long L (2016) High pH-induced flocculation of marine Chlorella sp. for biofuel production. J Appl Phycol 28:747–756

Zhu L, Li Z, Hiltunen E (2018) Microalgae Chlorella vulgaris biomass harvesting by natural flocculant: effects on biomass sedimentation, spent medium recycling and lipid extraction. Biotechnol Biofuels 11:183
Funding
This study was funded by Kerala Biotechnology Commission, Kerala State Council for Science Technology and Environment (KSCSTE), the Government of Kerala, India, and M/s Oriental Aquamarine Biotech. India (Pvt.) Ltd, Coimbatore, India, under the Industry Linked Biotechnology Research Scheme (File No. 17 /IBRS /KBC/2009/KSCSTE). The first author is a recipient of BSR fellowship by the University Grants Commission (UGC), Government of India.
Ethics declarations
Conflict of interest
The authors declare that they have no conflict of interest.
Additional information
Publisher's note
Springer Nature remains neutral with regard to jurisdictional claims in published maps and institutional affiliations.
Supplementary information
About this article
Cite this article
Kumaran, J., Singh, I.S.B. & Joseph, V. Effective biomass harvesting of marine diatom Chaetoceros muelleri by chitosan-induced flocculation, preservation of biomass, and recycling of culture medium for aquaculture feed application. J Appl Phycol (2021). https://doi.org/10.1007/s10811-021-02369-4
Received:

Revised:

Accepted:

Published:
Keywords
Microalgae

Chaetoceros muelleri

Biomass harvesting

Flocculation

Chitosan