Abstract
In this study we report for the first time the appearance of an endophytic filamentous red alga, living associated with the edible red seaweed Chondracanthus chamissoi. Molecular identification, growth, and reproduction of this endophyte are described under different conditions: photoperiod (8:16, 12:12, and 16:08 L:D), temperature (10 and 15 °C), and photon flux density (40 and 20 μmol photons m−2 s−1). Filaments of this endophyte were isolated and cultured, and the growth was recorded according to the number of branches and its reproduction, by quantifying the emergence of monosporangia. By sequencing the COI gene and through phylogeny reconstruction using maximum likelihood, we determined that this endophyte corresponded to Colaconema daviesii. The highest growth was recorded under the treatment 16:08 (L:D), 10 °C, and 20 μmol photons m−2 s−1, reaching up to 100 branches after 18 days. On the other hand, over 80% of filaments with monosporangia were observed at 12:12 (L:D), 10 °C, and 20 μmol photons m−2 s−1. This is the first record of C. daviesii on the South-eastern Pacific as an endophyte on thalli of C. chamissoi. The results of the in vitro cultures showed that once C. daviesii is isolated, the filaments are able to grow and reproduce independently of C. chamissoi. This suggests that there may not be a strict relationship between both algae and reveals the possibility of finding C. daviesii living without a host or associated with other species.
This is a preview of subscription content, log in to check access.
Access options
Buy single article
Instant access to the full article PDF.
US$ 39.95
Price includes VAT for USA
Subscribe to journal
Immediate online access to all issues from 2019. Subscription will auto renew annually.
US$ 99
This is the net price. Taxes to be calculated in checkout.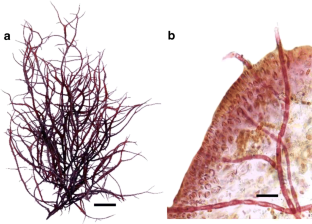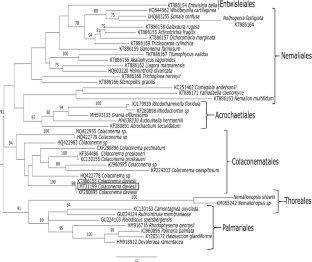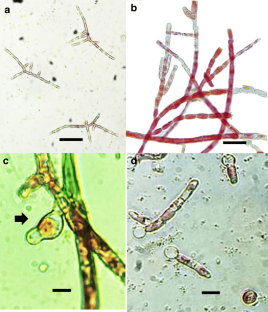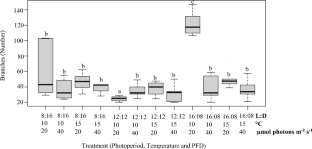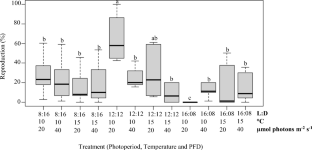 References
Aduana (2018) Exportaciones de chicorea de mar en Chile, para consumo humano. Servicio Nacional de Aduana, Chile https://www.aduana.cl.

Apt K (1984) Effects of the symbiotic red alga Hypneocolax stellaris on its host Hypneamu sciformis (Hypneaceae, Gigartinales). J Phycol 20:148–150

Apt K (1988) Galls and tumor-like growth on marine macroalgae. Dis Aquat Org 3:211–217

Araújo P, Schmidt E, Kreusch M, Kano C, Guimarães S, Bouzon Z (2014) Ultrastructural, morphological, and molecular characterization of Colaconema infestans (Colaconematales, Rhodophyta) and its host Kappaphycus alvarezii (Gigartinales, Rhodophyta) cultivated in the Brazilian tropical region. J Appl Phycol 26:19–53

Ávila M, Piel M, Caceres J, Alveal K (2011) Cultivation of the red alga Chondracanthus chamissoi: sexual reproduction and seedling production in culture under controlled conditions. J Appl Phycol 23:529–536

Bulboa C, Macchiavello J (2001) The effects of light and temperature on different phases of the life cycle in the carrageenan producing alga Chondracanthus chamissoi (Rhodophyta, Gigartinales). Bot Mar 44:371–374

Bulboa C, Macchiavello J, Oliveira E, Fonck E (2005) First attempt to cultivate the carrageenan-producing seaweeds Chondracanthus chamissoi (C. Agardh) Kützing (Rhodophyta; Gigartinales) in northern Chile. Aquac Res 36:1069–1074

Bulboa C, Macchiavello J (2006) Cultivation of cystocarpic, tetrasporic and vegetative fronds of Chondracanthus chamissoi (Rhodophyta, Gigartinales) on ropes at two localities in northern Chile. Invest Mar 34:109–112

Bulboa C, Macchiavello J, Oliveira E, Véliz K (2008) Growth rate differences between four Chilean populations of edible seaweed Chondracanthus chamissoi (Rhodophyta, Gigartinales). Aquac Res 39:1550–1555

Bulboa C, Macchiavello J, Véliz K, Oliveira E (2010) Germination rate and sporeling development of Chondracanthus chamissoi (Rhodophyta, Gigartinales) varies along a latitudinal gradient on the coast of Chile. Aquat Bot 92:137–114

Bulboa C, Véliz K, Sáez F, Sepúlveda C, Vega L, Macchiavello J (2013) A new method for cultivation of the carragenophyte and edible red seaweed Chondracanthus chamissoi based on secondary attachment disc: development in outdoor tanks. Aquaculture 410-411:86–94

Bulboa C, Massad I, Contreras-Porcia L, Zapata J, Catañeda F, Ramírez M (2020) Concise review of genus Chondracanthus (Rhodophyta: Gigartinales). J Appl Phycol 32:773–785

Buschmann A, Gómez P (1993) Interaction mechanisms between Gracilaria chilensis (Rhodophyta) and epiphytes. Hidrobiologia 261:345–335

Correa J, Nielsen R, Grund D (1988) Endophytic algae of Chondrus Crispus (Rhodophyta). II. Acrochaete heteroclada sp. nov., A. operculata sp. nov, and Pharophila dendroides (Chlorophyta). J Phycol 24:528–539

Correa J (1990) Pigmented algal endophytes of Chondrus crispus Stackhouse: host-specificity, fine structure and effects on host performance in infections by Acrochaete operculata Correa & Nielsen and A. heteroclada Correa & Nielsen. PhD dissertation, Dalhousie University, Canada

Correa J, Mclachlan J (1992) Endophytic algae of Chondrus crispus (Rhodophyta). IV. Effects on the host following infections by Acrochaete operculata and A. heteroclada (Chlorophyta). Mar Ecol Prog Ser 81:73–87

Correa J (1994) Infections by pigmented algal endophytes: misuse of concepts and terminology. Rev Chil Hist Nat 67:4–8

Correa J, Buschmann A, Retamales C, Beltran J (1997) Infectious disease of Mazzaella laminarioides (Rhodophyta): changes in infection prevalence and disease expression associated with latitude, season and within site location. J Phycol 33:344–352

Eggert A, Peters A, Küpper F (2010) The potential impact of climate change on endophyte infections in kelp sporophytes. In: Seckbach J (ed) Seaweeds and their role in globally changing environments. Springer, Dordrecht, pp 139–154

Faugeron S, Martínez E, Sánchez P, Correa J (2000) Infectious diseases in Mazzaella laminarioides (Rhodophyta): estimating the effect of infections on host reproductive potential. Dis Aquat Org 42:143–148

Faugeron S, Valero M, Destombe C, Martinez E, Correa J (2001) Hierarchical spatial structure and discriminant analysis of genetic diversity in the red alga Mazzaella laminarioides (Gigartinales, Gigartinales, Rhodophyta). J Appl Phycol 37:705–716

García V, Bárbara I, Días P (2017) Las praderas de Zostera marina del Parque Nacional Marítimo Terrestre de las Islas Atlánticas de Galicia y territorios adyacentes: distribución, abundancia y flora asociada. NACC. Bioloxía 24:1–12

Gauna M, Parodi E (2010) Green epi- endophyte in Hymenena falklandica (Rhodophyta) from the Patagonia coasts of Argentina: preliminary observations. Phycol Res 56:144–1835

Hall T (1999) BioEdit: a user-friendly biological sequence alignment editor and analysis program for windows 95/98/NT. Nucl Acids Symp Ser 41:95–98

Hansen G, Hanyuda T, Kawai H (2017) Benthic marine algae on Japanese tsunami marine debris – a morphological documentation of the species. Part 1. The tsunami event, the project overview, and the red algae. OSU scholars archive, Corvallis, pp 1-50

Harper J, Saunders G (2002) A re-classification of the Acrochaetiales based on molecular and morphological data, and establishment of the Colaconematales Ord. Florideophyceae Rhodophyta. Eur J Phycol 37:463–476

Hayashi L, Bulboa C, Kradolfer P, Soriano G, Robledo D (2014) Cultivation of red seaweeds: a Latin American perspective. J Appl Phycol 26:719–727

Kim C, Kim Y, Choi H, Nam K (2014) New records of three endophytic green algae from Grateloupia spp. (Rhodophyta) in Korea. Algae 29:127–136

Lam D, Verbruggen H, Saunders G, Vis M (2016) Multigene phylogeny of the red algal subclass Nemaliophycidae. Mol Phylogenet Evol 94:730–736

Lein T, Sjatun K, Wakili S (1991) Mass-occurrence of a brown filamentous endophyte in the lamina of the kelp Laminaria hyperborea (Gunnerus) Foslie along the southwestern coast of Norway. Sarsia 76:187–193

López B (2017) Micropropagación y cultivo de la "Mota Lisa", un morfotipo de Chondracanthus chamissoi (C Agardth) Kützing (Rhodophyta; Gigartinales). Dissertation, Master's thesis in marine biology, Universidad Andrés Bello, Chile

Macchiavello J, Sepúlveda C, Basaure H, Sáez F, Yañez D, Marín C, Vega L (2018) Suspended culture of Chondracanthus chamissoi (Rhodophyta: Gigartinales) in Caleta Hornos (northern Chile) via vegetative propagation with secondary attachment discs. J Appl Phycol 30:1149–1155

Montoya V (2019) Colaconema daviesii (Rhodophyta; Colaconematales) una endófita del alga comercial Chondracanthus chamissoi. Dissertation, undergraduate thesis in marine biology, Universidad Andrés bello, Chile

Nielsen R (1979) Culture studies on the type species of Acrochaete, bolbocoleon and Entodadia (Chaetophoraceae, Chlorophyceae). Bot Not 132:441–449

Nguyen L, Schmidt H, Haeseler A, Minh B (2015) IQ-THREE: a fast and effectives stochastic algorithm for estimating maximum- likelihood phylogenies. Mol Biol Evol 32:268–274

Ogandaga C, Choil H, Jang K, Wan K (2016) Growth responses of Chondrus ocellatus Holmes (Gigartinales, Rhodophyta) to two endophyte, Mikrosyphar zostera Kuckuck (Ectocarpales, Ochrophyta) and Ulvella ramosa (N. L Gardner) R. Nielsen (Ulvales, Chlorophyta) in culture. Algae 31:363–371

Otaiza R, Abades S, Brante A (2001) Seasonal changes in abundance and shifts in dominance of life history stages of the carrageenophyte Sarcothalia crispata (Rhodophyta, Gigartinales) in south-Central Chile. J Appl Phycol 13:161–171

Parker T, Chapman A (1994) Separating the grazing effects of periwinkles and amphipods on a seaweed community dominated by Fucus distichus. Ophelia 39:75–91

Potin P (2012) Intimate associations between epiphytes, endophytes, and parasites of seaweeds. In: Wiencke and Bischof (Eds) seaweed biology. Springer, Berlin pp, pp 203–234

Poza M, Gauna C, Escobar J, Parodi E (2017) Temporal dynamics of algal epiphytes on Leathesia marina and Colpomenia sinuosa macrothalli (Phaeophyceae). Mar Biol Res 14:65–75

Preuss M, Zuccarello G (2014) What's in a name? Monophyly of genera in the red algae: Rhodophyllis parasitica sp. nov. (Gigartinales, Rhodophyta); a new red algal parasite from New Zealand. Algae 29:279–288

R Core Team (2019) A language and environment for statistical computing. R Foundation for Statistical Computing, Vienna, Austria. URL https://www.R-project.org/

Ramírez C, Bulboa C, Contreras L, Mora A (2018) Flora Marina Bentónica de Quintay. Santiago, Ril Editores 164 pp

Rawlence D, Taylor A (1972) A light and electron microscopic study of rhizoid development in Polysiphonia lanosa (L.) Tandy. J Phycol 8:15–24

Robba L, Russell S, Barker G, Brodie J (2006) Assessing the use of the mitochondrial cox 1 marker for use in DNA barcoding of red algae (Rhodophyta). Am J Bot 2006:1101–1108

Saunders GW (1993) Gel purification of red algal genomic DNA: an inexpensive and rapid method for the isolation of polymerase chain reaction-friendly DNA. J Appl Phycol 29:251–254

Saunders GW (2005) Applying DNA barcoding to red macroalgae: a preliminary appraisal holds promise for future applications. Trans R Soc Lond B 360:1879–1888

Scott F, Saunders G, Kraft G (2013) Entwisleia bella, gen. Et sp. nov., a novel marine 'batrachospermaceous' red alga from southeastern Tasmania representing a new family and order in the Nemaliophycidae. Eur J Phycol 48:398–410

Sherwood AR (2008) Phylogeography of Asparagopsis taxiformis (Bonnemaisoniales, Rhodophyta) in the Hawaiian islands: two mtDNA markers support three separate introductions. Phycologia 47:79–88

Schoenrock K, Amsler C, McClintock J, Baker B (2013) Endophytic presence as a potential stressor on growth and survival in Antarctic macroalgal hosts. Phycologia 52:595–599

Tamura K, Peterson N, Stecher G, Neisudhir M (2011) Mega5: molecular evolutionary genetics analysis using maximum likelihood, evolutionary distance, and maximum parsimony methods. Mol Biol Evol 28:10

Trifinopoulos J, Nguyen L, Haesele A, Quang B (2016) W-IQ-tree: a fast-online phylogenetic tool for maximum likelihood analysis. Nucleic Acids Res 44:232–235

Turner C, Evans L (1977) Physiological studies on the relationship between Ascophyllum nodosum and Polysiphonia lanosa. New Phytol 79:363–371

Vairappan C, Chung C, Matsunaga S (2014) Effect of epiphytes infection on physical and chemical properties of carrageenan produced by Kappaphycus alvarezii Doty (Soliericeae, Gigartinales, Rhodophyta). J Appl Phycol 26:923–993

Vásquez J, Vega J (2001) Chondracanthus chamissoi (Rhodophyta, Gigartinales) in northern Chile: ecological aspects for management of wild populations. J Appl Phycol 13:267–277

Vega J, Meneses I (2001) Seasonal and spatial monitoring of productivity and of reproduction of Chondrus canaliculatus (Gigartinales, Rhodophyta) from Chile. Bot Mar 44:571–581

Weinberger F, Friedlander M, Gunkel W (1994) A bacterial facultative parasite of Gracilaria conferta. Dis Aquat Org 18:135–141

Wickham H (2016) ggplot2 elegant graphics for data analysis. Springer, New York https://ggplot2.tidyverse.org

Yang M, Geraldino P, Kim M (2013) DNA barcode assessment of Gracilaria salicornia (Gracilariaceae, Rhodophyta) from Southeast Asia. Bot Stud 54:27

Yang M, Macaya E, Kim M (2015) Molecular evidence for verifying the distribution of Chondracanthus chamissoi and C. teedei (Gigartinaceae, Rhodophyta). Bot Mar 58:103–113

Yoshida T, Akiyama K (1979) Streblonema () infection in the frond of cultivated Undaria (Phaeophyceae). In: Jensen A, Stein JR (eds) Proceedings of the IXth International Seaweed Symposium. Princeton, Science Press, pp 219–223
Acknowledgments
Montoya V. thanks to Universidad Andrés Bello for the grant 2018-2 (AAP 2018-2). CB thanks FONDEF ID15I10320 and LC FONDECYT 1170881. We appreciate the support of Quintay Marine Research Center–CIMARQ.
Additional information
Publisher's note
Springer Nature remains neutral with regard to jurisdictional claims in published maps and institutional affiliations.
About this article
Cite this article
Montoya, V., Meynard, A., Contreras-Porcia, L. et al. Molecular identification, growth, and reproduction of Colaconema daviesii (Rhodophyta; Colaconematales) endophyte of the edible red seaweed Chondracanthus chamissoi. J Appl Phycol (2020). https://doi.org/10.1007/s10811-020-02176-3
Received:

Revised:

Accepted:

Published:
Keywords
Chondracanthus chamissoi
Colaconema daviesii

Colaconematales

Endophyte

Gigartinales

Rhodophyta

Seaweeds