Abstract
Enhancing pollutant removal and biomass production from hydrothermal liquification wastewater (HTLWW) through microalgal-bacterial systems are two crucial steps to guarantee high operation efficiency in the Environment-Enhancing Energy paradigm, which can realize energy production and environmental protection. However, the toxicity of HTLWW limits microalgal-bacterial growth. In this work, zeolite and granular-activated carbon (GAC) were used to reduce the toxicity of HTLWW. The results showed that adding adsorbents to a microalgal-bacterial system efficiently improved pollutant removal and biomass accumulation. GAC and zeolite improved microalgal growth and total suspended biomass (TSB) accumulation, respectively. The combination of zeolite and GAC can maximize the wastewater treatment efficiency while ensuring biomass yield. In adsorption experiments, the soluble chemical oxygen demand (SCOD) and ammonium (NH4+) removal reached 90.0 and 85.0% with the addition of 5 g L−1 GAC and 100 g L−1 zeolite, respectively. In sequencing batch tests, both SCOD and NH4+ removal was higher in all adsorbent addition groups. The highest TSB was 1218 ± 304 mg L−1 in the zeolite addition group, which was 35.9% higher than that in the control group. In continuous tests, the combination of adsorbents greatly improved pollutants removal. SCOD removal, NH4+ removal, and TSB of the GAC + zeolite group were 18.1, 121.5, and 29.9% higher than the control group, respectively. In addition, component analysis showed that most of the nitrogenous organic compounds and benzene derivatives in HTLWW were removed by GAC, reducing the amount of toxic substances and consequently enhancing the biodegradability of HTLWW.
Access options
Buy single article
Instant access to the full article PDF.
US$ 39.95
Tax calculation will be finalised during checkout.
Subscribe to journal
Immediate online access to all issues from 2019. Subscription will auto renew annually.
US$ 79
Tax calculation will be finalised during checkout.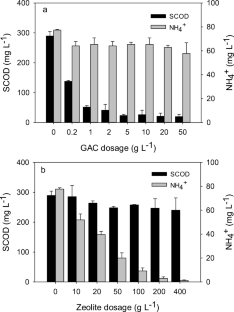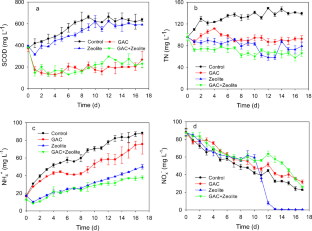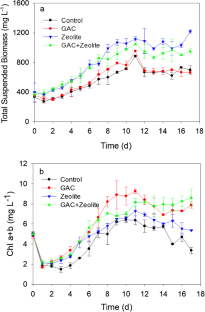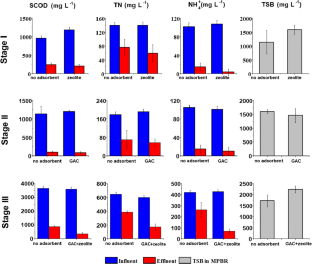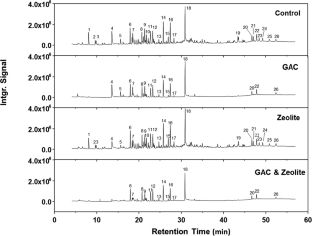 References
Arun J, Varshini P, Prithvinath PK, Priyadarshini V, Priyadarshini KP (2018) Enrichment of bio-oil after hydrothermal liquefaction (HTL) of microalgae C. vulgaris grown in wastewater: bio-char and post HTL wastewater utilization studies. Bioresour Technol 261:182–187

Ayre JM, Moheimani NR, Borowitzka MA (2017) Growth of microalgae on undiluted anaerobic digestate of piggery effluent with high ammonium concentrations. Algal Res 24:218–226

Bansode RR, Losso JN, Marshall WE, Rao RM, Portier RJ (2004) Pecan shell-based granular activated carbon for treatment of chemical oxygen demand (COD) in municipal wastewater. Bioresour Technol 94:129–135

Biller P, Ross AB, Skill SC, Lea-Langton A, Balasundaram B, Hall C, Rilec R, Llewellyn CA (2012) Nutrient recycling of aqueous phase for microalgae cultivation from the hydrothermal liquefaction process. Algal Res 1:70–76

Chaudhary DS, Vigneswaran S, Ngo HH, Kim SH, Moon H (2003) Effects of biodegradation and background in organic substances on granular activated carbon adsorption of wastewater. Sep Sci Technol 38:2515–2531

Chen W, Zhang Y, Zhang J, Yu G, Schideman LC, Zhang P, Minarick M (2014) Hydrothermal liquefaction of mixed-culture algal biomass from wastewater treatment system into bio-crude oil. Bioresour Technol 152:130–139

Clesceri LS, Greenberg AE, Andrew DE (1998) Standard methods for the examination of water and wastewater. American Public Health Association, American Water Works Association, Water Environment Federation, New York

Ding Y, Sartaj M (2015) Statistical analysis and optimization of ammonia removal from aqueous solution by zeolite using factorial design and response surface methodology. J Environ Chem Eng 3:807–814

Ebeling JM, Timmons MB, Bisogni JJ (2006) Engineering analysis of the stoichiometry of photoautotrophic, autotrophic, and heterotrophic removal of ammonia nitrogen in aquaculture systems. Aquaculture 257:346–358

Halim AA, Aziz HA, Johari MAM, Ariffin KS (2010) Comparison study of ammonia and COD adsorption on zeolite, activated carbon and composite materials in landfill leachate treatment. Desalination 262:31–35

Huang H, Xiao X, Yan B, Yang L (2010) Ammonium removal from aqueous solutions by using natural Chinese (Chende) zeolite as adsorbent. J Hazard Mater 175:247–252

Jena U, Vaidyanathan N, Chinnasamy S, Das KC (2011) Evaluation of microalgae cultivation using recovered aqueous co-product from thermochemical liquefaction of algal biomass. Bioresour Technol 102:3380–3387

Jesse SD, Davidson PC (2019) Treatment of post-hydrothermal liquefaction wastewater (PHWW) for heavy metals, nutrients, and indicator pathogens. Water 11:854

Leng L, Zhou W (2018) Chemical compositions and wastewater properties of aqueous phase (wastewater) produced from the hydrothermal treatment of wet biomass: a review. Energy Source A 40:2648–2659

Li R, Liu D, Zhang Y, Zhou J, Tsang Y, Liu Z, Duan N, Zhang Y (2019) Improved methane production and energy recovery of post-hydrothermal liquefaction waste water via integration of zeolite adsorption and anaerobic digestion. Sci Total Environ 651:61–69

Markou G, Vandamme D, Muylaert K (2014) Using natural zeolite for ammonia sorption from wastewater and as nitrogen releaser for the cultivation of Arthrospira platensis. Bioresour Technol 155:373–378

Mayo AW, Noike T (1994) Effect of glucose loading on the growth behavior of Chlorella vulgaris and heterotrophic bacteria in mixed culture. Water Res 28:1001–1008

Pham M, Schideman L, Scott J, Rajagopalan N, Plewa MJ (2013) Chemical and biological characterization of wastewater generated from hydrothermal liquefaction of Spirulina. Environ Sci Technol 47:2131–2138

Porra RJ, Thompson WA, Kriedemann PE (1989) Determination of accurate extinction coefficients and simultaneous equations for assaying chlorophylls a and b extracted with four different solvents: verification of the concentration of chlorophyll standards by atomic absorption spectroscopy. BBA-Bioenergetics 975:384–394

Ran X, Duan N, Zhang Y, Li B, Liu Z, Lu H (2015) Nitrogen and phosphorous adsorption from post-hydrothermal liquefaction wastewater using three types of zeolites. Int J Agric Biol Eng 8:86–95

Saltali K, Sari A, Aydin M (2007) Removal of ammonium ion from aqueous solution by natural Turkish (Yıldızeli) zeolite for environmental quality. J Hazard Mater 141:258–263

Sengmee D, Cheirsilp B, Suksaroge TT, Prasertsan P (2017) Biophotolysis-based hydrogen and lipid production by oleaginous microalgae using crude glycerol as exogenous carbon source. Int J Hydrog Energy 42:1970–1976

Shen R, Liu Z, He Y, Zhang Y, Lu J, Zhu Z, Si B, Zhang C, Xing X (2016) Microbial electrolysis cell to treat hydrothermal liquefied wastewater from cornstalk and recover hydrogen: degradation of organic compounds and characterization of microbial community. Int J Hydrog Energy 41:4132–4142

Shen R, Jiang Y, Ge Z, Lu J, Zhang Y, Liu Z, Ren ZJ (2018) Microbial electrolysis treatment of post-hydrothermal liquefaction wastewater with hydrogen generation. Appl Energy 212:509–515

Tam NFY, Wong YS (1996) Effect of ammonia concentrations on growth of Chlorella vulgaris and nitrogen removal from media. Bioresour Technol 57:45–50

Tian C, Li B, Liu Z, Zhang Y, Lu H (2014) Hydrothermal liquefaction for algal biorefinery: a critical review. Renew Sust Energ Rev 38:933–950

Verma S, Prasad B, Mishra IM (2014) Adsorption kinetics and thermodynamics of COD removal of acid pre-treated petrochemical wastewater by using granular activated carbon. Sep Sci Technol 49:1067–1075

Wang S, Peng Y (2010) Natural zeolites as effective adsorbents in water and wastewater treatment. Chem Eng J 156:11–24

Wang M, Schideman L, Lu H, Zhang Y, Li B, Cao W (2019) Zeolite-amended microalgal-bacterial system in a membrane photobioreactor for promoting system stability, biomass production, and wastewater treatment efficiency to realize environmental-enhancing energy paradigm. J Appl Phycol 31:335–344

Wong S, Ngadi N, Inuwa IM, Hassan O (2018) Recent advances in applications of activated carbon from biowaste for wastewater treatment: a short review. J Clean Prod 175:361–375

Yang L, Si B, Martins MA, Watson J, Chu H, Zhang Y, Tan X, Zhou X, Zhang Y (2017) Improve the biodegradability of post-hydrothermal liquefaction wastewater with ozone: conversion of phenols and N-heterocyclic compounds. Water Sci Technol 1:248–255

Yu G, Zhang Y, Schideman LC, Funk T, Wang Z (2011) Distributions of carbon and nitrogen in the products from hydrothermal liquefaction of low-lipid microalgae. Energy Environ Sci 4:4587–4595

Zheng M, Schideman LC, Tommaso G, Chen W, Zhou Y, Nair K, Qian W, Zhang Y, Wang K (2017) Anaerobic digestion of wastewater generated from the hydrothermal liquefaction of Spirulina: toxicity assessment and minimization. Energy Convers Manag 141:420–428

Zhou Y, Schideman L, Yu G, Zhang Y (2013) A synergistic combination of algal wastewater treatment and hydrothermal biofuel production maximized by nutrient and carbon recycling. Energy Environ Sci:3765–3779

Zhuang L, Azimi Y, Yu D, Wang W, Wu Y, Dao G, Hu H (2016) Enhanced attached growth of microalgae Scenedesmus. LX1 through ambient bacterial pre-coating of cotton fiber carriers. Bioresour Technol 218:643–649
Funding
This work is supported by the National Scientific Foundation of China (51576206 and 518611255103), National Key Research and Development Program of China (2016YFD0501402), and State Key Laboratory of Coal Resources and Safe Ming (SKLCRSM17KFA02).
Ethics declarations
Conflict of interest
The authors declare that they have no conflict of interest.
Additional information
Publisher's note
Springer Nature remains neutral with regard to jurisdictional claims in published maps and institutional affiliations.
Electronic supplementary material
About this article
Cite this article
Han, T., Wang, M., Lu, H. et al. The application of an absorbent-amended microalgal-bacterial system for enhancing hydrothermal liquefaction wastewater treatment and resource recovery. J Appl Phycol 33, 79–90 (2021). https://doi.org/10.1007/s10811-020-02124-1
Received:

Revised:

Accepted:

Published:

Issue Date:
Keywords
Biomass production

Granular activated carbon

Microalgal-bacterial symbiosis

Toxic substances

Wastewater treatment

Zeolite