Abstract
Nile tilapia, Oreochromis niloticus (4.12 ± 0.05 g initial weight), and red seaweed, Gracilaria tenuistipitata, were co-cultured in 250-L tanks for 8 weeks. Six feeding treatments were conducted, with the control group (monoculture) being fed a commercial pellet (30% protein, 6% lipid) at 100% feed ration (4% of biomass per day), while fish in the five other groups were co-cultured with red seaweed (1 kg m−3) and received pellet at 80%, 60%, 40%, 20%, and 0% of the feeding ration of the control. The results indicated that the concentrations of TAN, NO2−, NO3−, and PO43− in the co-culture tanks were much lower than those in the monoculture. Moreover, the growth rate and productivity of fish in the 80% feeding ration treatment were comparable to those in the control group (p > 0.05). However, fish performance gradually reduced with a decrease in feeding rates from 60% downwards and all were significantly inferior to the control group (p < 0.05). Feed conversion ratio and feed cost were lower at the lower feeding rates. The results also proved that the co-culture of tilapia–red seaweed supplied at 80% feed ration, which could reduce feed cost by 28.9% compared with the control, still sustained normal growth while also maintaining better water quality. The proximate composition of fish fillet (moisture, protein, lipid, and ash) is also discussed.
This is a preview of subscription content, log in to check access.
Access options
Buy single article
Instant access to the full article PDF.
US$ 39.95
Price includes VAT for USA
Subscribe to journal
Immediate online access to all issues from 2019. Subscription will auto renew annually.
US$ 99
This is the net price. Taxes to be calculated in checkout.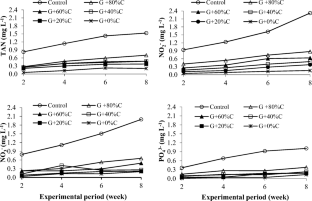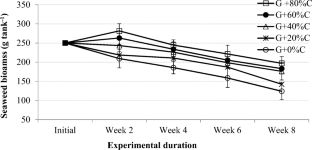 References
Abreu MH, Pereira R, Yarish C, Buschmann AH, Sousa-Pinto I (2011) IMTA with Gracilaria vermiculophylla: productivity and nutrient removal performance of the seaweed in a land-based pilot scale system. Aquaculture 312:77–87

Alcantara LB (2000) The water and sediment quality of Chanos chanos monoculture and Chanos chanos- Gracilariopsis bailinae biculture in pond. Sci Diliman 12:35–44

Al-Hafedh YS, Alam A, Buschmann AH, Fitzsimmons KM (2012) Experiments on an integrated aquaculture system (seaweeds and marine fish) on the Red Sea coast of Saudi Arabia: efficiency comparison of two local seaweed species for nutrient biofiltration and production. Rev Aquac 4:21–31

Anh NTN, Hai TN, Cam DTT (2017) Feed efficiency of the spotted scat (Scatophagus argus) in co-culture with red seaweed (Gracilaria sp.). HUAF J Agricult Sci Technol 1:217–228 (Abstract in English)

Anh NTN, Ngan LTH, Vinh NH, Hai TN (2018) Co-culture of red seaweed (Gracilaria tenuistipitata) and black tiger shrimp (Penaeus monodon) with different feeding rations. IJSRP 8:269–277

APHA (1998) Standard methods for the examination of water and wastewater, 19th edn. The Association, Washington, DC

Arori MK, Muthumbi AWN, Mutia GM, Nyonje B (2019) Potential of seaweeds (Hypnea cornuta and Hypnea musciformis) in Nile tilapia (Oreochromis niloticus) fingerlings diets. Int J Fish Aquat Stud 7:103–107

Ashkenazi DY, Israel A, Abelson A (2019) A novel two-stage seaweed integrated multi-trophic aquaculture. Rev Aquac 11:246–262

Assefa WW, Getahun A (2015) The food and feeding ecology of Nile tilapia, Oreochromis niloticus, in Lake Hayq, Ethiopia. Int J Fish Aquat Stud 2:176–185

Barrington K, Chopin T, Robinson S (2009) Integrated multi-trophic aquaculture (IMTA) in marine temperate waters. In: Soto D (ed) Integrated mariculture – a global review - FAO Fisheries and Aquaculture Technical Paper no 529. Rome, FAO, pp 7–46

Bhujel RC (2013) On-farm feed management practices for Nile tilapia (Oreochromis niloticus) in Thailand. In: Hasan MR, New MB (eds) On-farm feeding and feed management in aquaculture. FAO Fisheries and Aquaculture Technical Paper no. 583. FAO, Rome pp 159–189

Bolivar RB, Jimenez EBJ, Brown CL (2006) Alternate-day feeding strategy for Nile tilapia grow-out in the Philippines: marginal cost-revenue analysis. N Am J Aquac 68:192–197

Coldebella A, Gentelini AL, Piana PA, Coldebella PF, Boscolo WR, Feiden A (2018) Effluents from fish farming ponds: a view from the perspective of its main components. Sustainability 10:3

Crab R, Avnimelech Y, Defoirdt T, Bossier P, Verstraete W (2007) Nitrogen removal techniques in aquaculture for a sustainable production. Aquaculture 270:1–14

Cruz-Suarez LE, Leons A, Pensa-Rodrisguez A, Rodrisguez-Penax G, Moll B, Ricque-Marie D (2010) Shrimp/Ulva co- culture: a sustainable alternative to diminish the need for artificial feed and improve shrimp quality. Aquaculture 301:64–68

Devi IRP, Gowri VS (2007) Biological treatment of aquaculture discharge waters by seaweeds. J Ind Pollut Control 23:135–140

Elnady MA, Alkobaby AI, Salem MA, Abdel-Salam M, Asran BM (2010) Effect of fertilization and low quality feed on water quality dynamics and growth performance of Nile tilapia (Oreochromis niloticus). J Am Sci 6:1044–1054

El-Sayed A-FM (2008) Reducing feed costs in semi-intensive tilapia culture. Int Aqua Feed 11:32–34

El-Sherif MS, El-Feky AMI (2009) Performance of Nile tilapia (Oreochromis niloticus) fingerlings. II. Influence of different water temperatures. Int J Agric Biol 11:301–305

El-Tawil NE (2010) Effects of green seaweeds (Ulva sp.) as feed supplements in red tilapia (Oreochromis sp.) diet on growth performance, feed utilization and body composition. J Arab Aquacult Soc 5:179–194

Fang J, Zhang J, Xiao T, Huang D, Liu S (2016) Integrated multi-trophic aquaculture (IMTA) in Sanggou Bay, China. Aquacult Env Interact 8:201–205

FAO (2003) A guide to the seaweed industry. In: McHugh DJ (ed) FAO Fisheries Technical Paper no. 441. FAO, Rome

FAO (2017) Social and economic performance of tilapia farming in Africa. In: Cai J, Quagrainie KK, Hishamunda N (eds) FAO fisheries and aquaculture circular no. 1130. FAO, Rome

Garcia-Vaquero M, Hayes M (2016) Red and green macroalgae for fish and animal feed and human functional food development. Food Rev Int 32:15–45

Guerreiro I, Magalhães R, Coutinho F, Couto A, Sousa S, Delerue-Matos C, Domingues VF, Oliva-Teles A, Peres H (2019) Evaluation of the seaweeds Chondrus crispus and Ulva lactuca as functional ingredients in gilthead seabream (Sparus aurata). J Appl Phycol 31:2115–2124

Haglund K, Pedersén M (1993) Outdoor pond cultivation of the subtropical marine red alga Gracilaria tenuistipitata in brackish water in Sweden. Growth, nutrient uptake, co-cultivation with rainbow trout and epiphyte control. J Appl Phycol 5:271–284

Jaspe CJ, Caipang CMA, Elle BJG (2011) Polyculture of white shrimp, Litopenaeus vannamei and milkfish, Chanos chanos as a strategy for efficient utilization of natural food production in ponds. ABAH Bioflux 3:96–104

Jihulya NJ (2014) Diet and feeding ecology of Nile tilapia, Oreochromis niloticus and Nile perch, Lates niloticus in protected and unprotected areas of Lake Victoria, Tanzania. Int J Sci Technol Res 3:280–286

Jim F, Garamumhango P, Musara C (2017) Comparative analysis of nutritional value of Oreochromis niloticus (Linnaeus), Nile tilapia, meat from three different ecosystems. J Food Qual 2017:6714347

Job BE, Antai EE, Inyang-Etoh AP, Otogo GA, Ezekiel HS (2015) Proximate composition and mineral contents of cultured and wild tilapia (Oreochromis niloticus). Pak J Nutr 14:195–200

Kalasariya HS, Patel RV, Pandya KY, Jasrai RT, Brahmbhatt NH (2016) A review on nutritional facets of seaweeds. Int J Chem Sci Technol 1:28–32

Kang YH, Park SR, Chung IK (2011) Biofiltration efficiency and biochemical composition of three seaweed species cultivated in a fish-seaweed integrated culture. Algae 26:97–108

Lim C, Yildirim-Aksoy M, Klesius P (2011) Lipid and fatty acid requirement of tilapias. N Am J Aquac 73:188–193

MacArtain P, Gill CIR, Brooks M, Campbell R, Rowland IR (2007) Nutritional value of edible seaweeds. Nutr Rev 65:535–543

Manyala JO, Pomeroy RS, Nen P, Fitzsimmons K, Shrestha MK, Diana JS (2015) Low-cost tilapia production with fertilization and supplementary feeding. World Aquacult Mag 46:43–46

Marinho-Soriano E, Camara MR, Cabral TDM, Carneiro MAA (2007) Preliminary evaluation of the seaweed Gracilaria cervicornis (Rhodophyta) as a partial substitute for the industrial feeds used in shrimp (Litopenaeus vannamei) farming. Aquac Res 38:182–187

Marinho-Soriano E, Panucci RA, Carneiro MAA, Pereira DC (2009a) Evaluation of Gracilaria caudata J. Agardh for bioremediation of nutrients from shrimp farming wastewater. Bioresour Technol 100:192–198

Marinho-Soriano E, Nunes SO, Carneiro MAA, Pereira DC (2009b) Nutrients' removal from aquaculture wastewater using the macroalgae Gracilaria birdiae. Biomass Bioenergy 33:327–331

Martínez-Porchas M, Martínez-Córdova LR (2012) World aquaculture: environmental impacts and troubleshooting alternatives. Sci World J 2012:389623

Martínez-Porchas M, Martínez-Córdova LR, Porchas-Cornejo MA, López-Elías JA (2010) Shrimp polyculture: a potentially profitable, sustainable, but uncommon aquacultural practice. Rev Aquac 2:73–85

Neori A, Chopin T, Troell M, Buschmann AH, Kraemer GP, Halling C, Shpigel M, Yarish Y (2004) Integrated aquaculture: rationale, evolution and state of the art emphasizing seaweed biofiltration in modern mariculture. Aquaculture 231:361–391

Oanh VV, Tuan PA (2013) Assessment of current status and proposed solutions development tilapia aquaculture in Quang Ninh province, Vietnam. Nha Trang University. J Aquacult Technol 2:73–77

Olopade OA, Taiwo IO, Siyeofori OS, Bamidele N (2016) Comparative study of proximate composition of Nile tilapia (Oreochromis niloticus) (Linnaeus, 1758) from fresh water and brackish water in Niger delta region, Nigeria. J Fac Food Eng 15:117–122

Osti JAS, Moraes MAB, Carmo CF, Mercante CTJ (2018) Nitrogen and phosphorus flux from the production of Nile tilapia through the application of environmental indicators. Braz J Biol 78:25–31

Peng C, Hong-Bo S, Di X, Song Q (2009) Progress in Gracilaria biology and developmental utilization: main issues and prospective. J Rev Fish Sci 17:494–504

Peterson MS, Slack WT, Woodley CM (2005) The occurrence of nonindigenous Nile tilapia, Oreochromis niloticus (Linnaeus) in coastal Mississippi: ties to aquaculture and thermal effluent. Wetlands 25:112–121

Ross LG (2000) Environmental physiology and energetics. In: Beveridge MCM, McAndrew BJ (eds) Tilapias: biology and exploitation. Kluwer, Dordrecht, pp 89–128

Samocha TM, Fricker J, Ali AM, Shpigel M, Neori A (2015) Growth and nutrient uptake of the macroalga Gracilaria tikvahiae cultured with the shrimp Litopenaeus vannamei in an integrated multi-trophic aquaculture (IMTA) system. Aquaculture 446:263–271

Siddik MAB, Anh NTN (2015) Preliminary assessment of the gut weeds Ulvaintestinalis as food for herbivorous fish. Int Aquat Res 7:41–46

Siddik MAB, Nahar A, Rahman MM, Anh NTN, Nevejan N, Bossier P (2014) Gut weed, Enteromorpha sp. as a partial replacement for commercial feed in Nile Tilapia (Oreochromis niloticus) culture. World J Fish Mar Sci 6:267–274

Silva DM, Valente LMP, Sousa-Pinto I, Perreira R, Pires MA, Seixas F, Rema P (2014) Evaluation of IMTA-produced seaweeds (Gracilaria, Porphyra, and Ulva) as dietary ingredients in Nile tilapia, Oreochromis niloticus L., juveniles. Effects on growth performance and gut history. J Appl Phycol 27:1671–1680

Stengel DB, Connan S (2015) Marine algae: a source of biomass for biotechnological applications. In: Stengel DB, Connan S (eds) Natural products from marine algae - methods and protocols. Humana Press, New York, pp 1–37

Swarnalatha G (2018) Comparison of nutritive value of seaweed with other terrestrial foods - a review. IJFANS 7:61–70

Tesfahun A, Temesgen M (2018) Food and feeding habits of Nile tilapia Oreochromis niloticus (L.) in Ethiopian water bodies: a review. Int J Fish Aquat Stud 6:43–47

Tolentino-Pablico G, Bailly N, Froese R, Elloran C (2008) Seaweeds preferred by herbivorous fishes. J Appl Phycol 20:933–938

Torres P, Nagai A, Teixeira DIA, Marinho-Soriano E, Chow F, dos Santos DYAC (2019) Brazilian native species of Gracilaria (Gracilariales, Rhodophyta) as a source of valuable compounds and as nutritional supplements. J Appl Phycol 31:3163–3173

Troell M, Joyce A, Chopin T, Neori A, Buschmann AH, Fang J-G (2009) Ecological engineering in aquaculture - potential for integrated multi-trophic aquaculture (IMTA) in marine offshore systems. Aquaculture 297:1–9

Tsutsui I, Songphatkaew J, Meeanan C, Aue-umneoy D, Sukchai H, Pinphoo P, Hamano K (2015) Co-culture with Chaetomorpha sp. enhanced growth performance and reduced feed conversion ratio of the giant tiger prawn, Penaeus monodon. Int Aquat Res 7:193–199

Turcios AE, Papenbrock J (2014) Sustainable treatment of aquaculture effluents-what can we learn from the past for the future? Sustainability 6:836–856

Vinh NH, Anh NTN (2018) Study on abundance of red seaweed (Gracilaria tenuistipitata) in the improved-extensive shrimp farms from Bac Lieu and Ca Mau provinces. Sci Technol J Agr Rural Dev 1:88–97 (Abstract in English)

Waidbacher H, Liti DM, Fungomeli M, Mbaluka RK, Munguti JM, Straif M (2006) Influence of pond fertilization and feeding rate on growth performance, economic returns and water quality in a small-scale cage cum-pond integrated system for production of Nile tilapia (Oreochromis niloticus L.). Aquac Res 37:594–600

Winfree RA, Stickney RR (1981) Effects of dietary protein and energy on growth, feed conversion efficiency and body composition of Tilapia aureus. J Nutr 111:1001–1012

Wu H, Huo Y, Han F, Liu Y, He P (2015) Bioremediation using Gracilaria chouae co-cultured with Sparus macrocephalus to manage the nitrogen and phosphorous balance in an IMTA system in Xiangshan Bay, China. Mar Pollut Bull 91:272–279

Yanbo W, Wen Z, Weifen L, Zirong X (2006) Acute toxicity of nitrite on tilapia (Oreochromis niloticus) at different external chloride concentrations. Fish Physiol Biochem 32:49–54

Yang Y, Chai Z, Wang Q, Chen W, He Z, Jiang S (2015) Cultivation of seaweed Gracilaria in Chinese coastal waters and its contribution to environmental improvements. Algal Res 9:236–244

Yarish C, Sarah R, Kim JK (2012) Gracilaria culture handbook for New England. Wrack Lines. https://opencommons.uconn.edu/wracklines/72/. Accessed 20 May 2019

Yildirim O, Ergun S, Yaman S, Turker A (2009) Effects of two seaweed (Ulva lactuca and Enteromorpha linza) as a feed additive in diets on growth performance, feed utilization, and body composition of rainbow trout (Oncorhynchus mykiss). Kafkas Univ Vet Fak Derg 15:455–460

Younis EM, Al-Quffail AS, Al-Asgah NA, Abdel-Warith AA, Al-Hafedh YS (2017) Effect of dietary fish meal replacement by red algae, Gracilaria arcuata, on growth performance and body composition on Nile tilapia Oreochromis niloticus. Saudi J Biol Sci 25:198–203

Yousif OM, Osman MF, Anwahi AR, Zarouni MA, Cherian T (2004) Growth response and carcass composition of rabbit fish, Siganus canaliculatus (Park) fed diets supplemented with dehydrated seaweed, Enteromorpha sp. Emir J Agr Sci 16:18–26

Yu CH, Lim PE, Phang SM (2013) Effects of irradiance and salinity on the growth of carpospores-derived tetrasporophytes of Gracilaria edulis and Gracilaria tenuistipitata var liui (Rhodophyta). J Appl Phycol 25:787–794

Zhang Y, Bleeker A, Liu J (2015) Nutrient discharge from China's aquaculture industry and associated environmental impacts. Environ Res Lett 10:1–14

Zhang J, Ge C, Fang J, Tang Q (2018) Multi-trophic mariculture practices in coastal waters. In: Gui J-F, Tang Q, Li Z, Liu J, de Silva SS (eds) Aquaculture in China: success stories and modern trends. Wiley, Chichester, pp 541–554

Zhou Y, Yang H, Hu H, Zhang F (2006) Bioremediation potential of the macroalgae Gracilaria lemaneiformis (Rhodophyta) integrated into fed fish culture in coastal waters of North China. Aquaculture 252:264–276
Funding
This study was funded by the Can Tho University, Vietnam for the scientific research programs.
Additional information
Publisher's note
Springer Nature remains neutral with regard to jurisdictional claims in published maps and institutional affiliations.
About this article
Cite this article
An, B.N.T., Anh, N.T.N. Co-culture of Nile tilapia (Oreochromis niloticus) and red seaweed (Gracilaria tenuistipitata) under different feeding rates: effects on water quality, fish growth and feed efficiency. J Appl Phycol 32, 2031–2040 (2020). https://doi.org/10.1007/s10811-020-02110-7
Received:

Revised:

Accepted:

Published:

Issue Date:
Keywords
Co-culture

Oreochromis niloticus
Gracilaria tenuistipitata

Water quality

Growth rate

Feed efficiency