Abstract
The green alga Myrmecia incisa is rich in arachidonic acid (ArA), which mainly stores in lipid droplets in the form of triacylglycerol (TAG). In the de novo biosynthesis of TAG, diacylglycerol acyltransferase (DGAT) catalyzes the final and committed step as a rate-limiting enzyme. Previously, our lab has reported the first DGAT in M. incisa, and in this study, a new DGAT was further identified. Through homology search against our transcriptome database and annotation, a new contig corresponding to the putative DGAT2 was targeted, whose full-length cDNA was cloned by RACE and designated as MiDGAT2C. For this new MiDGAT2C, bioinformatics analyses revealed the presence of multiple conserved amino acid residues and sequences. Its function to synthesize TAG was determined by complementation assay using the TAG-deficient yeast system. Besides, MiDGAT2C was compared with other MiDGATs with respect to their substrate preference. Results of fatty acid feeding and in vitro enzymatic assays indicated diverse substrate specificities among MiDGAT members. While MiDGAT2C showed no activity on ArA, MiDGAT2A made the most contribution to incorporate ArA into TAG. Findings of this study expand our knowledge on the molecular basis of DGAT, shedding more light on M. incisa as a promising feedstock for ArA-rich TAG.
Access options
Buy single article
Instant access to the full article PDF.
US$ 39.95
Tax calculation will be finalised during checkout.
Subscribe to journal
Immediate online access to all issues from 2019. Subscription will auto renew annually.
US$ 79
Tax calculation will be finalised during checkout.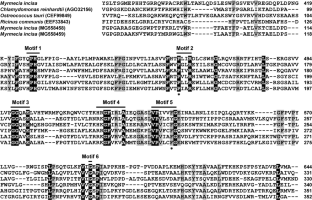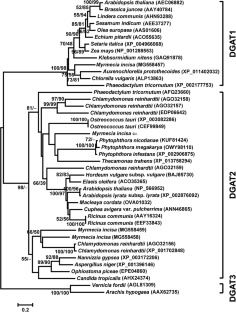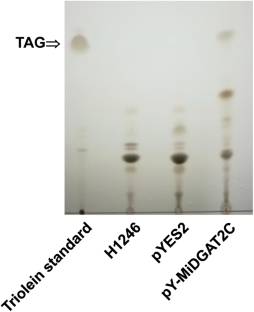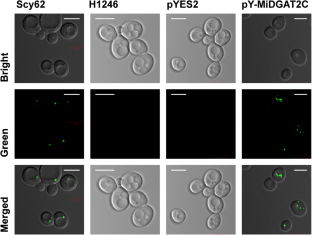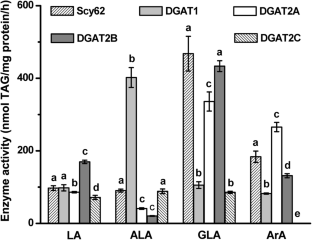 References
Ayme L, Arragain S, Canonge M, Baud S, Touati N, Bimai O et al (2018) Arabidopsis thaliana DGAT3 is a [2Fe-2S] protein involved in TAG biosynthesis. Sci Rep 8:17254

Beaudoin F, Sayanova O, Haslam RP, Bancroft I, Napier JA (2014) Oleaginous crops as integrated production platforms for food, feed, fuel and renewable industrial feedstock. OCL 21:D606

Bligh EG, Dyer WJ (1959) A rapid method of total lipid extraction and purification. Can J Biochem Physiol 37:911–917

Boyle NR, Page MD, Liu B, Blaby IK, Casero D, Kropat J (2012) Three acyltransferases and nitrogen-responsive regulator are implicated in nitrogen starvation-induced triacylglycerol accumulation in Chlamydomonas. J Biol Chem 287:15811–15825

Cao H (2011) Structure-function analysis of diacylglycerol acyltransferase sequences from 70 organisms. BMC Res Notes 4:249

Chen JE, Smith AG (2012) A look at diacylglycerol acyltransferases (DGATs) in algae. J Biotechnol 162:28–39

Chen SH, Zhou ZG (2012) The transcriptome pyrosequencing and gene function annotation of the green microalga Myrmecia incisa. J Shanghai Ocean Univ 21:662–670 (in Chinese)

Chen CX, Sun Z, Cao HS, Fang FL, Ouyang LL, Zhou ZG (2015) Identification and characterization of three genes encoding acyl-CoA: diacylglycerol acyltransferase (DGAT) from the microalga Myrmecia incisa Reisigl. Algal Res 12:280–288

Chintalapati S, Prakash J, Singh AK, Ohtani S, Suzuki I, Murata N (2007) Desaturase genes in a psychrotolerant Nostoc sp. are constitutively expressed at low temperature. Biochem Biophys Res Commun 362:81–87

Chisti Y (2007) Biodiesel from microalgae. Biotechnol Adv 25:294–306

Christie WW (ed) (2003) Lipid analysis: isolation, separation, identification, and structural analysis of lipids, 3rd edn. The Oily Press, Bridgwater

Cui Y, Zhao J, Wang Y, Qiu S, Lu Y (2018) Characterization and engineering of a dual-function diacylglycerol acyltransferase in the oleaginous marine diatom Phaeodactylum tricornutum. Biotechnol Biofuels 11:32

Drummond KE, Brefere LM (eds) (2014) Nutrition for foodservice and culinary professionals, 8th edn. Wiley, New York

Durrett TP, Benning C, Ohlrogge J (2008) Plant triacylglycerols as feedstocks for the production of biofuels. Plant J 54:593–607

Fan J, Cui Y, Wan M, Wang W, Li Y (2014) Lipid accumulation and biosynthesis genes response of the oleaginous Chlorella pyrenoidosa under three nutrition stressors. Biotechnol Biofuels 7:17

Ferguson KM, Lemmon MA, Schlessinger J, Sigler PB (1995) Structure of the high affinity complex of inositol trisphosphate with a phospholipase C pleckstrin homology domain. Cell 15:1037–1046

Giannoulia K, Haralampidis K, Poghosyan Z, Murphy DJ, Hatzopoulos P (2000) Differential expression of diacylglycerol acyltransferase (DGAT) genes in olive tissues. Biochem Soc Trans 28:695–697

Gong Y, Zhang J, Guo X, Wan X, Liang Z, Hu CJ (2013) Identification and characterization of PtDGAT2B, an acyltransferase of the DGAT2 acyl-coenzyme A: diacylglycerol acyltransferase family in the diatom Phaeodactylum tricornutum. FEBS Lett 587:481–487

Guiheneuf F, Leu S, Zarka A, Khozin-Goldberg I, Khalilov I, Boussiba S (2011) Cloning and molecular characterization of a novel acyl-CoA: diacylglycerol acyltransferase 1-like gene (PtDGAT1) from the diatom Phaeodactylum tricornutum. FEBS J 278:3651–3666

Hernandez ML, Whitehead L, He Z, Gazda V, Gilday A, Kozhevnikova E (2012) A cytosolic acyltransferase contributes to triacylglycerol synthesis in sucrose-rescued Arabidopsis seed oil catabolism mutants. Plant Physiol 160:215–225

Hori K, Maruyama F, Fujisawa T, Togashi T, Yamamoto N, Seo M, Sato S, Yamada T et al (2014) Klebsormidium flaccidum genome reveals primary factors for plant terrestrial adaptation. Nat Commun 5:3978

Hu Q, Sommerfeld M, Jarvis E, Ghirardi M, Posewitz M, Seibert M (2008) Microalgal triacylglycerols as feedstocks for biofuel production: perspectives and advances. Plant J 54:621–639

Hung CH, Ho MY, Kanehara K, Nakamura Y (2013) Functional study of diacylglycerol acyltransferase type 2 family in Chlamydomonas reinhardtii. FEBS Lett 587:2364–2370

Karsten U, Friedl T, Schumann R, Hoyer K, Lembcke S (2005) Mycosporine-like amino acids and phylogenies in green algae: Prasiola and its relatives from the Trebouxiophyceae (Chlorophyta). J Appl Phycol 41:557–566

La Russa M, Bogen C, Uhmeyer A, Doebbe A, Filippone E, Kruse O (2012) Functional analysis of three type-2 DGAT homologue genes for triacylglycerol production in the green microalga Chlamydomonas reinhardtii. J Biotechnol 162:13–20

Liu J, Han D, Yoon K, Hu Q, Li Y (2016) Characterization of type 2 diacylglycerol acyltransferases in Chlamydomonas reinhardtii reveals their distinct substrate specificities and functions in triacylglycerol biosynthesis. Plant J 86:3–19

Mao X, Wu T, Kou Y, Shi Y, Zhang Y, Liu J (2019) Characterization of type I and type II diacylglycerol acyltransferases from the emerging model alga Chlorella zofingiensis reveals their functional complementarity and engineering potential. Biotechnol Biofuels 12:28

Miller R, Wu G, Deshpande RR, Vieler A, Gärtner K, Li X (2010) Changes in transcript abundance in Chlamydomonas reinhardtii following nitrogen deprivation predict diversion of metabolism. Plant Physiol 154:1737–1752

Ouyang LL, Du DH, Yu SY, Li CY, Zhang CW, Gao HJ (2012) Expressed sequence tags analysis revealing the taxonomic position and fatty acid biosynthesis in an oleaginous green microalga, Myrmecia incisa Reisigl (Trebouxiophyceae, Chlorophyta). Chin Sci Bull 57:3342–3352

Ouyang LL, Li H, Liu F, Tong M, Yu SY, Zhou ZG (2013) Accumulation of arachidonic acid in a green microalga, Myrmecia incisa, enhanced by nitrogen starvation and its molecular regulation mechanisms. In: Dumancas GG, Murdianti BS, Lucas EA (eds) Arachidonic acid: dietary sources and general functions. Nova Science Publishers Inc, New York, pp 1–20

Reisigl H (1964) Zur Systematik und Ökologie alpiner Bodenalgen. Österr Bot Z 111:402–499

Richards E, Reichardt M, Rogers S (2001) Preparation of genomic DNA from plant tissue. Curr Protoc Mol Biol:2.3.1–2.3.7

Saha S, Enugutti B, Rajakumari S, Rajasekharan R (2006) Cytosolic triacylglycerol biosynthetic pathway in oilseeds. Molecular cloning and expression of peanut cytosolic diacylglycerol acyltransferase. Plant Physiol 141:1533–1543

Sandager L, Gustavsson MH, Ståhl U, Dahlqvist A, Wiberg E, Banas A, Lenman M, Ronne H, Stymne S (2002) Storage lipid synthesis is non-essential in yeast. J Biol Chem 277:6478–6482

Sanjaya RM, Durrett TP, Kosma DK, Lydic TA, Muthan B, Koo ALK, Bukhman YV, Reid GE, Howe GA, Ohlrogge J, Benning C (2013) Altered lipid composition and enhanced nutritional value of Arabidopsis leaves following introduction of an algal diacylglycerol acyltransferase 2. Plant Cell 25:677–693

Shockey JM, Gidda SK, Chapital DC, Kuan JC, Dhanoa PK, Bland JM (2006) Tung tree DGAT1 and DGAT2 have nonredundant functions in triacylglycerol biosynthesis and are localized to different subdomains of the endoplasmic reticulum. Plant Cell 18:2294–2313

Sitnik S, Shtaida N, Guihéneuf F, Leu S, Popko J, Feussner I, Boussiba S, Khozin-Goldberg I (2018) DGAT1 from the arachidonic-acid-producing microalga Lobosphaera incisa shows late gene expression under nitrogen starvation and substrate promiscuity in a heterologous system. J Appl Phycol 30:2773–2791

Stone SJ, Levin MC, Farese RV Jr (2006) Membrane topology and identification of key functional amino acid residues of murine acyl-CoA: diacylglycerol acyltransferase-2. J Biol Chem 281:40273–40282

Suga M, Isobe M, Hatakeyama T (2000) Cryopreservation of competent intact yeast cells for efficient electroporation. Yeast 16:889–896

Tallima H, Ridi REI (2018) Arachidonic acid: physiological roles and potential health benefits: a review. J Adv Res 11:33–41

Tamura K, Stecher G, Peterson D, Filipski A, Kumar S (2013) MEGA6: molecular evolutionary genetics analysis version 6.0. Mol Biol Evol 30:2725–2729

Úbeda-Mínguez P, García-Maroto F, Alonso DL (2017) Heterologous expression of DGAT, genes in the marine microalga Tetraselmis chui, leads to an increase in TAG content. J Appl Phycol 29:1913–1926

Vieler A, Wu G, Tsai CH, Bullard B, Cornish AJ, Harvey C (2012) Genome, functional gene annotation, and nuclear transformation of the heterokont oleaginous alga Nannochloropsis oceanica CCMP1779. PLoS Genet 8:e1003064

Wagner M, Hoppe K, Czabany T, Heilmann M, Daum G, Feussner I (2010) Identification and characterization of an acyl-CoA: diacylglycerol acyltransferase 2 (DGAT2) gene from the microalga O. tauri. Plant Physiol Biochem 48:407–416

Wang Z, Benning C (2011) Arabidopsis thaliana polar glycerolipid profiling by thin layer chromatography (TLC) coupled with gas–liquid chromatography (GLC). J Vis Exp 49:2518

Wang D, Ning K, Li J, Hu J, Han D, Wang H (2014) Nannochloropsis genomes reveal evolution of microalgal oleaginous traits. PLoS Genet 10:e1004094

Watanabe S, Hirabayashi S, Boussiba S, Cohen Z, Vonshak A, Richmond A (1996) Parietochloris incisa comb. nov. (Trebouxiophyceae, Chlorophyta). Phycol Res 44:107–108

Xin Y, Shen C, She Y, Chen H, Wang C, Wei L (2019) Biosynthesis of triacylglycerol molecules with a tailored PUFA profile in industrial microalgae. Mol Plant 12:474–488

Xu C, Shanklin J (2016) Triacylglycerol metabolism, function, and accumulation in plant vegetative tissues. Annu Rev Plant Biol 67:179–206

Xu J, Francis T, Mietkiewska E, Giblin EM, Barton DL, Zhang Y (2008) Cloning and characterization of an acyl-CoA-dependent diacylglycerol acyltransferase 1 (DGAT1) gene from Tropaeolum majus, and a study of the functional motifs of the DGAT protein using site-directed mutagenesis to modify enzyme activity and oil content. Plant Biotechnol J 6:799–818

Xu R, Yang T, Wang R, Liu A (2014) Characterization of DGAT1 and DGAT2 from Jatropha curcas and their functions in storage lipid biosynthesis. Funct Plant Biol 41:321–329

Yang Y, Benning C (2018) Functions of triacylglycerols during plant development and stress. Curr Opin Biotechnol 49:191–198

Yen CLE, Stone SJ, Koliwad S, Harris C, Farese RV Jr (2008) DGAT enzymes and triacylglycerol biosynthesis. J Lipid Res 49:2283–2301

Yu WL, Ansari W, Schoepp NG, Hannon MJ, Mayfield SP, Burkart MD (2011a) Modifications of the metabolic pathways of lipid and triacylglycerol production in microalgae. Microb Cell Factories 10:91

Yu SY, Liu SC, Li CY, Zhou ZG (2011b) Submesoscale characteristics and transcription of a fatty acid elongase gene from a freshwater green microalga, Myrmecia incisa Reisigl. Chin J Oceanol Limnol 29:87–95

Zienkiewicz K, Zienkiewicz A, Poliner E, Du ZY, Vollheyde K, Herrfurth C (2017) Nannochloropsis, a rich source of diacylglycerol acyltransferases for engineering of triacylglycerol content in different hosts. Biotechnol Biofuels 10:8

Zienkiewicz K, Benning U, Siegler H, Feussner I (2018) The type 2 acyl-CoA: diacylglycerol acyltransferase family of the oleaginous microalga Lobosphaera incisa. BMC Plant Biol 18:298
Funding
This study received financial support from the National Natural Science Foundation of China (NSFC, 31772821), NSFC−Shandong Joint Fund (U1706209), and the State Double First-Class Discipline Project of Aquaculture.
Ethics declarations
Conflict of interest
The authors declare that they have no conflict of interest.
Additional information
Publisher's note
Springer Nature remains neutral with regard to jurisdictional claims in published maps and institutional affiliations.
Electronic supplementary material
About this article
Cite this article
Liu, W., Sun, Z., Chen, CX. et al. Novel insights into type 2 diacylglycerol acyltransferases in microalga Myrmecia incisa. J Appl Phycol 33, 25–35 (2021). https://doi.org/10.1007/s10811-020-02071-x
Received:

Revised:

Accepted:

Published:

Issue Date:
Keywords
Triacylglycerol

Myrmecia incisa

Chlorophyta

Cloning

Functional complementation

Substrate preference