Abstract
The red alga genus Laurencia (Rhodomelaceae, Ceramiales) is known to produce and contain a rich diversity of halogenated secondary metabolites. These compounds are dominated by two major biosynthetic groups: terpenes (sesquiterpenes, diterpenes, and triterpenes) and C15-acetogenins. In the course of our investigation on red algae genus Laurencia from North Borneo Island, three new halogenated chamigranes, 7-aldehydelaurencenone B (1), 2-chloro-3-methoxy-α-chamigren-9-one (2), and laureborneone (3) along with five known halogenated derivatives such as [1(15)Z,2Z,4R,8S,9R]-8,15-dibromochamigra-1(15),2,11(12)-trien-9-ol (4), [1(15)E,2Z,4R,8S,9R]-8,15-dibromochamigra-1(15),2,11(12)-trien-9-ol (5), ma'ilion (6), laurencenone B (7), and 2-chloro-3-hydroxy-α-chamigren-9-one (8) were isolated from Laurencia majuscula. The structures of these compounds were determined based on spectroscopic data which consisted of infrared (FT-IR), H1-NMR, C13-NMR, H1-H1-COSY, HSQC, HMBC, and NOESY. In addition, high-resolution electrospray ionization mass spectrometry (HRESIMS) was done to calculate their molecular formula and unsaturation index. The anticancer potentials of these compounds were tested against three cancer cell lines, and their IC50 values were determined.
Access options
Buy single article
Instant access to the full article PDF.
USD 39.95
Price includes VAT (USA)
Tax calculation will be finalised during checkout.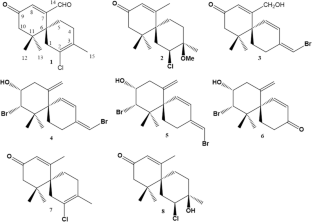 References
Bittner ML, Silva M, Paul VJ, Fenical W (1985) A rearranged chamigrene derivative and its potential biogenetic precursor from a new species of the marine red algal genus Laurencia (Rhodomelaceae). Phytochemistry 24:987–989

Blunt JW, Copp BR, Munro MHG, Northcote PT, Prinsep MR (2004) Marine natural products. Nat Prod Rep 21:1–49

Brennan MR, Erickson KL, Minott DA, Pascoe KO (1987) Chamigrane metabolites from a Jamaican variety of Laurencia obtusa. Phytochemistry 26:1053–1057

Buckingham J (1993) Dictionary of natural products. Chapman and Hall/CRC Press, Florida, p 979

Coll JC, Wright AD (1989) Tropical marine algae. III. New sesquiterpenes from Laurencia majuscula (Rhodophyta, Rhodophyceae, Ceramiales, Rhodomelaceae). Aust J Chem 42:1591–1603

Davyt D, Fernandez R, Suescun L, Mombrú AW, Saldaña J, Domínguez L, Coll J, Fujii MT, Manta E (2001) New sesquiterpene derivatives from the red alga Laurencia scoparia. Isolation, structure determination, and anthelmintic activity. J Nat Prod 64:1552–1555

Dorta E, Díaz-Marrero AR, Cueto M, D'Croz L, Maté JL, Darias J (2004) Chamigrenelactone, a polyoxygenated sesquiterpene with a novel structural type and devoid of halogen from Laurencia obtusa. Tetrahedron Lett 45:7065–7068

Faulkner DJ (1988) Marine natural products. Nat Prod Rep 5:613–663

Fenical W, Norris JN (1975) Chemotaxonomy in marine algae: chemical separation of some Laurencia species (Rhodophyta) from the Gulf of California. J Phycol 11:104–108

Juagdan EG, Kalidindi R, Scheuer P (1997) Two new chamigranes from an Hawaiian red alga, Laurencia cartilaginea. Tetrahedron 53:521–528

Kamada T, Vairappan CS (2015) New laurene-type sesquiterpene from Bornean Laurencia nangii. Nat Prod Commun 10:843–844

Kamada T, Vairappan CS (2017) Non-halogenated new sesquiterpenes from Bornean Laurencia snackeyi. Nat Prod Res 31:333–340

Kennedy DJ, Selby IA, Thomson RH (1988) Chamigrane metabolites from Laurencia obtusa and L. scoparia. Phytochemistry 27:1761–1766

Lhullier C, Donnangelo A, Caro M, Palermo JA, Horta PA, Falkenberg M, Schenkel EP (2009) Isolation of elatol from Laurencia microcladia and its palatability to the sea urchin Echinometra lucunter. Biochem Syst Ecol 37:254–259

Machado FLS, Lima WP, Bergmann BR, Gestinari LMS, Fujii MT, Paula JC, Costa SS, Lopes NP, Kaiser CR, Soares AR (2011) Antileishmanial sesquiterpenes from the Brazilian red alga Laurencia dendroidea. Planta Med 77:733–735

Martin JD, Darias J (1978) Chemical and biological perspectives. In: Scheuer PJ (ed) Marine natural products. Academic Press, New York, pp 125–174

Masuda M, Abe T, Suzuki T, Suzuki M (1996) Morphological and chemotaxonomic studies on Laurencia composita and L. okamurae (Ceramiales, Rhodophyta). Phycologia 35:550–562

Nagappan T, Ramasamy P, Wahid ME, Segaran TC, Vairappan CS (2011) Biological activity of carbazole and essential oil of Murraya koenigii against antibiotic resistant microbes and cancer cell lines. Molecules 16:9651–9664

Oguri Y, Watanabe M, Ishikawa T, Kamada T, Vairappan CS, Matsuura H, Kaneko K, Ishii T, Suzuki M, Yoshihara E, Nogata Y, Okino T (2017) New marine antifouling compounds from the red alga Laurencia sp. Mar Drugs 15:267–276

Suzuki M, Kurosawa E (1978) Two new halogenated sesquiterpenes from the red alga Laurencia majuscula Harvey. Tetrahedron Lett 48:4805–4808

Suzuki M, Vairappan CS (2005) Halogenated secondary metabolites from Japanese species of the Japanese species of red algal genus Laurencia (Rhodomelaceae, Ceramiales). Curr Top Phytochem 7:1–34

Vairappan CS (2003) Potent antibacterial activity of halogenated metabolites from Malaysian red algae, Laurencia majuscula (Rhodomelaceae, Ceramiales). Biomol Eng 20:255–259

Vairappan CS (2006) Seasonal occurrences of epiphytic algae on the commercially cultivated red alga Kappaphycus alvarezii (Solieriaceae, Gigartinales, Rhodophyta). J Appl Phycol 18:611–617

Vairappan CS, Anangdan SP, Tan KL, Suzuki M (2010a) Role of secondary metabolites as defense chemicals against ice-ice disease bacteria in biofouler at carrageenophyte farms. J Appl Phycol 22:305–311

Vairappan CS, Ang MY, Ong CY, Phang SM (2004) Biologically active polybrominated indoles in the red alga Laurencia similis from the coastal waters of Sabah (Rhodomelaceae, Ceramiales). Malay J Sci 23:119–126

Vairappan CS, Chung CS, Hurtado AQ, Soya FE, Lhonneur GB, Critchley A (2007) Distribution and symptoms of epiphyte infection in major carrageenophyte-producing farms. In: Borowitzka MA, Critchley AT, Kraan S, Peters A, Sjøtun K, Notoya M (eds) Nineteenth International Seaweed Symposium. Springer, Dordrecht, pp 22–33

Vairappan CS, Daitoh M, Suzuki M, Abe T, Masuda M (2001) Antibacterial halogenated metabolites from the Malaysian Laurencia species. Phytochemistry 58:291–297

Vairappan CS, Ishii T, Tan KL, Suzuki M, Zhan Z (2010c) Antibacterial activities of a new brominated diterpene from Bornean Laurencia spp. Mar Drugs 8:1743–1749

Vairappan CS, Kamada T, Lee WW, Jeon YJ (2013) Anti-inflammatory activity of halogenated secondary metabolites of Laurencia snackeyi (Weber-van Bosse) Masuda in LPS-stimulated RAW 264.7 macrophages. J Appl Phycol 25:1805–1813

Wang BG, Gloer JB, Ji NY, Zhao JC (2013) Halogenated organic molecules of Rhodomelaceae origin: chemistry and biology. Chem Rev 113:3632–3685

White DE, Stewart IC, Grubbs RH, Stoltz BM (2008) The catalytic asymmetric total synthesis of elatol. J Am Chem Soc 130:810–811
Acknowledgments
We are grateful to the Sabah Parks for the support and assistance during field survey.
Funding
This work was financially supported by the Sabah Biodiversity Centre [GL0070].
About this article
Cite this article
Kamada, T., Phan, CS., Sien, V.ST. et al. Halogenated chamigrane sesquiterpenes from Bornean Laurencia majuscula. J Appl Phycol 30, 3373–3378 (2018). https://doi.org/10.1007/s10811-018-1452-z
Received:

Revised:

Accepted:

Published:

Issue Date:
Keywords
Laurencia majuscula

Rhodomelaceae

Red alga

Cytotoxicity

Halogenated chamigrane

Chemical race