Abstract
Purpose
This study compares outcomes and complications of scleral-fixated intraocular lens implantation between 2 levels of surgeons.
Methods
A retrospective case series of patients undergoing scleral-fixated intraocular lens implantation at Prince of Wales Hospital, Hong Kong, between May 2012 and April 2017 were reviewed. Data collected included age, gender, affected eye, preoperative and postoperative visual acuities, refractive target and outcome, surgeon profile, operative details including method of scleral fixation, intraoperative and postoperative complications and length of follow-up.
Results
Ninety eyes of 90 patients were included for analyses. The mean LogMAR visual acuities were 1.17 ± 0.70 at postoperative week 1, 0.81 ± 0.56 at 1 month, 0.66 ± 0.55 at 3 months, 0.56 ± 0.59 at 6 months, and 0.51 ± 0.60 at 1 year, respectively. After adjusting for age at operation, operative time, axial length, subspecialty of the surgeon and preoperative LogMAR, surgeon seniority was not significantly associated with final visual outcomes. There was no statistically significant difference between the mean improvement in visual acuities between eyes operated by consultants and fellows under direct supervision of a senior surgeon.
Conclusion
Scleral-fixated intraocular lens implantation is safe and effective in improving visual acuity in aphakic adults without capsular support. Under good supervision, fellows were able to produce comparable results compared with experienced specialists.
This is a preview of subscription content, log in to check access.
Access options
Buy single article
Instant access to the full article PDF.
US$ 39.95
Price includes VAT for USA
Subscribe to journal
Immediate online access to all issues from 2019. Subscription will auto renew annually.
US$ 99
This is the net price. Taxes to be calculated in checkout.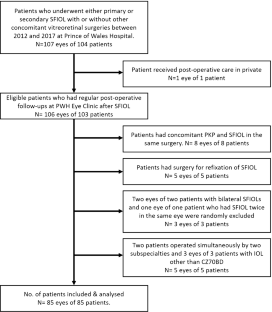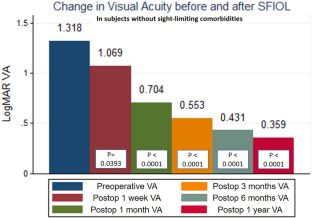 Availability of data and material
References
1.

Lee CM, Afshari NA (2017) The global state of cataract blindness. Curr Opin Ophthalmol 28(1):98–103

2.

Pascolini D, Mariotti SP (2012) Global estimates of visual impairment: 2010. Br J Ophthalmol 96(5):614–618

3.

Chee SP, Jap A (2015) Optimizing Visual Outcomes of Cataract Surgery. Asia-Pacific journal of ophthalmology 4(5):243–244

4.

Wagoner MD, Cox TA, Ariyasu RG, Jacobs DS, Karp CL, American Academy of O (2003) Intraocular lens implantation in the absence of capsular support: a report by the American Academy of Ophthalmology. Ophthalmology 110(4):840–859

5.

Haszcz D, Nowomiejska K, Oleszczuk A, Forlini C, Forlini M, Moneta-Wielgos J et al (2016) Visual outcomes of posterior chamber intraocular lens intrascleral fixation in the setting of postoperative and posttraumatic aphakia. BMC Ophthalmol 16(1):50

6.

Shalchi Z, Okada M, Whiting C, Hamilton R (2017) Risk of posterior capsule rupture during cataract surgery in eyes with previous intravitreal injections. Am J Ophthalmol 177:77–80

7.

Roesel M, Heinz C, Koch JM, Heiligenhaus A (2008) Cataract surgery in uveitis. Ophthalmology 115(8):e1431

8.

Vazquez-Ferreiro P, Carrera-Hueso FJ, Poquet Jornet JE, Fikri-Benbrahim N, Diaz-Rey M, Sanjuan-Cervero R (2016) Intraoperative complications of phacoemulsification in pseudoexfoliation: metaanalysis. J Cataract Refract Surg 42(11):1666–1675

9.

Kwong YY, Yuen HK, Lam RF, Lee VY, Rao SK, Lam DS (2007) Comparison of outcomes of primary scleral-fixated versus primary anterior chamber intraocular lens implantation in complicated cataract surgeries. Ophthalmology 114(1):80–85

10.

Snellingen T, Shrestha JK, Huq F, Husain R, Koirala S, Rao GN et al (2000) The South Asian cataract management study: complications, vision outcomes, and corneal endothelial cell loss in a randomized multicenter clinical trial comparing intracapsular cataract extraction with and without anterior chamber intraocular lens implantation. Ophthalmology 107(2):231–240

11.

Loya N, Lichter H, Barash D, Goldenberg-Cohen N, Strassmann E, Weinberger D (2001) Posterior chamber intraocular lens implantation after capsular tear: ultrasound biomicroscopy evaluation. J Cataract Refract Surg 27(9):1423–1427

12.

Ashok Kumar D, Agarwal A, Sivangnanam S, Chandrasekar R, Agarwal A (2015) Implantation of glued intraocular lenses in eyes with microcornea. J Cataract Refract Surg 41(2):327–333

13.

Agarwal L, Agarwal N, Gurung RL, Chaubey R, Jha BK, Chaudhary BP (2016) Visual outcome and early complications of sutureless and glueless scleral fixated intraocular lens. Nepal J Ophthalmol 8(15):41–46

14.

Yamane S, Sato S, Maruyama-Inoue M, Kadonosono K (2017) Flanged intrascleral intraocular lens fixation with double-needle technique. Ophthalmology 124(8):1136–1142

15.

Young AL, Leung GY, Cheng LL, Lam DS (2005) A modified technique of scleral fixated intraocular lenses for aphakic correction. Eye 19(1):19–22

16.

Luk AS, Young AL, Cheng LL (2013) Long-term outcome of scleral-fixated intraocular lens implantation. Br J Ophthalmol 97(10):1308–1311

17.

Agrawal V, Upadhyay J, Indian Cataract Risk Stratification Study g (2009) Validation of scoring system for preoperative stratification of intra-operative risks of complications during cataract surgery: Indian multi-centric study. Indian J Ophthalmol 57(3):213–215

18.

Muhtaseb M, Kalhoro A, Ionides A (2004) A system for preoperative stratification of cataract patients according to risk of intraoperative complications: a prospective analysis of 1441 cases. Br J Ophthalmol 88(10):1242–1246
Funding
There is no funding support in this study.
Ethics declarations
Ethical approval
All procedures performed in studies involving human participants were in accordance with the ethical standards of The Chinese University of Hong Kong Ethics Committee and with the 1964 Helsinki Declaration and its later amendments or comparable ethical standards.
Informed consent
As this is a retrospective study, we did not obtain informed consent from the included subjects.
Consent to participate
None as this is a retrospective medical record analysis.
Consent for publication
None as data are anonymized and no identifiable information in the manuscript.
Code availability
Not applicable.
Additional information
Publisher's Note
Springer Nature remains neutral with regard to jurisdictional claims in published maps and institutional affiliations.
About this article
Cite this article
Kam, K.W., Chan, Y.F.A., Yu, M. et al. Outcomes and complications in scleral-fixated intraocular lens implantations. Int Ophthalmol (2020). https://doi.org/10.1007/s10792-020-01480-8
Received:

Accepted:

Published:
Keywords
Intraocular lens

Scleral fixation

Aphakia

Cataract

Complications