Abstract
Purpose
This focused review aims to explore pediatric non-viral keratitis and to compare associated risk factors, etiologies, antibiotic susceptibilities, empiric treatments and outcomes.
Methods
The authors performed a literature research for articles, published on PubMed, Google Scholar, Scopus and Embase online library, relevant to pediatric keratitis etiology, risk factors, antibiotic susceptibilities, treatment and outcomes. From the bibliography of selected articles, additional relevant articles were also considered. Of 34 articles identified, 21 were suitable for the purpose of this review.
Results
Several risk factors are noted in the field of pediatric keratitis. Trauma is the most common in developing countries, while contact lenses wear is seen in developed economies. Previous ocular conditions and systemic diseases also contribute. Associated malnourishment and vitamin A deficit are fraught with a catastrophic prognosis. Among causative organisms, bacteria are more common than fungi and protozoa. Gram-positive organisms are predominant where contact lenses use is infrequent. Pseudomonas aeruginosa is often the leading pathogen in developed countries and is strongly associated with contact lens wear or malnourishment. Fungi are common in the tropics and associated with trauma. Levofloxacin seems the more effective empirical treatment when bacteria are suspected, but there is no agreement on a standard of care.
Conclusion
There are differences in etiologic patterns between developing and developed countries and different regions globally. Risk factors follow the same trend; however, there is no standard regimen being followed for empirical treatment of pediatric infectious keratitis. Associated malnourishment and vitamin A deficiency result in poorer outcomes.
This is a preview of subscription content, log in to check access.
Access options
Buy single article
Instant access to the full article PDF.
US$ 39.95
Price includes VAT for USA
Subscribe to journal
Immediate online access to all issues from 2019. Subscription will auto renew annually.
US$ 99
This is the net price. Taxes to be calculated in checkout.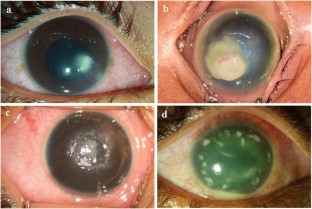 References
1.

Pascolini D, Mariotti SP (2012) Global estimates of visual impairment: 2010. Br J Ophthalmol 96(5):614–618

2.

Dandona R, Dandona L (2003) Corneal blindness in a southern Indian population: need for health promotion strategies. Br J Ophthalmol 87(2):133–141

3.

Dana MR, Moyes AL, Gomes JA et al (1995) The indications for and outcome in pediatric keratoplasty: a multicenter study. Ophthalmology 102(8):1129–1138

4.

Kong L, Fry M, Al-Samaariaie M et al (2012) An update on progress and the changing epidemiology of causes of childhood blindness worldwide. JAAPOS 16:501–507

5.

Oliva MS, Schottman T, Gulati M (2012) Turning the tide of corneal blindness. Indian J Ophthalmol 60(5):423–427

6.

Panjiyar P, Gautam V, Rai PG et al (2016) Childhood corneal blindness: a retrospective study in a tertiary eye hospital of eastern region of Nepal. Nepal J Ophthalmol 8(15):18–22

7.

Young AL, Leung KS, Tsim N et al (2013) Risk factors, microbiological profile, and treatment outcomes of pediatric microbial keratitis in a tertiary care hospital in Hong Kong. Am J Ophthalmol 156(5):1040–1044

8.

Ormerod LD, Murphree L, Gomez DS, Schanzlin DJ, Smith RE (1986) Microbial keratitis in children. Ophthalmology 93:449–455

9.

Clinch TE, Salmon FE, Robinson MJ, Cohen EJ, Barron BA, Laibson PR (1994) Microbial keratitis in children. Am J Ophthalmol 117:65–71

10.

Song X, Xu L, Sun S, Zhao J, Xie L (2012) Pediatric microbial keratitis: a tertiary hospital study. Eur J Ophthalmol 22(2):138–141

11.

Lee YS, Tan HY, Yeh LK et al (2014) Pediatric microbial keratitis in Taiwan: clinical and microbiological profiles, 1998–2002 versus 2008–2012. Am J Ophthalmol 157(5):1090–1096

12.

Yu MCZ, Hofling-Lima AL, Furtado GHC (2016) Microbiological and epidemiological study of infectious keratitis in children and adolescents. Arq Bras Oftalmol 79(5):289–293

13.

Singh G, Palanisamy M, Madhavan B et al (2006) Multivariate analysis of childhood microbial keratitis in South India. Ann Acad Med Singapore 35(3):185–189

14.

Aruljyothi L, Radhakrishnan N, Prajna VN et al (2016) Clinical and microbiological study of paediatric infectious keratitis in South India: a 3-year study (2011–2013). Br J Ophthalmol 100(12):1719–1723

15.

Ashaye A, Aimola A (2008) Keratitis in children as seen in a tertiary hospital in Africa. J Natl Med Assoc 100(4):386–393

16.

Al-Otaibi AG, Allam K, Damri AJ et al (2012) Childhood microbial keratitis. Saudi J Ophthalmol 26(2):191–197

17.

Chirinos-Saldaña P, Bautista de Lucio VM, Hernandez-Camarena JC et al (2013) Clinical and microbiological profile of infectious keratitis in children. BMC Ophthalmol 16:13–54

18.

Noureddin GS, Sasaki S, Butler AL (2016) Paediatric infectious keratitis at tertiary referral centres in Vancouver, Canada. Br J Ophthalmol 100(12):1714–1718

19.

Cruz OA, Sabir SM, Capo H et al (1993) Microbial keratitis in childhood. Ophthalmology 100(2):192–196

20.

Rossetto JD, Cavuoto KM, Osigian CJ et al (2017) Paediatric infectious keratitis: a case series of 107 children presenting to a tertiary referral centre. Br J Ophthalmol 101(11):1488–1492

21.

Kunimoto DY, Sharma S, Reddy MK et al (1998) Microbial keratitis in children. Ophthalmology 105(2):252–257

22.

Vajpayee RB, Ray M, Panda A, Sharma N, Taylor HR, Murthy GVS, Satpathy G, Pandey RM (1999) Risk factors for pediatric presumed microbial keratitis: a case control study. Cornea 18(5):565–569

23.

Jhanji V, Naithani P, Lamoureux E et al (2011) Immunization and nutritional profile of cases with atraumatic microbial keratitis in preschool age group. Am J Ophthalmol 151(6):1035–1040

25.

Schaefer F, Bruttin O, Zografos L et al (2001) Bacterial keratitis: a prospective clinical and microbiological study. Br J Ophthalmol 85(7):842–847

26.

Gopinathan U, Sharma S, Garg P et al (2009) Review of epidemiological features, microbiological diagnosis and treatment outcome of microbial keratitis: experience of over a decade. Ind J Ophthalmol 57(4):273–279

27.

Wong V, Lai TY, Chi SC et al (2011) Pediatric ocular surface infections: a 5-year review of demographics, clinical features, risk factors, microbiological results, and treatment. Cornea 30(9):995–1002

28.

Hong J, Chen J, Sun X et al (2012) Paediatric bacterial keratitis cases in Shanghai: microbiological profile, antibiotic susceptibility and visual outcomes. Eye 26(12):1571–1578

29.

Wagoner MD, Al-Ghamdi AH, Al-Rajhi AA (2002) Bacterial keratitis after primary pediatric penetrating keratoplasty. Am J Ophthalmol 143(6):1045–1047

30.

Parmar P, Salman A, Kalavathy CM et al (2006) Microbial keratitis at extremes of age. Cornea 25(2):153–158

31.

Garg P, Krishna PV, Stratis AK, Gopinathan U (2005) The value of corneal transplantation in reducing blindness. Eye 19:1106–1114

32.

Morlet N, Daniel M (2003) View 2: empirical fluoroquinolone therapy is sufficient initial treatment. Br J Ophthalmol 87(9):1169–1172

33.

Hooper DC (2001) Emerging mechanisms of fluoroquinolone resistance. Emerg Infect Dis 7(2):337–341

34.

Gilbert ML, Wilhelmus KR, Osato MS (1987) Comparative bioavailability and efficacy of fortified topical tobramycin. Invest Ophthalmol Vis Sci 28(5):881–885

35.

Srinivasan M, Mascarenhas J, Rajaraman R et al (2012) Corticosteroids for bacterial keratitis: the steroids for corneal ulcers trial (SCUT). Arch Ophthalmol 130(2):143–150
Ethics declarations
Conflict of interest
All authors declare no conflict of interest.
Additional information
Publisher's Note
Springer Nature remains neutral with regard to jurisdictional claims in published maps and institutional affiliations.
About this article
Cite this article
Di Zazzo, A., Antonini, M., Fernandes, M. et al. A global perspective of pediatric non-viral keratitis: literature review. Int Ophthalmol (2020). https://doi.org/10.1007/s10792-020-01451-z
Received:

Accepted:

Published:
Keywords
Pediatric keratitis

Paediatric keratitis

Childhood keratitis

Microbial profile

Fungal

Bacterial

Infectious keratitis