Abstract
Purpose
To evaluate safety and efficacy of performing simultaneous photorefractive keratectomy (PRK) and collagen cross-linking (CXL) in myopic patients with preoperative risk factors for developing keratectasia.
Methods
Seventeen eyes of 15 patients with at least one of the following risk factors were recruited: central keratometry (Kmax) between 48 and 50, difference between inferior, superior corneal power (I–S value) between 1.4 and 1.9 and corneal thickness between 450 and 480 µm. Upon final stage of standard PRK, 0.02% mitomycin was applied for 30–50 s, and then, accelerated CXL was performed for 5 min. Pre- and postoperative Oculus Pentacam® imaging for keratometry values, measurement of uncorrected distance visual acuity (UDVA) and corrected distance visual acuity (CDVA) were done for all patients.
Results
Mean follow-up time was 32.08 ± 7.79 months (range 25–49 months). Mean age of patients was 28.78 ± 3.80 years. Mean postoperative spherical equivalent was + 0.19 ± 0.42 (− 0.5 to + 1.0 [D]). Mean UDVA and CDVA improved from 0.9062 ± 0.485 log MAR and 0.0148 ± 0.043 log MAR to 0.0173 ± 0.040 log MAR and 0.0057 ± 0.023 log MAR, respectively (P = 0.011, P = 0.735). Mild degree of early postoperative stromal haze was seen which did not persist more than 6 months. There was no late stromal haze, corneal ectasia or other major postoperative complication in the follow-up period.
Conclusion
Combined PRK and accelerated CXL is an efficient and safe procedure for high-risk refractive surgery candidates, with no increased risk of persistent corneal haze.
This is a preview of subscription content, log in to check access.
Access options
Buy single article
Instant access to the full article PDF.
US$ 39.95
Price includes VAT for USA
Subscribe to journal
Immediate online access to all issues from 2019. Subscription will auto renew annually.
US$ 99
This is the net price. Taxes to be calculated in checkout.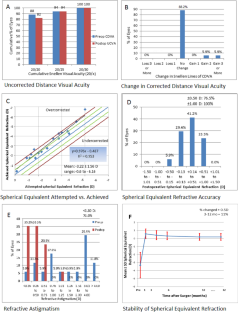 Availability of data and material
The data are available to interested readers.
References
1.

Richoz O, Mavrakanas N, Pajic B, Hafezi F (2013) Corneal collagen cross-linking for ectasia after LASIK and photorefractive keratectomy: long-term results. Ophthalmology 120:1354–1359

2.

Kymionis GD, Mikropoulos DG, Portaliou DM, Voudouragkaki IC, Kozobolis VP, Konstas AG (2013) An overview of corneal collagen cross-linking (CXL). Adv Ther 30:858–869

3.

Wollensak G, Spoerl E, Seiler T (2003) Riboflavin/ultraviolet-A-induced collagen crosslinking for the treatment of keratoconus. Am J Ophthalmol 135:620–627

4.

Nguyen MK, Chuck RS (2013) Corneal collagen cross-linking in the stabilization of PRK, LASIK, thermal keratoplasty, and orthokeratology. Curr Opin Ophthalmol 24:291–295

5.

Seiler TG, Frueh BE, Seiler T (2017) Tomography-guided customized CXL. J Refract Surg 33:571–572

6.

Kanellopoulos AJ (2009) Comparison of sequential vs same-day simultaneous collagen cross-linking and topography-guided PRK for treatment of keratoconus. J Refract Surg 25:S812–S818

7.

Woodward MA, Randleman JB, Russell B, Lynn MJ, Ward MA, Stulting RD (2008) Visual rehabilitation and outcomes for ectasia after corneal refractive surgery. J Cataract Refract Surg 34:383–388

8.

Randleman JB, Woodward M, Lynn MJ, Stulting RD (2008) Risk assessment for ectasia after corneal refractive surgery. Ophthalmology 115(37–50):e4

9.

Randleman JB, Russell B, Ward MA, Thompson KP, Stulting RD (2003) Risk factors and prognosis for corneal ectasia after LASIK. Ophthalmology 110:267–275

10.

Klein SR, Epstein RJ, Randleman JB, Stulting RD (2006) Corneal ectasia after laser in situ keratomileusis in patients without apparent preoperative risk factors. Cornea 25:388–403

11.

Randleman JB, Trattler WB, Stulting RD (2008) Validation of the Ectasia Risk Score System for preoperative laser in situ keratomileusis screening. Am J Ophthalmol 145(813–8):e2

12.

Cheema AS, Mozayan A, Channa P (2012) Corneal collagen crosslinking in refractive surgery. Curr Opin Ophthalmol 23:251–256

13.

Tan J, Lytle GE, Marshall J (2015) Consecutive laser in situ keratomileusis and accelerated corneal crosslinking in highly myopic patients: preliminary results. Eur J Ophthalmol 25:101–107

14.

Ma J, Wang Y, Jhanji V (2020) Corneal refractive surgery combined with simultaneous corneal cross-linking: indications, protocols and clinical outcomes—a review. Clinical & experimental ophthalmology. 48:78–88

15.

Martínez-Abad A, Piñero DP (2017) New perspectives on the detection and progression of keratoconus. J Cataract Refract Surg 43:1213–1227

16.

Kanellopoulos AJ, Binder PS (2007) Collagen cross-linking (CCL) with sequential topography-guided PRK: a temporizing alternative for keratoconus to penetrating keratoplasty. Cornea 26:891–895

17.

Kampik D, Koch M, Kampik K, Geerling G (2011) Corneal riboflavin/UV-A collagen cross-linking (CXL) in keratoconus: two-year results. Klin Monatsbl Augenheilkd 228:525–530

18.

Mohammadpour M, Masoumi A, Mirghorbani M, Shahraki K, Hashemi H (2017) Updates on corneal collagen cross-linking: indications, techniques and clinical outcomes. J Curr Ophthalmol 29:235–247

19.

Kanellopoulos AJ (2012) Long-term safety and efficacy follow-up of prophylactic higher fluence collagen cross-linking in high myopic laser-assisted in situ keratomileusis. Clin Ophthalmol 6:1125

20.

Celik HU, Alagöz N, Yildirim Y, Agca A, Marshall J, Demirok A et al (2012) Accelerated corneal crosslinking concurrent with laser in situ keratomileusis. J Cataract Refract Surg 38:1424–1431

21.

Toker E, Çerman E, Özcan DÖ, Seferoğlu ÖB (2017) Efficacy of different accelerated corneal crosslinking protocols for progressive keratoconus. J Cataract Refract Surg 43:1089–1099

22.

Aslanides IM, Mukherjee AN (2013) Adjuvant corneal crosslinking to prevent hyperopic LASIK regression. Clin Ophthalmol 7:637

23.

Kanellopoulos AJ, Asimellis G (2014) Epithelial remodeling after femtosecond laser-assisted high myopic LASIK: comparison of stand-alone with LASIK combined with prophylactic high-fluence cross-linking. Cornea 33:463–469

24.

Kanellopoulos AJ, Asimellis G, Karabatsas C (2014) Comparison of prophylactic higher fluence corneal cross-linking to control, in myopic LASIK, one year results. Clin Ophthalmol 8:2373

25.

Kanellopoulos AJ, Kahn J (2012) Topography-guided hyperopic LASIK with and without high irradiance collagen cross-linking: initial comparative clinical findings in a contralateral eye study of 34 consecutive patients. J Refract Surg 28:S837–S840

26.

Kanellopoulos AJ, Pamel GJ (2013) Review of current indications for combined very high fluence collagen cross-linking and laser in situ keratomileusis surgery. Indian J Ophthalmol 61:430

27.

Cho M, Kanellopoulos A (2009) Safety and efficacy of prophylactic ultraviolet-A-induced crosslinking after high-risk myopic photorefractive keratectomy. Invest Ophthalmol Vis Sci 50:5470

28.

Lee H, Kang DSY, Ha BJ, Choi JY, Kim EK, Seo KY (2016) Changes in posterior corneal elevations after combined transepithelial photorefractive keratectomy and accelerated corneal collagen cross-linking: retrospective, comparative observational case series. BMC Ophthalmol 16:139

29.

Elbaz U, Shen C, Lichtinger A, Zauberman NA, Goldich Y, Ziai S et al (2015) Accelerated versus standard corneal collagen crosslinking combined with same day phototherapeutic keratectomy and single intrastromal ring segment implantation for keratoconus. Br J Ophthalmol 99:155–159

30.

Netto MV, Mohan RR, Ambrósio R Jr, Hutcheon AE, Zieske JD, Wilson SE (2005) Wound healing in the cornea: a review of refractive surgery complications and new prospects for therapy. Cornea 24:509–522

31.

Elling M, Kersten-Gomez I, Dick HB (2017) Photorefractive intrastromal corneal crosslinking for the treatment of myopic refractive errors: six-month interim findings. J Cataract Refract Surg 43:789–795

32.

Hyun S, Lee S, Kim J-H (2016) Visual outcomes after SMILE, LASEK, and LASEK combined with corneal collagen cross-linking for high myopic correction. Cornea 36:399–405

33.

Greenstein SA, Fry KL, Bhatt J, Hersh PS (2010) Natural history of corneal haze after collagen crosslinking for keratoconus and corneal ectasia: Scheimpflug and biomicroscopic analysis. J Cataract Refract Surg 36:2105–2114

34.

Lipshitz I, Loewenstein A, Varssano D, Lazar M (1997) Late onset corneal haze after photorefractive keratectomy for moderate and high myopia. Ophthalmology 104:369–374

35.

Porges Y, Ben-Haim O, Hirsh A, Levinger S (2003) Phototherapeutic keratectomy with mitomycin C for corneal haze following photorefractive keratectomy for myopia. J Refract Surg 19:40–43

36.

Baek SH, Chang JH, Choi SY, Kim WJ, Lee JH (1997) The effect of topical corticosteroids on refractive outcome and corneal haze after photorefractive keratectomy. J Refract Surg 13:644–652

37.

Kato N, Konomi K, Saiki M, Negishi K, Takeuchi M, Shimazaki J et al (2013) Deep stromal opacity after corneal cross-linking. Cornea 32:895–898
Funding
This study was funded by Tehran University of Medical Sciences.
Ethics declarations
Conflict of interest
The authors declare no conflict of interest.
Ethics approval
Review board and ethics committee of Tehran University of Medical Sciences (IR.TUMS.REC1394.984).
Consent to participate
Informed consent was taken from patients before entering the study.
Consent for publication
All authors agree to publish this paper in International Ophthalmology Journal.
Additional information
Publisher's Note
Springer Nature remains neutral with regard to jurisdictional claims in published maps and institutional affiliations.
About this article
Cite this article
Mohammadpour, M., Farhadi, B., Mirshahi, R. et al. Simultaneous photorefractive keratectomy and accelerated collagen cross-linking in high-risk refractive surgery (Tehran protocol): 3-year outcomes. Int Ophthalmol (2020). https://doi.org/10.1007/s10792-020-01447-9
Received:

Accepted:

Published:
Keywords
PRK

CXL

High-risk patients

PRK Xtra