Abstract
Purpose
To present a detailed study matching functional response and video imaging with genetic analysis in children suspected of inherited retinal dystrophy (IRD).
Methods
Sixteen children underwent fundus examination via video recording (Heine Omega 500 indirect ophthalmoscope with DV1 camera) and electroretinogram (ERG) under general anesthesia to investigate the cause of suspected low vision. The patients [median age 12 (interquartile range 8–57.5) months] had associated genetic analysis performed with next-generation sequencing or array-comparative genomic hybridization.
Results
Four children had potential pathogenic variants in genes involved in Leber congenital amaurosis and Joubert syndrome (NMNAT1, CEP290, KCNJ13, IMPDH1); 1 child had a 16p11.2 microdeletion and 1 in 2q22.1. The ERG was altered in 6 patients, fundus imaging showed serious abnormality matching an IRD in 7 children, and less severe fundus alterations were found in 2 subjects.
Conclusion
Fundus imaging associated with ERG may be significant in IRD diagnosis and visual impairment prognosis, alongside genetic analysis and therapy in selected cases.
This is a preview of subscription content, log in to check access.
Access options
Buy single article
Instant access to the full article PDF.
US$ 39.95
Price includes VAT for USA
Subscribe to journal
Immediate online access to all issues from 2019. Subscription will auto renew annually.
US$ 99
This is the net price. Taxes to be calculated in checkout.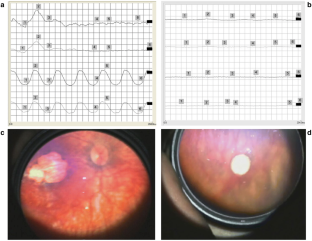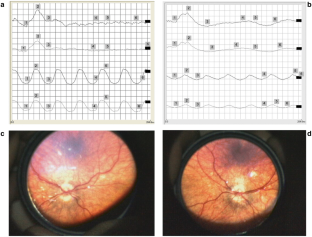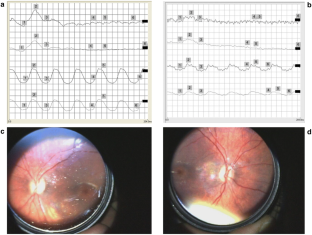 Data availability
The datasets generated and analyzed during the current study are available from the corresponding author on reasonable request.
References
1.

Sheffield VC, Stone EM (2011) Genomics and the eye. N Engl J Med 364:1932–1942

2.

Sundaram V, Moore AT, Ali RR et al (2012) Retinal dystrophies and gene therapy. Eur J Pediatr 171:757–765

3.

Broadgate S, Yu J, Downes SM, Halford S (2017) Unravelling the genetics of inherited retinal dystrophies: past, present and future. Prog Retin Eye Res 59:53–96

4.

Chiang J, Trzupek K (2015) The current status of molecular diagnosis of inherited retinal dystrophies. Curr Opin Ophthalmol 26:346–351

5.

Glöckle N, Kohl S, Mohr J et al (2014) Panel-based next generation sequencing as a reliable and efficient technique to detect mutations in unselected patients with retinal dystrophies. EurJ Hum Genet 22:99–104

6.

Hafler BP (2017) Clinical progress in inherited retinal degenerations: gene therapy clinical trials and advances in genetic sequencing. Retina 37(3):417–423

7.

Wang F, Wang H, Tuan HF et al (2014) Next generation sequencing-based molecular diagnosis of retinitis pigmentosa: identification of a novel genotype-phenotype correlation and clinical refinements. Hum Genet 133:331

8.

Maguire AM, High KA, Auricchio A et al (2009) Age-dependent effects of RPE65 gene therapy for Leber's congenital amaurosis: a phase 1 dose-escalation trial. Lancet 374(9701):1597–1605

9.

MacLaren RE, Groppe M, Barnard AR et al (2014) Retinal gene therapy in patients with choroideremia: initial findings from a phase 1/2 clinical trial. Lancet 383(9923):1129–1137

10.

Cukras C, Wiley HE, Jeffrey BG et al (2018) Retinal AAV8-RS1 gene therapy for X-linked retinoschisis: initial findings from a phase I/IIa trial by intravitreal delivery. Mol Ther 26(9):2282–2294

11.

Wan X, Pei H, Zhao MJ et al (2016) Efficacy and safety of rAAV2-ND4 treatment for Leber's hereditary optic neuropathy. Sci Rep 6(1–10):21587

12.

Wu C, Petersen RA, Vanderveen DK (2006) RetCam imaging for retinopathy of prematurity screening. J AAPOS. 10:107–111

13.

Callaway NF, Mruthyunjaya P (2019) Widefield imaging of retinal and choroidal tumors. Int J Retina Vitreous 5(Suppl 1):49

14.

Coste V, Paya C, Pechmeja J, Smadja D et al. (2015) Shaken baby syndrome: Retcam findings J Fr Ophtalmol. 38(5):468–469. doi: 10.1016/j.jfo.2014.09.021. French

15.

Dhaliwal C, Wright E, Graham C et al (2009) Wide-field digital retinal imaging versus binocular indirect ophthalmoscopy for retinopathy of prematurity screening: a two-observer prospective, randomized comparison. Br J Ophthalmol 93:355–359

16.

Fazzi E, Signorini SG, Piana LAR et al (2012) Neuro-ophthalmological disorders in cerebral palsy: ophthalmological, oculomotor, and visual aspects. Dev Med Child Neurol 54(8):730–736

17.

Teller DY, McDonald MA, Preston K et al (1986) Assessment of visual acuity in infants and children: the acuity card procedure. Dev Med Child Neurol 28:779–789

18.

Hyvarinen L, Nasanen R, Laurinen P (1980) New visual acuity test for pre-school children. Acta Ophthalmol 58:507–511

19.

Hyvarinen L. Hiding Heidi low contrast "face" test, Lea-test Ltd. La Salle, IL: precision vision

20.

World Medical Association declaration of Helsinki (2013) ethical principles for medical research involving human subjects. JAMA 310(20):2191–2194

21.

Koenekoop RK, Wang H, Majewski J et al (2012) Mutations in NMNAT1 cause Leber congenital amaurosis and identify a new disease pathway for retinal degeneration. Nat Genet 44(9):1035–1039

22.

Berson EL, Rosner B, Sandberg MA et al (1993) A randomized trial of vitamin A and vitamin E supplementation for retinitis pigmentosa. Arch Ophthalmol 111(6):761–772

23.

Hoffman DR, Locke KG, Wheaton DH et al (2004) A randomized, placebo-controlled clinical trial of docosahexaenoic acid supplementation for X-linked retinitis pigmentosa. Am J Ophatlmol 137(4):704–718

24.

Hoffman DR, Hughbanks-Wheaton DK, Pearson NS et al (2014) Four-year placebo-controlled trial of docosahexaenoic acid in X-linked retinitis pigmentosa (DHAX Trial): a randomized clinical trial. JAMA Ophthalmol 32(7):866–873

25.

Rayapudi S, Schwarz SG, Wang X, Chavis P (2013) Vitamin A and fish oil for retinitis pigmentosa (Review). Cochrane Database Syst Rev. Issue 12, Art. No: CD008428.

26.

Fujinami K, Zernant MSJ, Chana RK et al (2015) Clinical and molecular characteristics of childhood-onset stargardt disease. Ophthalmology 122(2):326–334

27.

Fujinami K, Lois N, Mukherjee R et al (2013) A longitudinal study of stargardt disease: quantitative assessment of fundus autofluorescence, progression, and genotype correlations. IOVS Genet 54:8181–8190

28.

Yanase J, Ogawa H (1997) Effects of halothane and sevoflurane on the electroretinogram of dogs. Am J Vet Resb 58(8):904–909

29.

Wongpichedchai S, Hansen RM, Koka B, Gudas VM, Fulton AB (1992) Effects of halothane on children's electroretinogram. Ophthalmology 99(8):1309–1312
Funding
Support for this assistance was funded by HEINE OptotechniK GmbH & Co. Kg.
Ethics declarations
Conflict of interest
Giulio Ruberto, Rosanna Guagliano, Donatella Barillà, Margherita Bensi, Elisa Fazzi, Jessica Galli, Andrea Rossi, Cinzia Mazza, Federica Manzoni, Elisa Domenegati and Luciano Quaranta certify that they have not any financial or non-financial competing interest in the subject matter or material discussed in this manuscript.
Ethical approval
All named authors meet the International Committee of Medical Journal Editors (ICMJE) criteria for authorship for this article, take responsibility for the integrity of the work as a whole and have given their approval for this version to be published. Editorial assistance in the preparation of this article was provided by Ruth Harper, The Translation Lab Ltd.
Informed consent
The relatives of the children signed an informed consent to the use of their data, as required by the San Matteo hospital ethical committee, according to directives of the Italian ministry of Health, February 8 2013 act, and regional act June 25 2013, n. 5493, n.3 C.d.A. 0131. Springer's policy concerning informed consent has been followed.
Additional information
Publisher's Note
Springer Nature remains neutral with regard to jurisdictional claims in published maps and institutional affiliations.
Electronic supplementary material
Below is the link to the electronic supplementary material.
Video Fundus recording in the child from Figure 1, with a bilateral macular coloboma. In the left eye, a peripheral coloboma also appears. Mutations in NMNAT1, Leber Congenital Amaurosis (WMV 6161 kb)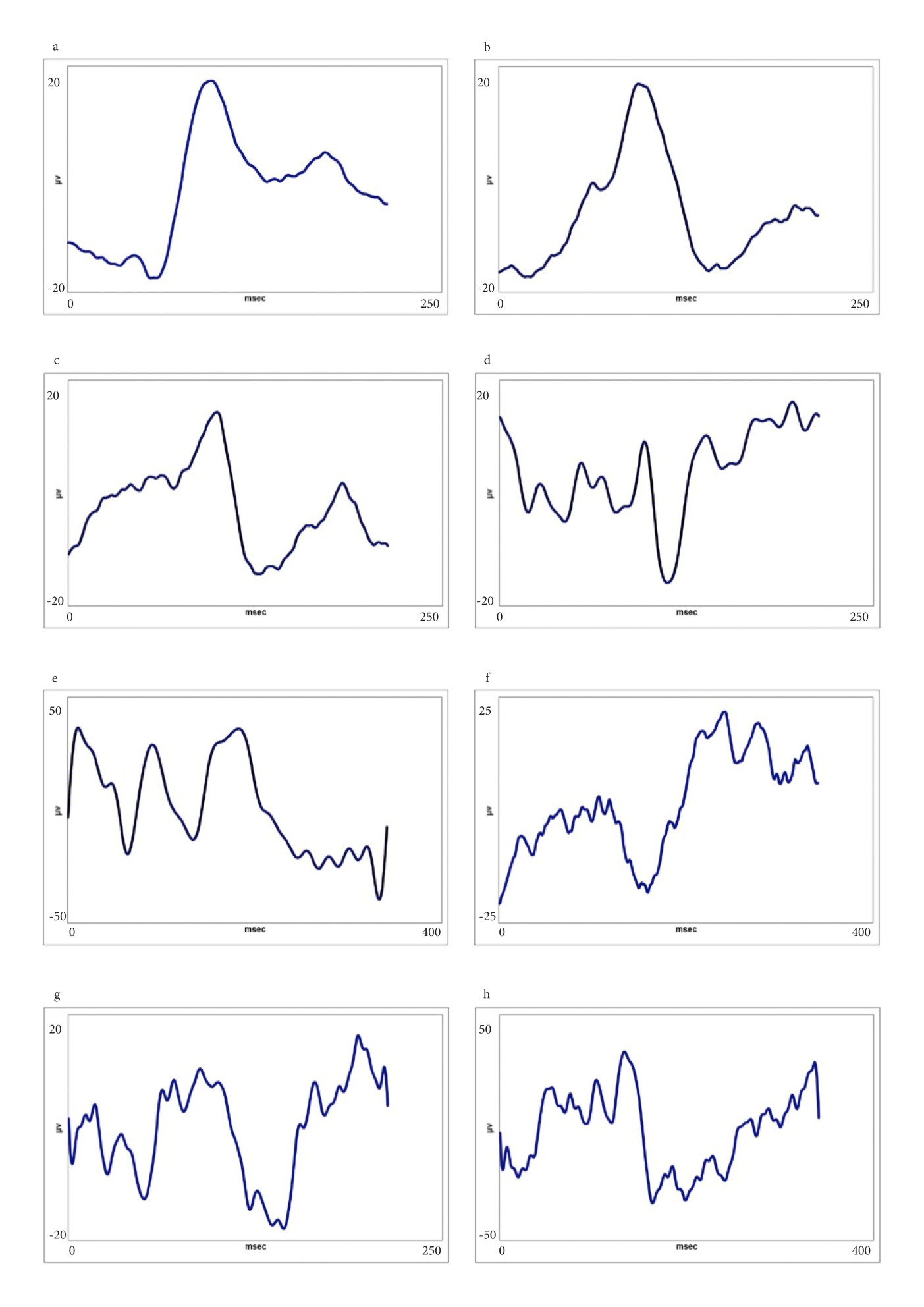 About this article
Cite this article
Ruberto, G., Guagliano, R., Barillà, D. et al. Morpho-functional survey in children suspected of inherited retinal dystrophies via video recording, electrophysiology and genetic analysis. Int Ophthalmol (2020). https://doi.org/10.1007/s10792-020-01432-2
Received:

Accepted:

Published:
Keywords
Array-comparative genomic hybridization

Electroretinogram

Inherited retinal dystrophy

Next-generation sequencing

Patterned visual evoked potentials

Video recording