Abstract
Purpose
To evaluate the correlation between retinal venous blood flow parameters and glaucomatous visual field damage in a retrospective analysis.
Methods
Fifty-five (24 male, 31 female) glaucoma patients, under intraocular pressure (IOP) reducing treatment, aged (mean ± SD) 69 ± 10 years, 29 with primary open-angle and 26 with normal-tension glaucoma, were evaluated with regard to the correlation between IOP, color Doppler retinal venous blood flow velocity and glaucomatous damage.
Results
Univariate regression analysis disclosed statistically significant correlations of the visual field index MD with age, IOP and venous blood flow (p ≤ 0.026 for each parameter). A mixed linear effects model disclosed a significant correlation of MD with age, IOP and venous blood flow (p ≤ 0.002 for each parameter), but not with sex, side (right eye versus left eye) and diagnosis (primary open-angle glaucoma versus normal-tension glaucoma). Finally, interocular difference (right eye vs. left eye of the same patient) in MD correlated with interocular differences in venous blood flow velocities (p < 0.001), but not with interocular differences in IOP.
Conclusions
Glaucomatous damage correlated negatively with retinal venous blood flow velocity, be it between subjects or between eyes within individuals. This study is limited by its cross-sectional design, and it is not possible to draw any conclusion with regard to the origin of the correlations.
This is a preview of subscription content, log in to check access.
Access options
Buy single article
Instant access to the full article PDF.
US$ 39.95
Price includes VAT for USA
Subscribe to journal
Immediate online access to all issues from 2019. Subscription will auto renew annually.
US$ 99
This is the net price. Taxes to be calculated in checkout.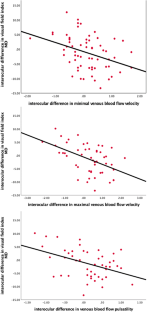 References
1.

Prokofyeva E, Zrenner E (2012) Epidemiology of major eye diseases leading to blindness in Europe: a literature review. Ophthalmic Res 47(4):171–188. https://doi.org/10.1159/000329603

2.

Gauthier AC, Liu J (2016) Neurodegeneration and neuroprotection in glaucoma. Yale J Biol Med 89(1):73–79

3.

Wolfs RC, Klaver CC, Ramrattan RS, van Duijn CM, Hofman A, de Jong PT (1998) Genetic risk of primary open-angle glaucoma. Population-based familial aggregation study. Arch Ophthalmol 116(12):1640–1645

4.

Wang X, Harmon J, Zabrieskie N, Chen Y, Grob S, Williams B, Lee C, Kasuga D, Shaw PX, Buehler J, Wang N, Zhang K (2010) Using the Utah Population Database to assess familial risk of primary open angle glaucoma. Vis Res 50(23):2391–2395. https://doi.org/10.1016/j.visres.2010.09.018

5.

Tham YC, Li X, Wong TY, Quigley HA, Aung T, Cheng CY (2014) Global prevalence of glaucoma and projections of glaucoma burden through 2040: a systematic review and meta-analysis. Ophthalmology 121(11):2081–2090. https://doi.org/10.1016/j.ophtha.2014.05.013

6.

Chen CL, Bojikian KD, Wen JC, Zhang Q, Xin C, Mudumbai RC, Johnstone MA, Chen PP, Wang RK (2017) Peripapillary retinal nerve fiber layer vascular microcirculation in eyes with glaucoma and single-hemifield visual field loss. JAMA Ophthalmol 135(5):461–468. https://doi.org/10.1001/jamaophthalmol.2017.0261

7.

Chauhan BC, LeVatte TL, Jollimore CA, Yu PK, Reitsamer HA, Kelly ME, Yu DY, Tremblay F, Archibald ML (2004) Model of endothelin-1-induced chronic optic neuropathy in rat. Invest Ophthalmol Vis Sci 45(1):144–152

8.

Orgul S (2012) Compartment syndrome in the optic nerve: a new hypothesis in the pathogenesis of glaucoma. Acta Ophthalmol 90(7):686–689. https://doi.org/10.1111/j.1755-3768.2010.02071.x

9.

Yang H, Reynaud J, Lockwood H, Williams G, Hardin C, Reyes L, Stowell C, Gardiner SK, Burgoyne CF (2017) The connective tissue phenotype of glaucomatous cupping in the monkey eye—clinical and research implications. Prog Retinal Eye Res 59:1–52. https://doi.org/10.1016/j.preteyeres.2017.03.001

10.

Plange N, Kaup M, Weber A, Arend KO, Remky A (2006) Retrobulbar haemodynamics and morphometric optic disc analysis in primary open-angle glaucoma. Br J Ophthalmol 90(12):1501–1504. https://doi.org/10.1136/bjo.2006.099853

11.

Abegao Pinto L, Vandewalle E, De Clerck E, Marques-Neves C, Stalmans I (2013) Lack of spontaneous venous pulsation: possible risk indicator in normal tension glaucoma? Acta Ophthalmol 91(6):514–520. https://doi.org/10.1111/j.1755-3768.2012.02472.x

12.

Abegao Pinto L, Willekens K, Van Keer K, Shibesh A, Molenberghs G, Vandewalle E, Stalmans I (2016) Ocular blood flow in glaucoma—the Leuven Eye Study. Acta Ophthalmol 94(6):592–598. https://doi.org/10.1111/aos.12962

13.

Akagi T, Iida Y, Nakanishi H, Terada N, Morooka S, Yamada H, Hasegawa T, Yokota S, Yoshikawa M, Yoshimura N (2016) Microvascular density in glaucomatous eyes with hemifield visual field defects: an optical coherence tomography angiography study. Am J Ophthalmol 168:237–249. https://doi.org/10.1016/j.ajo.2016.06.009

14.

Yarmohammadi A, Zangwill LM, Diniz-Filho A, Suh MH, Yousefi S, Saunders LJ, Belghith A, Manalastas PI, Medeiros FA, Weinreb RN (2016) Relationship between optical coherence tomography angiography vessel density and severity of visual field loss in glaucoma. Ophthalmology 123(12):2498–2508. https://doi.org/10.1016/j.ophtha.2016.08.041

15.

Hwang JC, Konduru R, Zhang X, Tan O, Francis BA, Varma R, Sehi M, Greenfield DS, Sadda SR, Huang D (2012) Relationship among visual field, blood flow, and neural structure measurements in glaucoma. Invest Ophthalmol Vis Sci 53(6):3020–3026. https://doi.org/10.1167/iovs.11-8552

16.

Caprioli J, de Leon JM, Azarbod P, Chen A, Morales E, Nouri-Mahdavi K, Coleman A, Yu F, Afifi A (2016) Trabeculectomy can improve long-term visual function in glaucoma. Ophthalmology 123(1):117–128. https://doi.org/10.1016/j.ophtha.2015.09.027

17.

Takusagawa HL, Hoguet A, Junk AK, Nouri-Mahdavi K, Radhakrishnan S, Chen TC (2019) Swept-source optical coherence tomography for evaluating the lamina cribrosa: a report by the American Academy of Ophthalmology. Ophthalmology. https://doi.org/10.1016/j.ophtha.2019.03.044

18.

Kim YW, Jeoung JW, Kim YK, Park KH (2017) Clinical implications of in vivo lamina cribrosa imaging in glaucoma. J Glaucoma 26(9):753–761. https://doi.org/10.1097/IJG.0000000000000728

19.

Quigley HA, Addicks EM (1981) Regional differences in the structure of the lamina cribrosa and their relation to glaucomatous optic nerve damage. Arch Ophthalmol 99(1):137–143

20.

Wang B, Nevins JE, Nadler Z, Wollstein G, Ishikawa H, Bilonick RA, Kagemann L, Sigal IA, Grulkowski I, Liu JJ, Kraus M, Lu CD, Hornegger J, Fujimoto JG, Schuman JS (2013) In vivo lamina cribrosa micro-architecture in healthy and glaucomatous eyes as assessed by optical coherence tomography. Invest Ophthalmol Vis Sci 54(13):8270–8274. https://doi.org/10.1167/iovs.13-13109
Ethics declarations
Conflict of interest
None of the authors has relationships/conditions/circumstances that may present a potential conflict of interest for any aspect of the submitted work.
Additional information
Publisher's Note
Springer Nature remains neutral with regard to jurisdictional claims in published maps and institutional affiliations.
About this article
Cite this article
Orgül, S., Gugleta, K., Grieshaber, M.C. et al. Venous blood flow alterations in glaucoma patients. Int Ophthalmol 40, 1815–1823 (2020). https://doi.org/10.1007/s10792-020-01351-2
Received:

Accepted:

Published:

Issue Date:
Keywords
Blood flow

Color Doppler

Glaucoma

Hemodynamics