Abstract
Purpose
To assess the agreement between Orbscan 3, Pentacam HR and ultrasound pachymetry (Palm Scan AP 2000) in measuring central corneal thickness.
Methods
Prospective observational cross-sectional study of ninety-two eyes of 48 patients with normal corneas was conducted. Central corneal thickness was measured via Pentacam HR, Orbscan 3 and ultrasound pachymetry. Bland–Altman analysis was used to demonstrate agreement between various methods.
Results
Ninety-two eyes of 46 subjects were enrolled. The mean age was 29.67 years (18–59). The average measurements of central corneal thickness were 545.73 ± 29.35 μm, 549.34 ± 29.14 μm and 545.78 ± 31.48 μm for the Pentacam HR, Orbscan and ultrasound pachymetry, respectively. The three devices measurements are closely correlated, with Pearson correlation coefficient ranging from 0.868 to 0.929. The 95 % limits of agreement were 25.2 to − 18 μm between Orbscan and Pentacam central corneal thickness, 25.2 to − 25.7 μm between Pentacam and pachymetry central corneal thickness and 34.4 to − 27.2 μm between Orbscan and pachymetry central corneal thickness.
Conclusion
In spite of advancement of Orbscan 3, still there are wide agreement limits between CCT measurements obtained via Orbscan 3, Pentacam HR and ultrasound pachymetry; thus, interchangeable use in clinical practice is not recommended.
This is a preview of subscription content, log in to check access.
Access options
Buy single article
Instant access to the full article PDF.
US$ 39.95
Price includes VAT for USA
Subscribe to journal
Immediate online access to all issues from 2019. Subscription will auto renew annually.
US$ 99
This is the net price. Taxes to be calculated in checkout.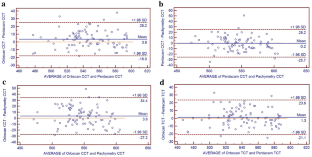 References
1.

Randleman JB, Woodward M, Lynn MJ, Stulting RD (2008) Risk assessment for ectasia after corneal refractive surgery. Ophthalmology 115:37–50

2.

Doughty MJ, Zaman ML (2000) Human corneal thickness and its impact on intraocular pressure measures: a review and meta-analysis approach. Surv Ophthalmol 44:367–408

3.

Potop V, Corbu C, Coviltir V et al (2019) The importance of corneal assessment in a glaucoma suspect—a review. Rom J Ophthalmol 63(4):321–326

4.

Marsich MW, Bullimore MA (2000) The repeatability of corneal thickness measures. Cornea 19(6):792–795

5.

Rainer G, Petternel V, Findl O et al (2002) Comparison of ultrasound pachymetry and partial coherence interferometry in the measurement of central corneal thickness. J Cataract Refract Surg 28:2142–2145

6.

Rainer G, Findl O, Petternel V et al (2004) Central corneal thickness measurements with partial coherence interferometry, ultrasound, and the orbscan system. Ophthalmology 111:875–879

7.

Yaylali V, Kaufman SC, Thompson HW (1997) Corneal thickness measurements with the orbscan topography system and ultrasonic pachymetry. J Cataract Refract Surg 23:1345–1350

8.

Cairns G, McGhee CNJ (2005) Orbscan computerized topography: attributes, applications, and limitations. J Cataract Refract Surg 31:205–209

9.

Doughty MJ, Jonuscheit S (2010) The orbscan acoustic (correction) factor for central corneal thickness measures of normal human corneas. Eye Contact Lens 36:106–115

10.

Khaja WA, Grover S, Kelmenson AT, Ferguson LR, Sambhav K, Chalam KV (2015) Comparison of central corneal thickness: ultrasound pachymetry versus slit-lamp optical coherence tomography, specular microscopy, and Orbscan. Clin Ophthalmol 9:1065–1070

11.

The New Zyoptics_ Diagnostic Workstation 3, technical specifications: Bausch + Lomb (2013). https://www.spiritmedical.cz/uploads/pdf/zdw3-informacni-brozura-eng.pdf. Accessed 16 Feb 2020

12.

Zyoptix _ DiagnosticWorkstation 3: Promedwork (2017). Accessed 16 Feb 2020https://www.promedwork.com/site/pt/zyoptix-diagnostic-workstation3/.

13.

Sinjab MM (2015) Step by step reading pentacam topography. Jaypee Brothers Medical Publishers, New Delhi, pp 6–11

14.

Can E, Eser-Ozturk H, Duran M, Cetinkaya T, Arıturk N (2019) Comparison of central corneal thickness measurements using different imaging devices and ultrasound pachymetry. Indian J Ophthalmol 67:496–499

15.

Bunce C (2009) Correlation, agreement, and Bland–Altman analysis: statistical analysis of method comparison studies. Am J Ophthalmol 148:4–6

16.

Kumar M, Shetty R, Jayadev C, Rao HL, Dutta D (2017) Repeatability and agreement of five imaging systems for measuring anterior segment parameters in healthy eyes. Indian J Ophthalmol 65(4):288–294

17.

Lanza M, Paolillo E, Gironi Carnevale UA et al (2015) Central corneal thickness evaluation in healthy eyes with three different optical devices. Cont Lens Anterior Eye 38(6):409–413

18.

Teberik K, Eski MT, Kaya M, Ankaralı H (2018) Comparison of central corneal thickness with four different optical devices. Int Ophthalmol 38(6):2363–2369

19.

O'Donnell C, Maldonado-Codina C (2005) Agreement and repeatability of central thickness measurement in normal corneas using ultrasound pachymetry and the OCULUS Pentacam. Cornea 24(8):920–924

20.

Barkana Y, Gerber Y, Elbaz U et al (2005) Central corneal thickness measurement with the pentacam scheimpflug system, optical low-coherence reflectometry pachymeter, and ultrasound pachymetry. J Cataract Refract Surg 31(9):1729–1735

21.

Al-Mazaine HS, Al-Amro SA, Kangave D, Sadaawy A, Wehaib TA, Al-Obeidan S (2008) Comparison between central corneal thickness measurements by oculus pentacam and ultrasonic pachymetry. Int Ophthalmol 28:333–338. https://doi.org/10.1007/s10792-007-9143-9

22.

Sadoughi MM, Einollahi B, Einollahi N, Rezaei J, Roshandel D, Feizi S (2015) Measurement of central corneal thickness using ultrasound pachymetry and orbscan ii in normal eyes. J Ophthalmic Vis Res 10(1):4–9
Ethics declarations
Conflicts of interest
The authors declare that they have no conflict of interest.
Ethical approval
The research protocol was conducted in accordance with the Declaration of Helsinki and was approved by the ethical committee of Cairo University.
Informed consent
Informed consents were obtained from all participants.
Additional information
Publisher's Note
Springer Nature remains neutral with regard to jurisdictional claims in published maps and institutional affiliations.
About this article
Cite this article
Gharieb, H.M., Ashour, D.M., Saleh, M.I. et al. Measurement of central corneal thickness using Orbscan 3, Pentacam HR and ultrasound pachymetry in normal eyes. Int Ophthalmol 40, 1759–1764 (2020). https://doi.org/10.1007/s10792-020-01344-1
Received:

Accepted:

Published:

Issue Date:
Keywords
Corneal thickness

CCT

Pentacam HR

Orbscan 3

Ultrasound pachymetry