Abstract
The study aimed to investigate the chemical composition and the anti-inflammatory activity of the hydroethanolic rhizomes, stems, and leaf extracts of Renealmia petasites using in vitro and in vivo assays. The chemical composition of the extracts was characterized in a linear iron trap mass spectrometer. Total phenolic, flavonoid, and tannin content were determined by spectrophotometry analyses. In vitro anti-inflammatory activity was investigated in lipopolysaccharide-stimulated macrophages evaluating the influence on the production of superoxide anion (O2−), nitric oxide (NO), and the pro-inflammatory cytokines tumor necrosis factor (TNF-α) and interleukin-6 (IL-6). In vivo effects were determined using the air pouch model in which were inoculated carrageenan and thereafter treated with 50 mg/kg of the hydroethanolic extracts of R. petasites. After 4 and 24 h, the cellular influx, protein exudation, cytokines, and nitric oxide were evaluated. Eight compounds were tentatively identified in the R. petasites extracts, suggesting five diarylheptanoids, one flavonoid, and two fatty alcohols. The in vitro results showed that the extracts were capable of blocking free radicals and/or inhibiting their intracellular actions by inhibiting the production of important mediators of the inflammatory process, such as NO, O2−, TNF-α, and IL-6. In vivo, R. petasites significantly decrease the influx of leukocytes, mainly neutrophils, protein exudation, NO, TNF-α, and IL-6 concentration in the air pouch model. The results evidenced that R. petasites can be considered a promising alternative therapy for the treatment and management of osteoarthritis and other inflammatory diseases.
Access options
Buy single article
Instant access to the full article PDF.
US$ 39.95
Tax calculation will be finalised during checkout.
Subscribe to journal
Immediate online access to all issues from 2019. Subscription will auto renew annually.
US$ 79
Tax calculation will be finalised during checkout.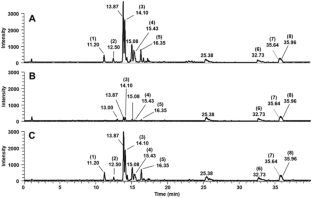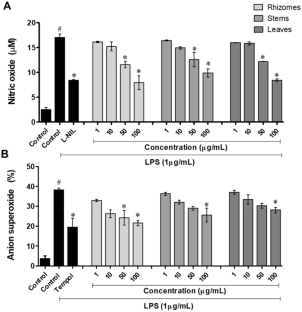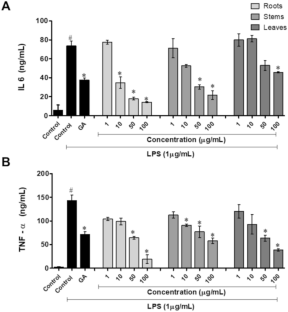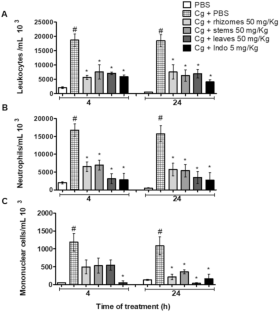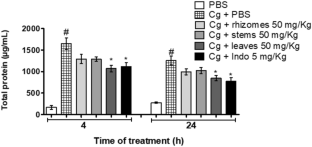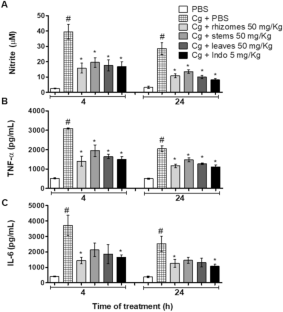 Abbreviations
IL:

Interleukin

iNOS:

Inducible nitric oxide synthase

LPS:

Lipopolysaccharide

NO:

Nitric oxide

NF-κB:

Nuclear factor kappa B

O2− :

Anion superoxide

ABTS:

2,2′-Azino-bis (3-ethylbenzothiazoline-6-sulfonic acid)

Cg:

Carrageenan

DPPH:

2,2-Diphenyl-1-picrylhydrazyl

FRAP:

Ferric reducing antioxidant power

NBT:

Nitroblue tetrazolium chloride

OA:

Osteoarthritis
References
Ahmad N, Ansari MY, Haqqi TM (2020) Role of iNOS in osteoarthritis: pathological and therapeutic aspects. J Cell Physiol 235:6366–6376. https://doi.org/10.1002/jcp.29607

Ahmed N, Smith RW, Henao JJA et al (2018) Analytical method to detect and quantify Avocatin B in hass avocado seed and pulp matter. J Nat Prod 81:818–824. https://doi.org/10.1021/acs.jnatprod.7b00914

Alberti Á, Riethmüller E, Béni S (2018) Characterization of diarylheptanoids: an emerging class of bioactive natural products. J Pharm Biomed Anal 147:13–34. https://doi.org/10.1016/j.jpba.2017.08.051

Augusti PR, Brasil AVS, Souto C et al (2017) Microcystin-LR exposure induces oxidative damage in Caenorhabditis elegans: protective effect of lutein extracted from marigold flowers. Food Chem Toxicol 109:60–67. https://doi.org/10.1016/j.fct.2017.08.045

Avila DS, Benedetto A, Au C et al (2012) Organotellurium and organoselenium compounds attenuate Mn-induced toxicity in C. elegans by preventing oxidative stress. Radic Biol Med 52:1903–1910. https://doi.org/10.1016/j.freeradbiomed.2012.02.044

Badhani B, Sharma N, Kakkar R (2015) Gallic acid: a versatile antioxidant with promising therapeutic and industrial applications. RSC Adv 5:27540–27557. https://doi.org/10.1039/C5RA01911G

Bahiense JB, Marques FM, Figueira MM et al (2017) Potential anti-inflammatory, antioxidant and antimicrobial activities of Sambucus australis. Pharm Biol 55:991–997. https://doi.org/10.1080/13880209.2017.1285324

Benzie IFF, Strain JJ (1996) The ferric reducing ability of plasma (FRAP) as a measure of "antioxidant power": the FRAP assay. Anal Biochem 239:70–76. https://doi.org/10.1006/abio.1996.0292

Brenner S (1974) The genetics of Caenorhabditis elegans. Genetics 77:71–94. https://doi.org/10.1111/j.1749-6632.1999.tb07894.x

Charão M, Souto C, Brucker N et al (2015) Caenorhabditis elegans as an alternative in vivo model to determine oral uptake, nanotoxicity, and efficacy of melatonin-loaded lipid-core nanocapsules on paraquat damage. Int J Nanomedicine 10:5093. https://doi.org/10.2147/IJN.S84909

Charão MF, Goethel G, Brucker N et al (2019) Melatonin-loaded lipid-core nanocapsules protect against lipid peroxidation caused by paraquat through increased SOD expression in Caenorhabditis elegans. BMC Pharmacol Toxicol 20:80. https://doi.org/10.1186/s40360-019-0352-4

Chin K-Y, Pang K-L (2017) Therapeutic effects of olive and its derivatives on osteoarthritis: from bench to bedside. Nutrients 9:1060. https://doi.org/10.3390/nu9101060

Duarte DB, Vasko MR, Fehrenbacher JC (2016) Models of inflammation: carrageenan air pouch. Curr Protoc Pharmacol. https://doi.org/10.1002/0471141755.ph0506s72

Edwards JCW, Sedgwick AD, Willoughby DA (1981) The formation of a structure with the features of synovial lining by subcutaneous injection of air: an in vivo tissue culture system. J Pathol 134:147–156. https://doi.org/10.1002/path.1711340205

Fernandes TL, Gomoll AH, Lattermann C et al (2020) Macrophage: a potential target on cartilage regeneration. Front Immunol 11:1–9. https://doi.org/10.3389/fimmu.2020.00111

Fronza M, Caetano GF, Leite MN et al (2014) Hyaluronidase modulates inflammatory response and accelerates the cutaneous wound healing. PLoS ONE 9:1–12. https://doi.org/10.1371/journal.pone.0112297

Goldoni FC, Barretta C, Nunes R et al (2019) Effects of Eugenia umbelliflora O. Berg (Myrtaceae)-leaf extract on inflammation and hypersensitivity. J Ethnopharmacol. https://doi.org/10.1016/j.jep.2019.112133

Green LC, Wagner DA, Glogowski J et al (1982) Analysis of nitrate, nitrite, and [15N] nitrate in biological fluids. Anal Biochem 126:131–138. https://doi.org/10.1016/0003-2697(82)90118-X

Grover AK, Samson SE (2015) Benefits of antioxidant supplements for knee osteoarthritis: rationale and reality. Nutr J 15:1–13. https://doi.org/10.1186/s12937-015-0115-z

Hamidzadeh K, Christensen SM, Dalby E et al (2017) Macrophages and the recovery from acute and chronic inflammation. Annu Rev Physiol 79:567–592. https://doi.org/10.1146/annurev-physiol-022516-034348

Hunter DJ, Bierma-Zeinstra S (2019) Osteoarthritis. Lancet 393:1745–1759. https://doi.org/10.1016/S0140-6736(19)30417-9

Ibrahim S, Mohamed G, Khedr A, Aljaeid B (2017) Anti-oxidant and anti-inflammatory cyclic diarylheptanoids from alnus japonica stem bark. IJPR https://doi.org/10.22037/ijpr.2017.1989

Kapoor M, Martel-Pelletier J, Lajeunesse D et al (2011) Role of proinflammatory cytokines in the pathophysiology of osteoarthritis. Nat Rev Rheumatol 7:33–42. https://doi.org/10.1038/nrrheum.2010.196

Kim H-S, Quon MJ, Kim J (2014) New insights into the mechanisms of polyphenols beyond antioxidant properties; lessons from the green tea polyphenol, epigallocatechin 3-gallate. Redox Biol 2:187–195. https://doi.org/10.1016/j.redox.2013.12.022

Kim J-E, Park K-M, Lee S-Y et al (2017) Anti-inflammatory effect of Allium hookeri on carrageenan-induced air pouch mouse model. PLoS ONE 12:e0190305. https://doi.org/10.1371/journal.pone.0190305

Kraus VB, Mcdaniel G, Huebner JL et al (2017) HHS Public Access 24:1613–1621. https://doi.org/10.1016/j.joca.2016.04.010.Direct

Krepsky PB, Isidório RG, De Souza Filho JD et al (2012) Chemical composition and vasodilatation induced by Cuphea carthagenensis preparations. Phytomedicine 19:953–957. https://doi.org/10.1016/j.phymed.2012.05.011

Kriplani P, Guarve K, Baghael US (2017) Arnica montana L. a plant of healing: review. J Pharm Pharmacol 69:925–945. https://doi.org/10.1111/jphp.12724

Lai Y-C, Chen C-K, Lin W-W, Lee S-S (2012) A comprehensive investigation of anti-inflammatory diarylheptanoids from the leaves of Alnus formosana. Phytochemistry 73:84–94. https://doi.org/10.1016/j.phytochem.2011.02.008

Lee C-J, Lee S-S, Chen S-C et al (2005) Oregonin inhibits lipopolysaccharide-induced iNOS gene transcription and upregulates HO-1 expression in macrophages and microglia. Br J Pharmacol 146:378–388. https://doi.org/10.1038/sj.bjp.0706336

Li J, Li Y-X, Luo L-J et al (2019) The effectiveness and safety of acupuncture for knee osteoarthritis. Medicine 98:e16301. https://doi.org/10.1097/MD.0000000000016301

Lorençoni MF, Figueira MM, Toledo e Silva MV et al (2020) Chemical composition and anti-inflammatory activity of essential oil and ethanolic extract of Campomanesia phaea (O.Berg) Landrum leaves. J Ethnopharmacol. https://doi.org/10.1016/j.jep.2020.112562

Lu Q, Yuan K, Li X et al (2020) Detecting migration and infiltration of neutrophils in mice. J Vis Exp 2020:1–8. https://doi.org/10.3791/60543

Maas PJM (1977) Renealmia (Zingiberaceae–Zingiberoideae) Costoide (Additions) (Zingiberaceae). New York Botanical Garden Press

Manalo R, Silvestre M, Barbosa A, Medina P (2017) Coconut (Cocos nucifera) ethanolic leaf extract reduces amyloid-β (1–42) aggregation and paralysis prevalence in transgenic Caenorhabditis elegans independently of free radical scavenging and acetylcholinesterase inhibition. Biomedicines 5:17. https://doi.org/10.3390/biomedicines5020017

Marques F, da Costa M, Vittorazzi C et al (2017) In Vitro and in vivo anti-inflammatory effects of Struthanthus vulgaris. Planta Med 83:770–777. https://doi.org/10.1055/s-0043-101916

Marques FM, Figueira MM, Schmitt EFP et al (2019) In vitro anti-inflammatory activity of terpenes via suppression of superoxide and nitric oxide generation and the NF-κB signalling pathway. Inflammopharmacology 27:281–289. https://doi.org/10.1007/s10787-018-0483-z

Mosmann T (1983) Rapid colorimetric assay for cellular growth and survival: application to proliferation and cytotoxicity assay. J Immunol Methods 65:55–63. https://doi.org/10.1016/0022-1759(83)90303-4

Nees TA, Rosshirt N, Zhang JA et al (2019) Synovial cytokines significantly correlate with osteoarthritis-related knee pain and disability: inflammatory mediators of potential clinical relevance. J Clin Med 8:1343. https://doi.org/10.3390/jcm8091343

Negrelle RRB (2015) Renealmia L.F.: Aspectos botânicos, ecológicos, farmacológicos e agronômicos. Rev Bras Plantas Med 17:274–290. https://doi.org/10.1590/1983-084X/13_049

Raju R, Singh A, Gunawardena D et al (2019) Diarylheptanoids with anti-inflammatory activity from the rhizomes of Pleuranthodium racemigerum (Zingiberaceae). Phytochem Lett 30:10–13. https://doi.org/10.1016/j.phytol.2019.01.004

Rangsinth P, Prasansuklab A, Duangjan C et al (2019) Leaf extract of Caesalpinia mimosoides enhances oxidative stress resistance and prolongs lifespan in Caenorhabditis elegans. BMC Complement Altern Med. https://doi.org/10.1186/s12906-019-2578-5

Re R, Pellegrini N, Proteggente A et al (1999) Antioxidant activity applying an improved ABTS radical cation decolorization assay. Free Radic Biol Med 26:1231–1237. https://doi.org/10.1016/S0891-5849(98)00315-3

Robinson WH, Lepus CM, Wang Q et al (2016) Low-grade inflammation as a key mediator of the pathogenesis of osteoarthritis. Nat Rev Rheumatol 12:580–592. https://doi.org/10.1038/nrrheum.2016.136

Ruan Q, Qiao Y, Zhao Y et al (2016) Beneficial effects of Glycyrrhizae radix extract in preventing oxidative damage and extending the lifespan of Caenorhabditis elegans. J Ethnopharmacol 177:101–110. https://doi.org/10.1016/j.jep.2015.10.008

Scanzello CR, Musculoskeletal T, Michael C, Pennsylvania P (2018) HHS Public Access 29:79–85. https://doi.org/10.1097/BOR.0000000000000353.Role

Scherer R, Godoy HT (2009) Antioxidant activity index (AAI) by the 2,2-diphenyl-1-picrylhydrazyl method. Food Chem 112:654–658. https://doi.org/10.1016/j.foodchem.2008.06.026

Shep D, Khanwelkar C, Gade P, Karad S (2019) Safety and efficacy of curcumin versus diclofenac in knee osteoarthritis: a randomized open-label parallel-arm study. Trials 20:214. https://doi.org/10.1186/s13063-019-3327-2

Soares FGN, Göethel G, Kagami LP et al (2019) Novel coumarins active against Trypanosoma cruzi and toxicity assessment using the animal model Caenorhabditis elegans. BMC Pharmacol Toxicol 20:76. https://doi.org/10.1186/s40360-019-0357-z

Wang M, Carver JJ, Phelan VV et al (2016) Sharing and community curation of mass spectrometry data with Global Natural Products Social Molecular Networking. Nat Biotechnol 34:828–837. https://doi.org/10.1038/nbt.3597

Wellsandt E, Golightly Y (2018) Exercise in the management of knee and hip osteoarthritis. Curr Opin Rheumatol 30:151–159. https://doi.org/10.1097/BOR.0000000000000478

Wohlmuth H, Deseo MA, Brushett DJ et al (2010) Diarylheptanoid from Pleuranthodium racemigerum with in vitro prostaglandin E 2 inhibitory and cytotoxic activity. J Nat Prod 73:743–746. https://doi.org/10.1021/np900688r

Yang T, Fang L, Lin T et al (2019) Ultrasonicated sour Jujube seed flavonoids extract exerts ameliorative antioxidant capacity and reduces Aβ-induced toxicity in Caenorhabditis elegans. J Ethnopharmacol 239:111886. https://doi.org/10.1016/j.jep.2019.111886

Yao F, Huang Y, Wang Y, He X (2018) Anti-inflammatory diarylheptanoids and phenolics from the rhizomes of kencur (Kaempferia galanga L.). Ind Crops Prod 125:454–461. https://doi.org/10.1016/j.indcrop.2018.09.026

Zhang H, Cai D, Bai X (2020) Macrophages regulate the progression of osteoarthritis. Osteoarthr Cartil 28:555–561. https://doi.org/10.1016/j.joca.2020.01.007
Acknowledgments
This study was financed in part by the Coordenação de Aperfeiçoamento de Pessoal de Nível Superior—Brasil (CAPES)—Finance Code 001. The authors also thank to the Fundação de Amparo à Pesquisa do Espirito Santo (FAPES) for the financial support (fellowship to AKSC) and Conselho Nacional de Desenvolvimento Científico e Tecnológico (CNPq: Grant Number 311925/2018-9).
Ethics declarations
Conflict of interest
The authors declare no conflict of interest.
Additional information
Publisher's Note
Springer Nature remains neutral with regard to jurisdictional claims in published maps and institutional affiliations.
Supplementary Information
Below is the link to the electronic supplementary material.
About this article
Cite this article
Soares, A.K.C., de Sousa Júnior, A.D., Lorençoni, M.F. et al. In vitro and in vivo anti-inflammatory activity and chemical composition of Renealmia petasites Gagnep. Inflammopharmacol (2021). https://doi.org/10.1007/s10787-020-00786-4
Received:

Accepted:

Published:
Keywords
Diarylheptanoids

Air pouch

Osteoarthritis

Inflammation

Macrophages