Abstract
Centella asiatica is claimed to have a neuroprotective effect; however, its ability to protect the cerebrum against damage in diabetes has never been identified. The aims were to identify the possibility that C. asiatica ameliorates inflammation, oxidative stress, and apoptosis in the cerebrum in diabetes. C. asiatica leave aqueous extract (C. asiatica) (50, 100, and 200 mg/kg/b.w.) were given to diabetic rats for 28 days. Changes in rats' body weight, food and water intakes, and insulin and FBG levels were monitored. Following sacrificed, cerebrum was harvested and subjected for histological, biochemical, and molecular biological analyses. The results revealed treatment with C. asiatica was able to ameliorate the loss in body weight, the increase in food and water intakes, the decrease in insulin, and the increase in FBG levels in diabetic rats. Additionally, histopathological changes in the cerebrum and levels of p38, ERK, JNK, cytosolic Nrf2, Keap-1, LPO, RAGE, and AGE levels decreased; however, PI3K, AKT, IR, IRS, GLUT-1, nuclear Nrf2,Nqo-1, Ho-1, and anti-oxidative enzymes (SOD, CAT, and GPx) levels increased in diabetic rats receiving C. asiatica. Furthermore, C. asiatica treatment also caused cerebral inflammation and apoptosis to decrease as indicated by decreased inflammatory markers (cytosolic NF-κB p65, p-Ikkβ, Ikkβ, iNOS, COX-2, TNF-α, IL-6, and IL-1β), decreased pro-apoptosis markers (Casp-3, 9, and Bax), but increased anti-apoptosis marker, Bcl-2. Activity level of Na+/K+, Mg2+, and Ca2+-ATPases in the cerebrum also increased by C. asiatica treatment. Conclusions: C. asiatica treatment helps to prevent cerebral damage and maintain near normal cerebral function in diabetes.
This is a preview of subscription content, log in to check access.
Access options
Buy single article
Instant access to the full article PDF.
US$ 39.95
Price includes VAT for USA
Subscribe to journal
Immediate online access to all issues from 2019. Subscription will auto renew annually.
US$ 99
This is the net price. Taxes to be calculated in checkout.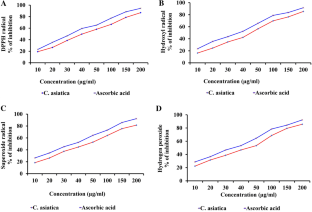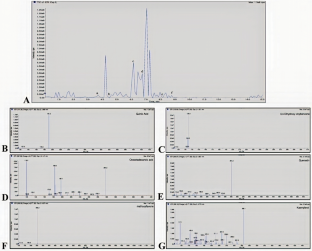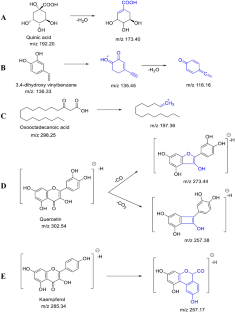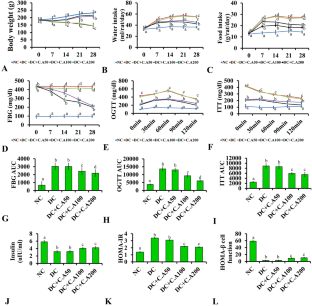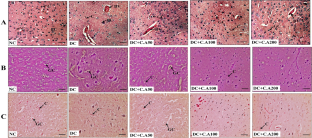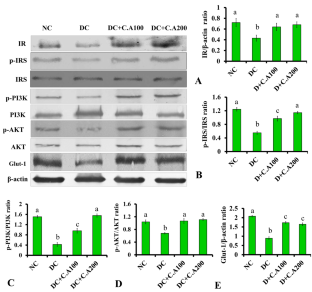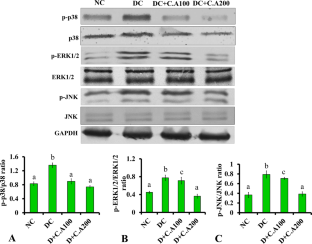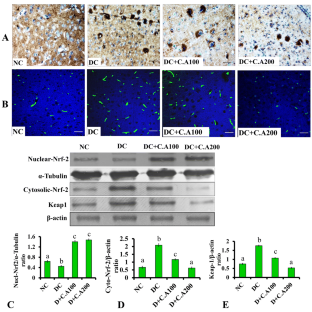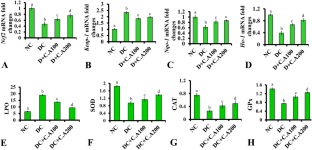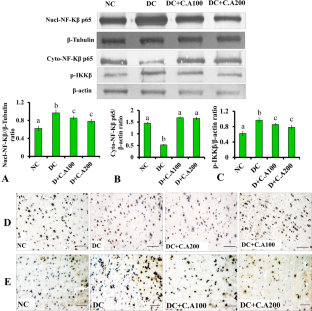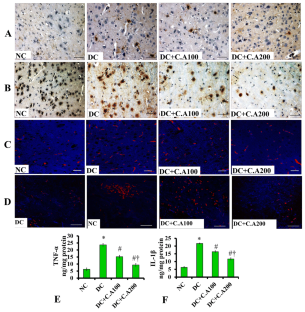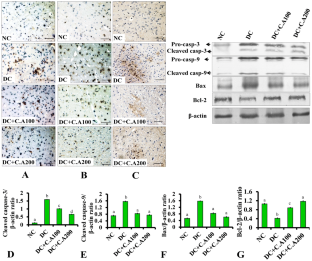 References
Adam SH, Giribabu N, Kassim N, Kumar KE, Brahmayya M, Arya A, Salleh N (2016) Protective effect of aqueous seed extract of Vitis Vinifera against oxidative stress, inflammation and apoptosis in the pancreas of adult male rats with diabetes mellitus. Biomed Pharmacotherap 81:439–452. https://doi.org/10.1016/j.biopha.2016.04.032

Al-Kharashi AS (2018) Role of oxidative stress, inflammation, hypoxia and angiogenesis in the development of diabetic retinopathy. Saudi J Ophthalmol 32:318–323. https://doi.org/10.1016/j.sjopt.2018.05.002

Alvarez-Nölting R, Arnal E, Barcia JM, Miranda M, Romero FJ (2012) Protection by DHA of early hippocampal changes in diabetes: possible role of CREB and NF-κB. Neurochem Res 37:105–115

Aziz MSA, Giribabu N, Rao PV, Salleh N (2017) Pancreatoprotective effects of Geniotrigona thoracica stingless bee honey in streptozotocin-nicotinamide-induced male diabetic rats. Biomed Pharmacotherap 89:135–145. https://doi.org/10.1016/j.biopha.2017.02.026

Bierhaus A et al (2001) Diabetes-associated sustained activation of the transcription factor nuclear factor-kappaB. Diabetes 50:2792–2808

Biessels GJ, Ryan CM (2017) 4.22 - Cognitive Dysfunction in Diabetes Mellitus A2 - Pfaff, Donald W. In: Joëls M (ed) Hormones, Brain and Behavior (Third Edition). Academic Press, Oxford, pp 421–443. https://doi.org/10.1016/B978-0-12-803592-4.00088-2

Bonting SL (1970) Sodium-potassium activated adenosine triphosphatase and cation transport. Membr Ion Transp 1:257–363

Cai D, Liu T (2012) Inflammatory cause of metabolic syndrome via brain stress and NF-κB Aging (Albany NY) 4:98

Cai Z, Xiao M, Chang L, Yan L-J (2015) Role of insulin resistance in Alzheimer's disease. Metab Brain Dis 30:839–851

Chandrika UG, Prasad Kumarab PA (2015) Gotu Kola (Centella asiatica): nutritional properties and plausible health benefits. Adv Food Nutr Res 76:125–157. https://doi.org/10.1016/bs.afnr.2015.08.001

Cui X et al (2006) Chronic systemic D-galactose exposure induces memory loss, neurodegeneration, and oxidative damage in mice: protective effects of R-α-lipoic acid. J Neurosci Res 84:647–654

de Lores Arnaiz GR, Ordieres MGL (2014) Brain Na(+), K(+)-ATPase activity in aging and disease. IJBS 10:85–102

Dhanasekaran M, Holcomb LA, Hitt AR, Tharakan B, Porter JW, Young KA, Manyam BV (2009) Centella asiatica extract selectively decreases amyloid β levels in hippocampus of Alzheimer's disease animal model. Phytotherapy Res 23:14–19

Elmarakby AA (2012) Sullivan JCJCt. Relationship between oxidative stress and inflammatory cytokines in diabetic nephropathy 30:49–59

Farhana KM, Malueka RG (2016) Effectiveness of Gotu Kola extract 750 mg and 1000 mg compared with folic acid 3 mg in improving vascular cognitive impairment after. Stroke 2016:2795915. https://doi.org/10.1155/2016/2795915

Gayathri V, Lekshmi P, Padmanabhan RJIJoM, Plants A (2011) Anti-diabetes activity of ethanol extract of Centella asiatica (L.) Urban (whole plant) in Streptozotocin-induced diabetic rats, isolation of an active fraction and toxicity evaluation of the extract 1:278–286

Giribabu N, Eswar Kumar K, Swapna Rekha S (2015) Vitis vinifera (Muscat Variety) Seed Ethanolic Extract Preserves Activity Levels of Enzymes and Histology of the Liver in Adult Male Rats with Diabetes 2015:542026. doi:10.1155/2015/542026

Giribabu N, Karim K, Kilari EK, Kassim NM, Salleh N (2017) Anti-Inflammatory, anti-apoptotic and pro-proliferative effects of Vitis Vinifera Seed Ethanolic extract in the liver of streptozotocin-nicotinamide-induced diabetes in male rats. Can J Diabetes. https://doi.org/10.1016/j.jcjd.2017.04.005

Giribabu N, Kumar KE, Rekha SS, Muniandy S, Salleh N (2014a) Chlorophytum borivilianum (Safed Musli) root extract prevents impairment in characteristics and elevation of oxidative stress in sperm of streptozotocin-induced adult male diabetic Wistar rats. BMC Complement Altern Med 14:291. https://doi.org/10.1186/1472-6882-14-291

Giribabu N, Kumar KE, Rekha SS, Muniandy S, Salleh N (2014b) Chlorophytum borivilianum root extract maintains near normal blood glucose, insulin and lipid profile levels and prevents oxidative stress in the pancreas of streptozotocin-induced adult male diabetic rats. Int J Med Sci 11:1172–1184. https://doi.org/10.7150/ijms.9056

Giribabu N, Srinivasarao N, Swapna Rekha S, Muniandy S, Salleh N (2014c) Centella asiatica attenuates diabetes induced hippocampal changes in experimental diabetic rats. Evidence-Based Complement Altern Med 2014

Gkogkolou P, Böhm M (2012) Advanced glycation end products: Key players in skin aging? Dermato-endocrinology 4:259–270. https://doi.org/10.4161/derm.22028

Gohil K, Patel J, Gajjar A (2010) Pharmacological review on Centella asiatica: a potential herbal cure-all. Indian J Pharma Sci 72:546

Gong W, Chen Z, Zou Y, Zhang L, Huang J, Liu P, Huang H (2018) CKIP-1 affects the polyubiquitination of Nrf2 and Keap1 via mediating Smurf1 to resist HG-induced renal fibrosis in GMCs and diabetic mice kidneys. Free Radical Biol Med 115:338–350

Hajieva P, Baeken MW, Moosmann B (2018) The role of plasma membrane calcium atpases (PMCAS) in neurodegenerative disorders. Neurosci Lett 663:29–38

Halimi ES (2012) Identification of Agronomic Traits of Centella asiatica (L.) Urban. Naturally Grown at Regions With Different Altitudes Jurnal Natur Indonesia 13

Halliwell B, Gutteridge J, Aruoma OI (1987) The deoxyribose method: a simple "test-tube" assay for determination of rate constants for reactions of hydroxyl radicals. Anal Biochem 165:215–219

Hjertén S, Pan H (1983) Purification and characterization of two forms of a low-affinity Ca2+-ATPase from erythrocyte membranes. Biochim Biophys Acta (BBA) Biomemb 728:281–288

Hu T, Shi J-J, Fang J, Wang Q, Chen Y-B, Zhang S-JJA (2020) Quercetin ameliorates diabetic encephalopathy through SIRT1/ER stress pathway in db/db mice 12:7015

Hui L, Pei D-S, Zhang Q-G, Guan Q-H, Zhang G-Y (2005) The neuroprotection of insulin on ischemic brain injury in rat hippocampus through negative regulation of JNK signaling pathway by PI3K/Akt activation. Brain Res 1052:1–9

Hussein RM, Mohamed WR, Omar HA (2018) A neuroprotective role of kaempferol against chlorpyrifos-induced oxidative stress and memory deficits in rats via GSK3beta-Nrf2 signaling pathway. Pestic Biochem Physiol 152:29–37. https://doi.org/10.1016/j.pestbp.2018.08.008

Hussin F, Eshkoor SA, Rahmat A, Othman F, Akim A (2014) The centella asiatica juice effects on DNA damage, apoptosis and gene expression in hepatocellular carcinoma (HCC). BMC Complement Altern Med 14:32. https://doi.org/10.1186/1472-6882-14-32

Jin X et al (2017) HO-1 alleviates cholesterol-induced oxidative stress through activation of Nrf2/ERK and inhibition of PI3K/AKT pathways in endothelial cells. Mol Med Rep 16:3519–3527

Jing Y-H, Chen K-H, Kuo P-C, Pao C-C (2013) Chen J-KJN. Neurodegeneration in streptozotocin-induced diabetic rats is attenuated by treatment with resveratrol 98:116–127

Kabir AU, Samad MB, D'Costa NM, Akhter F, Ahmed A, Hannan JMAJBc, medicine a (2014) Anti-hyperglycemic activity of Centella asiatica is partly mediated by carbohydrase inhibition and glucose-fiber binding 14:31

Katalinic V, Milos M, Kulisic T, Jukic M (2006) Screening of 70 medicinal plant extracts for antioxidant capacity and total phenols. Food Chem 94:550–557

Keane KN, Cruzat VF, Carlessi R, de Bittencourt PI, Newsholme P (2015) Molecular events linking oxidative stress and inflammation to insulin resistance and beta-cell dysfunction. Oxid Med Cell Longev 2015:181643. https://doi.org/10.1155/2015/181643

Khan H, Ullah H, Aschner M, Cheang WS, Akkol EKJB (2020) Neuroprotective effects of quercetin in Alzheimer's. Disease 10:59

Kullmann S, Heni M, Hallschmid M, Fritsche A, Preissl H, Häring H-U (2016) Brain insulin resistance at the crossroads of metabolic and cognitive disorders in humans. Physiol Rev 96:1169–1209

Lahmann C, Kramer HB, Ashcroft FM (2015) Systemic administration of glibenclamide fails to achieve therapeutic levels in the brain and cerebrospinal fluid of rodents. PLoS ONE 10:e0134476. https://doi.org/10.1371/journal.pone.0134476

Leung SS, Forbes JM, Borg DJ (2016) Receptor for Advanced Glycation End Products (RAGE) in Type 1 Diabetes Pathogenesis. Curr Diabetes Rep 16:100. https://doi.org/10.1007/s11892-016-0782-y

Li H, Horke S, Förstermann U (2013) Oxidative stress in vascular disease and its pharmacological prevention. Trends Pharmacol Sci 34:313–319

Loh SY, Giribabu N, Salleh N (2017) Effects of gonadectomy and testosterone treatment on aquaporin expression in the kidney of normotensive and hypertensive rats. Exp Biol Med. https://doi.org/10.1177/1535370217703360

Lokanathan Y, Omar N, Ahmad Puzi NN, Saim A, Hj Idrus R (2016) Recent updates in neuroprotective and neuroregenerative potential of centella asiatica. MJMS 23:4–14

Ma P et al (2015) Baicalin alleviates diabetesassociated cognitive deficits via modulation of mitogen-activated protein kinase signaling, brainderived neurotrophic factor and apoptosis. Mol Med Rep 12:6377–6383. https://doi.org/10.3892/mmr.2015.4219

Maehly AC, Chance B (1954) The assay of catalases and peroxidases. Methods Biochem Anal 1:357–424

Magesh S, Chen Y, Hu L (2012) Small molecule modulators of Keap1-Nrf2-ARE pathway as potential preventive and therapeutic agents(). Med Res Rev 32:687–726. https://doi.org/10.1002/med.21257

Masola B, Oguntibeju OO, Oyenihi ABJB (2018) Pharmacotherapy Centella asiatica ameliorates diabetes-induced stress in rat tissues via influences on antioxidants and inflammatory. Cytokines 101:447–457

Masoud A et al (2017) Antioxidant effect of frankincense extract in the brain cortex of diabetic rats 24:95–100

Mattson MP, Camandola S (2001) NF-κB in neuronal plasticity and neurodegenerative disorders. J Clin Investig 107:247–254

Maulidiani et al (2016) Metabolic alteration in obese diabetes rats upon treatment with Centella asiatica extract. J Ethnopharmacol 180:60–69. https://doi.org/10.1016/j.jep.2016.01.001

Mijnhout G et al (2006) Diabetic encephalopathy: a concept in need of a definition. Diabetologia 49:1447–1448

Misra HP, Fridovich I (1972) The role of superoxide anion in the autoxidation of epinephrine and a simple assay for superoxide dismutase. J Biol Chem 247:3170–3175

Mohd Mokhtar H, Giribabu N, Kassim N, Muniandy S, Salleh N (2014) Testosterone decreases fluid and chloride secretions in the uterus of adult female rats via down-regulating cystic fibrosis transmembrane regulator (CFTR) expression and functional activity. J Steroid Biochem Mol Biol 144 Pt B:361–372. doi:10.1016/j.jsbmb.2014.08.007

Moreira PI, Cardoso SM, Pereira CM, Santos MS, Oliveira CR (2009) Mitochondria as a therapeutic target in Alzheimer's disease and diabetes CNS & Neurological Disorders-Drug Targets (Formerly Current Drug Targets-CNS & Neurological Disorders) 8:492–511

Muriach M, Flores-Bellver M, Romero FJ, Barcia JM (2014) Diabetes and the brain: oxidative stress, inflammation, and autophagy Oxidative medicine and cellular longevity 2014

Nimse SB, Pal D (2015) Free radicals, natural antioxidants, and their reaction mechanisms. RSC Adv 5:27986–28006

Nugroho AE, Lindawati NY, Herlyanti K, Widyastuti L, Pramono S (2013) Anti-diabetic effect of a combination of andrographolide-enriched extract of Andrographis paniculata (Burm f.) Nees and asiaticoside-enriched extract of Centella asiatica L. in high fructose-fat fed rats. Indian J Exp Biol 51:1101–1108

OECD TNJOGftToC, Section (2001) 423: Acute Oral toxicity–Acute Toxic Class Method 4

Oeckinghaus A, Ghosh S (2009) The NF-κB family of transcription factors and its regulation. Cold Spring Harbor Perspect Biol 1:a000034. https://doi.org/10.1101/cshperspect.a000034

Ohkawa H, Ohishi N, Yagi K (1979) Assay for lipid peroxides in animal tissues by thiobarbituric acid reaction. Anal Biochem 95:351–358

Ohnishi T, Suzuki T, Suzuki Y, Ozawa K (1982) A comparative study of plasma membrane Mg2+-ATPase activities in normal, regenerating and malignant cells. Biochim Biophys Acta (BBA) Biomemb 684:67–74

Portt L, Norman G, Clapp C, Greenwood M, Greenwood MT (2011) Anti-apoptosis and cell survival: a review. Biochim Biophys Acta (BBA) Mol Cell Res 1813:238–259. https://doi.org/10.1016/j.bbamcr.2010.10.010

Prakash A, Kumar A (2013) Mitoprotective effect of Centella asiatica against aluminum-induced neurotoxicity in rats: possible relevance to its anti-oxidant and anti-apoptosis mechanism. Clin Neurophysiol 34:1403–1409. https://doi.org/10.1007/s10072-012-1252-1

Price TO, Farr SA, Niehoff ML, Ercal N, Morley JE, Shah GN (2015) Protective effect of topiramate on hyperglycemia-induced cerebral oxidative stress, pericyte loss and learning behavior in diabetic mice. Int Library Diabetes Metab 1

Prieto-Almeida F, Panveloski-Costa AC, Crunfli F, da Silva TS, Nunes MT, Torrao AS (2018) Thyroid hormone improves insulin signaling and reduces the activation of neurodegenerative pathway in the hippocampus of diabetic adult male rats. Life Sci 192:253–258. https://doi.org/10.1016/j.lfs.2017.11.013

Raza H, John A, Howarth FC (2015) Increased oxidative stress and mitochondrial dysfunction in zucker diabetic rat liver and brain. Cell Physiol Biochem 35:1241–1251. https://doi.org/10.1159/000373947

Roslan J, Giribabu N, Karim K, Salleh N (2017) Quercetin ameliorates oxidative stress, inflammation and apoptosis in the heart of streptozotocin-nicotinamide-induced adult male diabetic rats. Biomed Pharmacotherap 86:570–582. https://doi.org/10.1016/j.biopha.2016.12.044

Rotruck JT, Pope AL, Ganther HE, Swanson AB, Hafeman DG, Hoekstra WG (1973) Selenium: biochemical role as a component of glutathione peroxidase. Science 179:588–590

Ruch RJ, Cheng S-J, Klaunig JE (1989) Prevention of cytotoxicity and inhibition of intercellular communication by antioxidant catechins isolated from Chinese green tea. Carcinogenesis 10:1003–1008

Saha S, Guria T, Singha T, Maity TK (2013) Evaluation of analgesic and anti-inflammatory activity of chloroform and methanol extracts of Centella asiatica Linn. ISRN Pharmacol 2013:789613. https://doi.org/10.1155/2013/789613

Samarghandian S, Azimi-Nezhad M, Samini F (2014) Ameliorative effect of saffron aqueous extract on hyperglycemia, hyperlipidemia, and oxidative stress on diabetic encephalopathy in streptozotocin induced experimental diabetes mellitus. BioMed Res Int 2014:920857. https://doi.org/10.1155/2014/920857

Scalbert A, Manach C, Morand C, Rémésy C, Jiménez L (2005) Dietary polyphenols and the prevention of diseases. Crit Rev Food Sci Nutr 45:287–306

Seaquist ER (2015) The impact of diabetes on cerebral structure and function. Psychosom Med 77:616–621

Shahzad H, Giribabu N, Karim K, Kassim NM, Muniandy S, Salleh N (2017) Combinatorial effects of quercetin and sex-steroids on fluid and electrolytes' (Na+, Cl-, HCO3-) secretory mechanisms in the uterus of ovariectomised female Sprague-Dawley rats 12:e0172765 doi:10.1371/journal.pone.0172765

Singh A, Kukreti R, Saso L, Kukreti S (2019) Oxidative stress: A key modulator in neurodegenerative diseases. Molecules 24:1583

Singh G (2015) Experimental Study on Immunity Potentiation Effect of Mandukaparni (Hydrocotyle asiatica) Journal of Ayurveda Physcians and Surgeons 2:2–8

Singh S, Gautam A, Sharma A, Batra A (2010) Centella asiatica (L.): a plant with immense medicinal potential but threatened International Journal of Pharmaceutical Sciences Review and Research 4

Singh VP, Bali A, Singh N, Jaggi AS (2014) Advanced glycation end products and diabetic complications. Korean J Physiol Pharmacol 18:1–14. https://doi.org/10.4196/kjpp.2014.18.1.1

Sivandzade F, Prasad S, Bhalerao A, Cucullo L (2019) NRF2 and NF-қB interplay in cerebrovascular and neurodegenerative disorders: Molecular mechanisms and possible therapeutic approaches. Redox Biol 21:101059–101059. https://doi.org/10.1016/j.redox.2018.11.017

Vasconcelos AR et al (2015) Effects of intermittent fasting on age-related changes on Na, K-ATPase activity and oxidative status induced by lipopolysaccharide in rat hippocampus. Neurobiol Aging 36:1914–1923. https://doi.org/10.1016/j.neurobiolaging.2015.02.020

Veerendra Kumar MH, Gupta YK (2003) Effect of Centella asiatica on cognition and oxidative stress in an intracerebroventricular streptozotocin model of Alzheimer's disease in rats. Clin Exp Pharmacol Physiol 30:336–342

Vetuschi A et al (2018) Immunolocalization of advanced glycation end products, mitogen activated protein kinases, and transforming growth factor-β/Smads in pelvic organ prolapse. J Histochem Cytochem 66:673–686

Visweswari G, Prasad KS, Lokanatha V, Rajendra W (2010) The antiepileptic effect of Centella asiatica on the activities of Na+/K+, Mg2+ and Ca2+-ATPases in rat brain during pentylenetetrazol-induced epilepsy. Indian J Pharmacol 42:82

Vohra K, Pal G, Gupta VK, Singh S, Bansal Y (2011) An Insight on Centella asiatica Linn: a review. Recent Res Pharmacol 2:440–463

Wang Q, Lu L (2019) Zhou HJErfm, sciences p. Relationship between the MAPK/ERK pathway and neurocyte apoptosis after cerebral infarction in rats 23:5374–5381

Xi Z et al (2019) Protocatechuic acid exerts protective effects via suppression of the P38/JNK-NF-κB signalling pathway in an experimental mouse model of intracerebral. Haemorrhage 854:128–138

Xiang Z, Ning Z (2008) Scavenging and antioxidant properties of compound derived from chlorogenic acid in South-China honeysuckle LWT-Food. Sci Technol 41:1189–1203

Yamagishi S-I, Matsui T (2010) Advanced glycation end products, oxidative stress and diabetic nephropathy Oxidative. Med Cell Longevity 3:101–108. https://doi.org/10.4161/oxim.3.2.4

Yamagishi S-I, Matsui T (2018) Role of Hyperglycemia-Induced Advanced Glycation End Product (AGE) Accumulation in Atherosclerosis Annals of vascular diseases:ra. 18–00070

Yin Z et al (2015) Asiaticoside attenuates diabetes-induced cognition deficits by regulating PI3K/Akt/NF-κB pathway. Behav Brain Res 292:288–299

Zhishen J, Mengcheng T, Jianming W (1999) The determination of flavonoid contents in mulberry and their scavenging effects on superoxide radicals. Food Chem 64:555–559
Acknowledgements
This research is funded by AICTE RPS project Grant No. A.V. (3)/AICTE-RPS/2014, India.
Ethics declarations
Conflict of interest
Authors wish to confirm that there was no conflict of interest associated with this publication and there has been no significant financial support for this work that could influence its outcome.
Additional information
Publisher's Note
Springer Nature remains neutral with regard to jurisdictional claims in published maps and institutional affiliations.
About this article
Cite this article
Giribabu, N., Karim, K., Kilari, E.K. et al. Oral administration of Centella asiatica (L.) Urb leave aqueous extract ameliorates cerebral oxidative stress, inflammation, and apoptosis in male rats with type-2 diabetes. Inflammopharmacol (2020). https://doi.org/10.1007/s10787-020-00733-3
Received:

Accepted:

Published:
Keywords
Centella asiatica

Cerebrum

Oxidative stress

Inflammation

Apoptosis

Diabetes mellitus