Abstract
Background
Sepsis-induced systemic inflammation response syndrome is the leading cause of morbidity and mortality among patients in intensive care units in North America. While sepsis is associated with multiple organ damage, acute renal injury represents a hallmark of sepsis. Since systemic and renal inflammation is known to play a vital role in morbidity and mortality associated with sepsis, identifying a potent anti-inflammatory agent may help minimize morbidity and mortality associated with acute septic kidney injury. Since recent work has suggested that empagliflozin, a renal sodium-glucose cotransporter 2 (SGLT2) inhibitor, may assist in the treatment of inflammatory diseases, our objective was to examine the effect of empagliflozin on acute sepsis-induced renal injury.
Method
Mice were treated with three daily doses of empagliflozin or vehicle, with lipopolysaccharide (LPS) administered on the third day, at the same time as the third dose of empagliflozin or vehicle. In another cohort, mice were injected with a single dose of LPS 3 h before a dose of empagliflozin.
Results
Our results show that empagliflozin improves survival in a mouse model of LPS-induced septic shock. We further demonstrate that the beneficial effects of empagliflozin are likely mediated via reducing LPS-induced acute renal injury. Moreover, our data indicate that empagliflozin significantly reduces systemic and renal inflammation to contribute to the improvements observed in an LPS-model of acute septic renal injury.
Conclusion
Overall, the findings of this study suggest that empagliflozin could be repurposed to reduce morbidity and mortality in patients with acute septic renal injury.
Trial registration
Not applicable.
This is a preview of subscription content, log in to check access.
Access options
Buy single article
Instant access to the full article PDF.
US$ 39.95
Price includes VAT for USA
Subscribe to journal
Immediate online access to all issues from 2019. Subscription will auto renew annually.
US$ 99
This is the net price. Taxes to be calculated in checkout.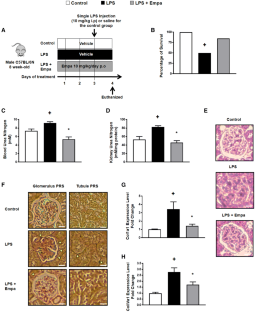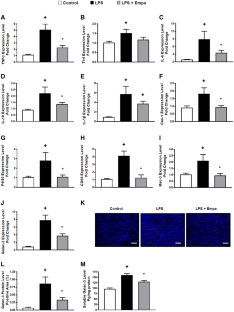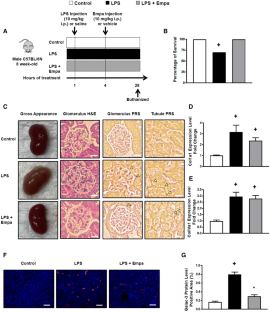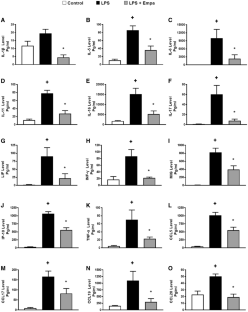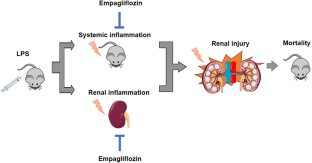 Data availability
The data used or analyzed during this study are included in this article and available from the corresponding author upon reasonable request.
Abbreviations
BUN:

Blood urea nitrogen

Cas-1:

Caspase-1

Col:

Collagen

DAPI:

4′,6-Diamidino-2-phenylindole

DMSO:

Dimethyl sulfoxide

H&E:

Haematoxylin and eosin

IL:

Interleukin

INF-γ:

Interferon gamma

IP10:

Interferon gamma-induced protein 10

KUN:

Kidney urea nitrogen

LPS:

Lipopolysaccharide

LIF:

Leukemia inhibitory factor

MIG:

Monokine induced by gamma interferon

NLRP3:

Nucleotide-Binding Domain-Like Receptor Protein 3

SGLT2:

Sodium-Glucose Cotransporter 2

PBS:

Phosphate buffered saline

TNF-α:

Tumor necrosis factor-α

Tlr4:

Toll-like receptor 4
Funding
This work was supported by a grant from the Canadian Institutes of Health Research (CIHR) to JRBD. JRBD is a Canada Research Chair in Molecular Medicine. This financing grant enabled the purchase of all reagents and materials used in the study. ZHM is the recipient of the Alberta Innovates Health Solution post-doctoral and CIHR fellowship awards. These fellowships made it possible to dedicate himself to the design of the study and collection, analysis, and interpretation of data and in writing the manuscript.
Ethics declarations
Conflict of interest
The authors declare no competing interests.
Ethical approval
All animal procedures were approved by the University of Alberta Institutional Animal Care and Use Committee (Health Sciences 2 Committee; Approval Date: October 7, 2019; Number: AUP00000247), which conforms to the Guide for the Care and Use of Laboratory Animals published by the United States National Institutes of Health and the principles for biomedical research involving animals developed by the Council for International Organizations of Medical Sciences.
Additional information
Publisher's Note
Springer Nature remains neutral with regard to jurisdictional claims in published maps and institutional affiliations.
About this article
Cite this article
Maayah, Z.H., Ferdaoussi, M., Takahara, S. et al. Empagliflozin suppresses inflammation and protects against acute septic renal injury. Inflammopharmacol (2020). https://doi.org/10.1007/s10787-020-00732-4
Received:

Accepted:

Published:
Keywords
Empagliflozin

Inflammation

Sepsis

Renal injury