Abstract
Objective and design
The involvement of nitric oxide pathway in the antinociceptive activity of Lonchocarpus araripensis lectin (LAL) was investigated in the model of carragenan-induced hypernociception.
Methods
Swiss mice received LAL (0.01–10 mg/kg; i.v.) 30 min before s.c. injection of carragenan in the paws. For the involvement of nociceptive pathways, animals were previously treated with the blockers: NOS (L-NAME, aminoguanidine, 7-nitroindazole); soluble guanylyl cyclase (ODQ); channels of ATP-dependent K+ (glibenclamide); L-type Ca2+ (nifedipine), or Ca2+-dependent Cl− (niflumic acid). Participation of lectin domain was evaluated by injection of LAL associated with N-acetyl-glucosamine (GlcNAc). nNOS gene relative expression was evaluated in the paw tissues and nNOS immunostaining in dorsal root ganglia.
Results
LAL at all doses inhibited carrageenan-induced hypernociception (4.12 ± 0.58 g), being maximal at 10 mg/kg (3 h: 59%), and reversed by GlcNAc. At this time, LAL effect was reversed by nifedipine (39%), niflumic acid (59%), L-NAME (59%), 7-nitroindazole (44%), ODQ (45%), and glibenclamide (34%), but was unaltered by aminoguanidine. LAL increased (95%) nNOS gene expression in mice paw tissues, but not its immunoexpression in the dorsal root ganglia.
Conclusion
The antinociceptive effect of Lonchocarpus araripensis lectin involves activation of the l-arginine/NO/GMPc/K+ATP pathway.
This is a preview of subscription content, log in to check access.
Access options
Buy single article
Instant access to the full article PDF.
US$ 39.95
Price includes VAT for USA
Subscribe to journal
Immediate online access to all issues from 2019. Subscription will auto renew annually.
US$ 99
This is the net price. Taxes to be calculated in checkout.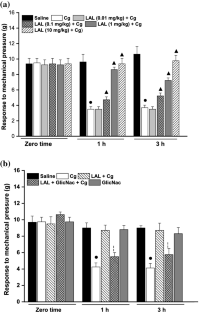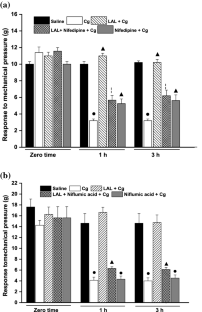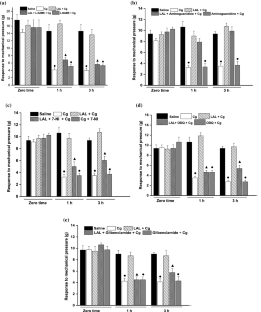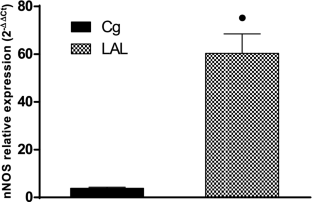 Acknowledgements
The authors thank Conselho Nacional de Desenvolvimento Científico e Tecnológico-CNPq, Fundação Cearense de Amparo a Pesquisa-FUNCAP and Coordenação de Aperfeiçoamento de Pessoal de Nível Superior-CAPES. Cavada BS and Assreuy AM are senior investigators of CNPq.
Ethics declarations
Conflict of interest
The authors declare that they have no competing interests.
Additional information
Publisher's Note
Springer Nature remains neutral with regard to jurisdictional claims in published maps and institutional affiliations.
About this article
Cite this article
Assreuy, A.M.S., Amorim, R.M.F., Martins, S.L. et al. Antinociceptive effect of Lonchocarpus araripensis lectin: activation of l-arginine/NO/cGMP/K+ATP signaling pathway. Inflammopharmacol (2020). https://doi.org/10.1007/s10787-020-00729-z
Received:

Accepted:

Published:
Keywords
Dalbergieae lectin

Hypernociception

nNOS

Nitric oxide